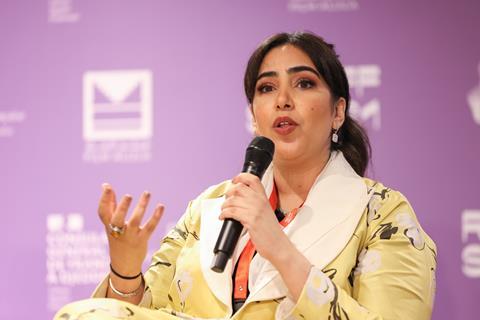 As general manager of MBC Studios in Saudi Arabia, Zeinab Abu Alsamh oversees the in-house development and production of dramas and features in the country as it races to build capacity and know-how in both formats.
She was appointed to the role in March 2021 and reports to MBC Studios managing director Peter Smith. MBC Studios is the in-house production arm of Saudi-owned, pan-Arab broadcasting giant the MBC Group.
Prior to taking up the position at MBC Studios, Abu Alsamh was chief commercial officer at the state-owned Saudi Broadcasting Authority, and also held posts at multinationals including JWT, Ogilvy and Unilever.
MBC Studios will be out in force at the inaugural edition of the Red Sea International Film Festival, which opens in Jeddah on Monday (December 6), with three new Saudi features: Omar Naim's road movie Route 10 and Hakeem Jomaah's drama Kayan, which both world premiere in the New Saudi/New Cinema sidebar; and Hamzah Jamjoom's London-set Rupture, the only Saudi feature in the main competition.
MBC Group's streaming platform Shahid VIP has also acquired three festival titles: Becoming, the Saudi Arabian female-focused omnibus work which also plays in the New Saudi/New Cinema sidebar; Japanese director Mamoru Hosoda's feature animation Belle; and Lebanese TV drama Hell's Gate.
Screen spoke to Abu Alsamh about her role and upcoming slate of film and TV projects ahead of the festival.
You've been in the role of general manager of MBC Studios Saudi Arabia for 10 months. What are your early impressions of your country's rising film and TV industries?
Every project we work on is a novelty or breakthrough. You think you've done all 'the firsts' and then there's another one. There's a lot of flexibility, experimentation. It's very entrepreneurial, there is this start-up kind of energy.
I attended the Film Commission's strategy kick-off on how they're going to be supporting filmmakers [in Riyadh on November 28]. The energy in the room was palpable. The room was filled with filmmakers, producers, actors, actresses, directors. They got where they are today on the back of their own individual efforts in the past. Now they're being supported. It's a new era. There's a lot to accomplish.
What are your next projects?
We're doing a new short series called Jameel Jeddah which is something very new for us in that it's targeted at Gen Z, which is a very, very hard generation to crack. It's about a high school student who was in a coma but when she wakes up, she glitches over into anime. So it combines anime and live-action and a lot of K-pop references.
We also have two big projects in the final stages of development that are also new genres for Saudi Arabia. One is about a mum with superpowers. She's a single mum, and while single mums are already kind of 'super mums', the character in the show really is a 'super mum' because she has superpowers. It is working titled My Supermom. It's targeted at a younger audience.
Then we have another big production, The Orchards of Arabistan, or Rise Of The Witches – we're still working on the final title. It's based on a book by a Saudi writer set in a prehistoric fantasy world involving mystic legends, fairies and djinns. We brought in British writer Charlie Higson who has worked with two female Saudi writers to adapt it. It features two prominent female characters and is going to be a major production with a Saudi cast. Casting has already started and we aim to start shooting in mid-February.
That's interesting about combining outside and local talent on the adaptation. Can you talk more about this approach?
We want to get the best end-result possible without losing the local eye or flavour. What we've been doing on these sorts of projects is to join experienced producers and directors from outside Saudi Arabia with local talent.
On The Orchards of Arabistan, Dominic Barlow [UK producer whose credits include The Last Kingdom, The Discovery Of Witches and The Mallorca Files] is working as a kind of showrunner. Then we have three directors who are going to have a couple of episodes each. With each director, there will be a cultural director, a local, on set, so we don't miss any of the details of the culture, the local DNA.
We're still experimenting and trying things out, but we see it as a way to retain the local feel at the same time as achieving global standards and training the people we have on set while working. The end goal is for Saudi talents who have gained experience on set to pick up the baton in later seasons.
MBC Studios has also been involved in two of the first big Hollywood productions to shoot in Saudi Arabia: Desert Warrior, which is shooting in Neom in the northwestern Tabuk area, and Kandahar, which is filming in the historic site of AlUla. What is the thinking behind getting involved in these big productions?
In terms of our scope in Saudi, these productions are anchors for what filmmaking should look like. I visited the set of Desert Warrior and it could be used as an academy. It was a state of the art set, with an amazing crew, who were exemplary in their professionalism and commitment. Just rubbing elbows with people like that has an impact. We have locals on the set, doing different things. And you instantly see the difference, it instantly elevates them.
Also, having Desert Warrior in Tabuk, an area where we never produced anything before, was useful. I'm going to take over the operation for The Orchards Of Arabistan after they're done and utilise some of the same things. it took so much time, for example, to get the permits. We're still educating a lot of people who don't work with film in order to be able to work and that can be the hardest part. So Desert Warrior and Neom did the hardest part, and as a result, have a set and a working operation.
The wider MBC Group is in the process of moving its headquarters from the United Arab Emirates to new headquarters in Riyadh. What will this mean for production hubs in Dubai and Abu Dhabi which previously hosted a lot of in-house MBC productions?
I think it's very hard to say that you're 100% going to work only in one territory. Talent travels and comes and goes, and you might need some flexibility. The main priority for me is to have an operation for local stories, to build the infrastructure and to be able to produce them here. But MBC works around the region, with different channels and different countries, so all these hubs will remain helpful.
How was your appointment greeted inside and outside Saudi Arabia? Were people surprised to see a woman heading up MBC Studios in Saudi Arabia?
You can't imagine how adaptive we are and how flexible and how young the energy is. The changes I've seen in the past five years are more than I've seen in my previous 15-plus years of working experience. I worked in the Saudi Broadcasting Authority, I was the chief commercial officer there. That was more of a shock over there because it's a very old entity with lots of government employees.
But for this role, I rarely get that reaction. I think people who are not living here just assume that the change has happened and this is the reality but I'm telling you, the change was fast. It wasn't generational but rather over the course of five years.
There's a lot of focus on female filmmakers and producers coming up in Saudi Arabia at the moment. Is there any space left for men?
Don't worry about the men. They have their share. I think people are leaning towards women for different reasons. In Hollywood, the rise of women was instigated maybe by other issues that needed to be adjusted. But with us, I think with the boom, a lot of females came to the surface. People want to know about them and their lifestyle, especially because it wasn't very interactive before. People are asking, 'What was her background? Where did she come from?' I've been working for more than 15 years, but no one knew about me. But when things happen and there's a boom and the boom is ready to include a lot of people, these individuals pop up and you want to know more. I think the interest in women is partly because they're a new subject.
What does the launch of the inaugural Red Sea International Film Festival mean for you?
I'm very proud that there's an international film festival coming out of this country. It's symbolic in so many ways because we're crazy about film and we're crazy about telling stories. It's taken our talent a lot of effort to get where they are now, so to have that celebrated at an international film festival and to see filmmakers from abroad coming in as their peers, it's still surreal. And I won't believe it until I see it.