Dir. Richard Linklater. UK . 2008. 107mins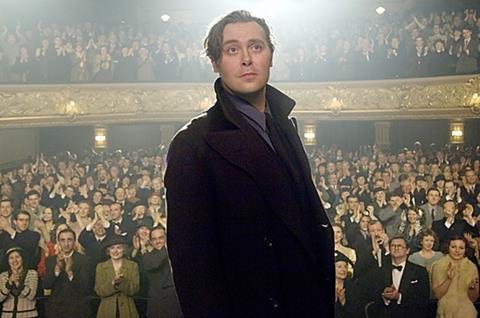 Richard Linklater seems intent on proving himself a director for all seasons. His career now runs the gamut from the boldly experimental to the blandly commercial. Me And Orson Welles marks yet another departure as the versatile auteur creates a sweetly entertaining putting-on-a-show period drama that celebrates a defining moment in the life of American theatre and one of its most iconoclastic stars.
Christian McKay's dazzling Welles leaves a lasting impression on the viewer
The audience that embraced Miss Pettigrew Lives For A Day and Mrs Henderson Presents should also welcome this handsome paean to the arts and the ability to wrestle triumph from the jaws of defeat. A robust specialist release should allow Linklater to reach an older, well-heeled demographic who have little knowledge of his slacker movie past.

If you are going to make a film about Orson Welles then you need an actor who can provide a brilliant impersonation of this colossus of the New York stage. They have found such an actor in Christian McKay who gives a superlative performance. He captures both the look and sound of Welles, convincing in every aspect from his sing song cadences to the mischievous twinkle that dances in his eyes. It is a performance that achieves the same kind of verisimilitude and depth that earned Philip Seymour Hoffman plaudits and a Best Actor Oscar for Capote.

Christian McKay rightly dominates the film although that does not detract from the very able efforts of an ensemble cast called upon to portray such well known figures as John Houseman (Eddie Marsan), inveterate ladies man Joseph Cotten (James Tupper) or a jittery George Couloris (Ben Chaplin). Based on the novel by Robert Kaplow, the story is set in a jaunty vision of 1937 New York that has some affinity with the period films of Woody Allen (Bullets Over Broadway etc). Welles is rehearsing what will become his legendary Mercury Theatre modern dress production of Julius Caesar. Drama student Richard (Zac Efron) is a starry-eyed teenager who becomes caught up in the whirlwind of Welles genius as he is offered the part of Lucius. It is an experience that shows him the best and worst of an actor's life and also brings him into contact with Sonja (Claire Danes), the company's girl friday and the woman that all the men lust after.

The screenplay adaptation by Holly Gent Palmo and Vincent Palmo has a good deal of ready wit and easy charm, taking real events and shaping them into a story that allows us to see the monstrous ego and boundless charm of Welles
through the eyes of a relatively unsullied bystander. There is almost an echo of My Favourite Year (1982) in the relationship between idol and worshipper. The story is briskly told, conveying a sense of life in the theatre, the moral complexities of the position in which Richard finds himself and the sheer presence of Welles (only 22 himself at the times) as he musters his troops or dashes across town in an ambulance to save precious time.

Claire Danes is a very appealing Sonja and Zac Efron makes Richard a believable innocent filled with the hopes and idealism of youth but it is Christian McKay's dazzling Welles that leaves a lasting impression on the viewer.
To sign up for Screen's weekly Reviews Newsletter with all the week's new releases, international openings and full festival reviews delivered free to your mailbox every Friday, please clickHERE.
Production Companies
Cinema NX
Productions One Ltd
Detour Filmproduction Inc

International sales
Odyssey Entertainment

Producers
Richard Linklater
Ann Carli
Marc Samuelson

Exec prods
Steve Christian
John Sloss
Steve Norris

Screenplay
Holly Gent Palmo
Vince Palmo
based on the novel by Robert Kaplow

Cinematography
Richard Pope

Prod des
Laurence Dorman

Editor
Sandra Adair

Main cast
Christian McKay
Claire Danes
Zac Afron
Ben Chaplin
Zoe Kazan