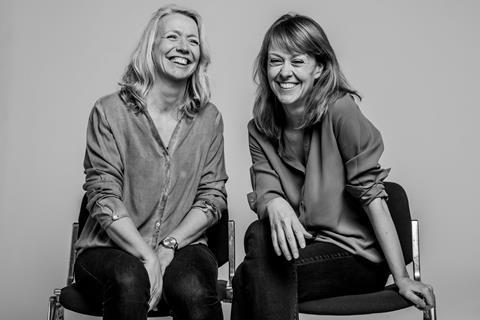 Flashback to 2017, long before the pandemic began. Dutch executives Anke van Diejen and Noortje van de Sande were busy running PR, marketing and distribution agency Herrie Film & TV. They were also mothers who could not get to the cinemas much as they would have liked.
At Herrie, they would spend many hours coming up with release strategies for arthouse films - and then the films vanished from screens within a few days anyway. It would be months until the holdbacks ended and the films made it onto the home entertainment platforms the women could finally watch the films on.
Frustrating to wait that long to see films, van Diejen and van de Sande created the pioneering digital distribution company Picl. The platform allows arthouse cinemas to set up their own online portals through which they can reach their regular audiences. These audiences get to watch brand new films at home, often day and date, paying a price of €8.50 a ticket.
"We are own best customers," says van de Sande.
Close to five years on, and Picl's model has been much imitated around the world during the pandemic, helping to fuel a transformation of the independent marketplace. Distributors have seen a viable way of getting their films in front of audiences while helping to provide a revenue flow to shuttered or struggling indie cinemas.
Picl and its partners have been doing strong business in recent months with everything from Pedro Almodovar's short The Human Voice to Palme d'Or winner Titane. Some of the films come to Picl day and date and some with a short delay - but the service, which now works with 40 cinemas in the Netherlands and five in Belgium., is accepted and valued by both indie distributors and exhibitors across the Benelux. What makes Picl stand out is that it is a third-party, working with every cinema and distributor that wants to.
Van Diejen and van der Sande spoke to Screen at IDFA where the debate around new forms of distribution is a hot topic.
How did you first launch Picl?
Noortje: We started it with six cinemas in the beginning because we had the feeling from our work with Herrie PR that you always put so much effort in a marketing campaign and then, especially for documentaries and smaller arthouse films that are shown in cinemas for two weeks, that is it. We felt there was so much more potential audience for those films.
How does the financial model work?
Noortje: We take a percentage and then the distributor and cinema split the revenue. The distributor makes the arrangements directly with the cinema. That is not something we decide.
It's a pioneering idea that has really come into its own around the world during the pandemic. What has been the impact on Picl?
Noortje: In March 2020, the cinemas had to close their doors. At that point, almost 30 cinemas had already joined Picl. Another 10 joined in 2020 in the Netherlands.
Anke: We have grown during the pandemic, of course, hugely. Every cinema closed and every cinema at that point said: "I am sorry we have had to close our doors but luckily our online screening room is open. So please go to our online screening room on Picl. For the cinemas, it is not only the revenue they had during the pandemic and the lockdown. It was also the contact with the audience [the ability to say] 'we still have a programme for you'. They found that as important as the revenue they gained from it.
Noortje: We were the odd ones out in the Netherlands, being the only ones able to offer films day and date. In most European countries, this was not the case at all. It was not possible.
Are all films still released day-and-date on Picl?
Anke: Not all. It's an ongoing discussion. They were really happy with it during the pandemic and can all see this is the future and it's not something they can hold back. Still, we have to discuss different ways of collaborating the whole time.
Noortje: For distributors, the question is, what is the best way to distribute your film? For some films, it might be good to have a window and for some, it might be best to do an online release first and if that works really well, then to put it in cinemas.
Anke: That was always the promise we made to cinemas, that the goal in the end was they would have people go to Picl and see more online and that Picl would get people back into cinemas again. It would be the perfect balance.
What happens now with a release?
Noortje: The distributor decides which cinemas can also screen online. In the cinemas, it is only screening, say, two times a day but on Picl, it's 24 hours a day