Dir: Tarik Saleh. Sweden. 2009. 80 mins.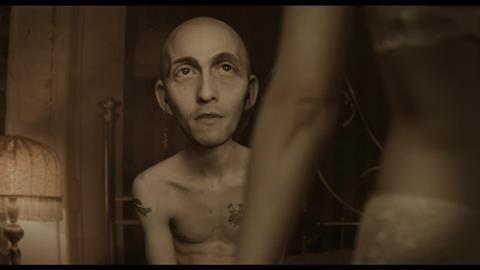 An ambitious animated feature from Swedish film-maker Tarik Saleh, Metropia is always visuallyfascinating and full of inventiveness but never takes off dramatically, presenting a grim vision ofsociety in 2024 which feels overly familiar.

Made in 2D using photomontage and Animation Cut Out technique, Metropia's images blend real footage with Saleh's quirky characters to create a visual look that borders on the trippy. It will certainly have its fans, especially the sci-fi and fantasy crowd who will respond to its futuristic fiction but it will suffer in the wake of Shane Acker's not dissimilar 9 and it is too challenging for wider audiences. It should score theatrical sales for its novelty value but its greatest exposure will be on the festival circuit; it premiered in Critics Week at Venice.
The film should score theatrical sales for its novelty value but its greatest exposure will be on the festival circuit
With its indie chic voice cast led by Vincent Gallo, Udo Kier and Juliette Lewis, Metropia is presented mostly in grey colour tones and set just 15 years from now in a Europe which has been brought to its knees by environmental disaster and economic crisis. The continent has been connected by a giant high-speed subway system which zips from Stockholm to Paris to Ingolstadt in three stops. The power behind the subway is a vast and shady corporation run by the slippery Ivan Bahn (voiced by Keir).

The Winston Smith in this instance is Roger (Gallo), a normal fellow from Stockholm suffering from some depression, insomnia and suspicions that his girlfriend is having an affair. One day when he enters the subway system, he starts to hear a stranger's voice in his head claiming to be his inner self.Although Roger is on his way to work, he is distracted by the sight of the beautiful Nina (Lewis), a model from a shampoo commercial. When she confronts him for following her, she also brings up the voice in his head, leading him into a conspiracy that will uncover the secrets of the corporation and its sinister designs on mind control.

The characters move clunkily, rather like Thunderbird puppets (indeed Nina is reminiscent of Lady Penelope), which adds to the film's appeal. There is little humour, however, and the all-pervasive gloom of the piece rarely lets up.

There are also hints of Lars Von Trier's Europa in the visual design, but unlike that film, Saleh doesn't have much to say about Europe itself and it is a mystery why the lead protagonists have American accents especially when the European setting and currency are so prominently featured.

Atmosphere is not easy to generate in an animated film and, while Saleh and art director Martin Hultman do a fine job of the design, the subway never really comes alive as a character like in Nimrod Antal's Control, for example. Then again, they are working on a Euros 3m budget, just a tiny fraction of a Pixar or DreamWorks animated cost. And that is a small miracle in itself. companies

Production companies
Atmo
Film I Vast
SVT
Sandrew Metronome
Zentropa
Tordenfilm

International sales
Trust Nordisk (+ 45 3686 8788)

Producer
Kristina Alberg

Screenplay
Stig Larsson
Fredrik Edin
Tarik Saleh

Art director
Martin Hultman

Music
Krister Linder

Main voice cast
Vincent Gallo
Stellan Skarsgaard
Udo Kier
Alexander Skarsgaard
Juliette Lewis