French director Mia Hansen-Love talks about the joy of working with Isabelle Huppert, avoiding melancholy and a new project inspired by her relationship with her husband, Olivier Assayas. Geoffrey Macnab reports.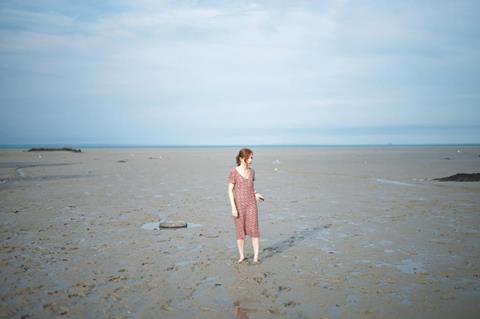 French writer-director Mia Hansen-Love cannot hide her delight with Isabelle Huppert, the star of her film, Things To Come, which is playing in Jerusalem Film Festival's International Competition. Huppert plays a philosophy professor with a seemingly happy life whose husband suddenly announces he is leaving her for another woman, and Hansen-Love describes her as "the best actress in France".
"It's the first time I had an actress in mind as I was writing," says the film-maker. "In my four previous films, I had no idea before I started casting."
In her earlier pictures, Hansen-Love was dealing primarily with younger characters: the mother betrayed by her drug-addicted husband in All Is Forgiven (2007); the daughter of the debt-ridden producer in The Father Of My Children (2009); the young woman experiencing romance in Goodbye First Love (2011); and the DJ who loses his way in Eden (2014).
Things To Come is about a middle-aged woman at a fraught moment in her life, as her grown-up children leave home and her husband confesses to an infidelity. Hansen-Love talks of the "modernity" in Huppert's acting and the way she "lives the character in every split second".
Huppert, says Hansen-Love, knows just how to play smart women while giving them irony, depth and even a certain self-mocking quality. "Actors are partly what they act but also the choices they make," says Hansen-Love. "Her career is a work of art."
When she was writing her screenplay, Hansen-Love fretted about the darkness of its themes. But she realised Huppert could counter this and "free" her from the "melancholy the subject could have had".
Family values
Things To Come draws heavily on characters and events in its director's own background. Both of Hansen-Love's parents are philosophy teachers. They did not object to their daughter borrowing elements from their lives, but the director's mother drew the line at having the cat in the movie share its name with the family's real-life pet.
"I wanted to keep the name of my mother's cat because I thought the real name [Desdemona] was incredible," she explains. "But it was the only thing she asked me to change. She really put her foot down. She said, 'You can do everything you want, be as free as you want — but don't you use my cat's name.'" The director asked her mother for another name for the cat. The mother suggested Pandora and so that is what Hansen-Love chose.
The film is the latest addition to what Hansen-Love calls her "portrait gallery". She suggests her films are all "in dialogue with one another." The stories may not all be directly autobiographical but they are all very personal.
Hansen-Love is now plotting two new projects. One is a film called Maya, about a French hostage returning from Syria who heads to India after his traumatic experiences. This will star Roman Kolinka, who also appeared in Eden and Things To Come.
The film is being made through Les Films Pelleas; the script is complete and Hansen-Love aims to shoot next year.
She is also planning a film inspired partly by her relationship with the film-maker and critic Olivier Assayas, to whom she is married and has been an important influence on her films.
"I am afraid, yes (laughs)," she told Screen about the prospect of making a film inspired by her husband.
However, Assayas will continue to be an important collaborator for Hansen-Love.
"From my first film, he was always the one I gave the script to and showed the first editing," she says. "He reads the script in a very early stage, even before I give anything to any producer. He never shows up during shooting and I never show up during the shooting of his films. But then, when I edit, I could not show the film to anybody before I show it to him."
Hansen-Love is confident that Assayas will maintain his objectivity, even if she makes a film that is based on their own lives. "That's something really impressive about him. However close to us the story is, when he's in the room, he watches the film."