Rising Danish director Michael Noer talks to Sarah Cooper about his third feature, the unusual love story Key House Mirror, which opens Goteborg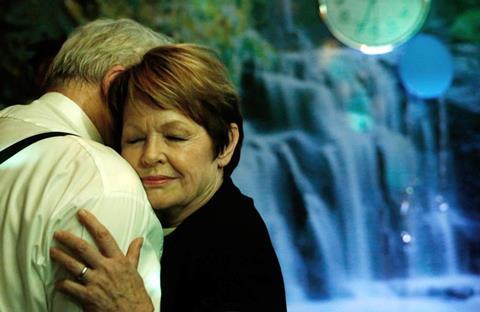 On paper, a love story set in a nursing home appears to be a dramatic departure for a film-maker whose first two features revolved around life in prison (R) and a crime-ridden neighbourhood in the suburbs of Copenhagen (Northwest).
"I may have changed subject matters and characters, but the way I have made this film is exactly the same as my first two," says Danish director Michael Noer of his third feature, Key House Mirror, which opens Goteborg Film Festival. "Just because I'm making something where the people in it are 80 and not 18, why shouldn't I respect them enough to make the film with the same energy and life and death as I would put into a gangster film?"
Veteran Danish actress Ghita Norby, whose credits include Bille August's 1992 Palme d'Or winner The Best Intentions, stars as Lily, a woman who begins a much-frowned-upon relationship with a neighbouring resident (played by Swedish actor Sven Wollter) when she moves into a nursing home with her husband of 50 years.
Key House Mirror will compete for the best Nordic film award at Goteborg, as well as playing in Rotterdam's Spectrum programme. Produced by Tomas Radoor and Rene Ezra for Nordisk Film Production with backing from the Danish Film Institute, Danish broadcaster DR and Nordisk Film and TV Fond, the film is being sold internationally by TrustNordisk, with its first market screening taking place next month at Berlin's EFM.
Personal inspiration
Noer was partly inspired to make Key House Mirror after watching his 94-year-old grandmother go into care. "I always promised her that she wouldn't go into a home, but what I forgot to think about was that at some point she would need 24-hour supervision. What do you do? It's a conflict and question which I don't have any answer to. And because I don't have the answer, I've made a movie about it. It's not going to get my grandmother out of the home but maybe it will start a conversation," explains the director.
He draws parallels between Key House Mirror and his first fiction feature, the hard-hitting prison drama R, which he co-directed with Tobias Lindholm, winning the best Nordic feature and Fipresci prizes at Goteborg in 2010.
"My first movie was a prison film made on a pack of beers and a shoestring, and it's a joy that I've made another one about a woman in the same kind of confinement," says Noer, who started work on his latest feature four years ago, together with scriptwriter Anders Frithiof August.
Being realistic
Having come from a documentary background — Noer graduated from the National Film School of Denmark's documentary programme, going on to make documentaries including 2008's The Wild Hearts — the director prides himself on making his fiction features as realistic as possible.
In Key House Mirror, that meant using the real-life workers and residents from the Copenhagen-based nursing home where he shot, alongside professional actors.
"This gave me the opportunity not to have to make any kind of moral judgment, because I was using the real-life experts who would know what would be natural in a certain situation," explains Noer, who was also determined not to romanticise old age. "There are no angels at the end, and Lily doesn't open a hotel. It has a happy ending in its own way, but I've really tried to make it as realistic as possible," the director explains.
Key House Mirror — named after one of the memory tests in the film — may be one of a growing number of critically acclaimed films to address the subject of love and ageing, but Noer is reluctant to classify his film, or his characters, by age.
"My movie has more in common with coming-of-age stories like Andrea Arnold's Fish Tank, which is about a girl living in an environment that she wants to leave. Key House Mirror is about a woman who is being told she is too old to do certain things, which is almost the same as society telling someone they are too young," says Noer, adding that it was "important the character of Lily was approached as a woman, not an elderly person".
Noer looks set to return to the gangster genre with his next project. "I think crime is a really interesting way of portraying current society," says the director. "You can address ethnic, political and racial issues without forcing your opinion on people."