Michaela Coel is taking control.
Eight hours of sleep, journeys to Kent to pitch up inside a cabin in a couple's backyard that she found on Airbnb, walks in the local forest, a trip to a house in provincial America, meditation, yoga and time with Lou, a therapist provided by production to be on stand-by.
These were the pillars of Michaela Coel's self-care while writing, directing and filming BBC1's 12 x 30-minute drama I May Destroy You, a story born out of a dark personal experience.
"My drink was spiked, and I was sexually assaulted by a stranger," says Coel, recounting an ordeal that she first revealed to the industry in her brutally-honest, game-changing MacTaggart Lecture at the 2018 Edinburgh Television Festival.
"I was in therapy for a long time. This was, and is, such a huge part of my life that I had a conviction to write about it – I couldn't really control it. In everything that I write, there is some sort of reality to it."
Coel speaks openly about being assaulted while writing the second series of her breakthrough show Chewing Gum for E4, the comedy-drama she wrote and fronted from 2015 to 2017.
For her, placing elements of reality amid fiction is an important part of the writing process. "When we write, even when writing about something a world away from us, it will always have some of the writer's reality in it," she adds.
Coel felt more in tune with herself this time around and knew what she needed – building a routine, tending to her health and taking trips.
"I didn't get the opportunity to do a lot of this on Chewing Gum, but this time around I knew that it was crucial for me to be able to sleep, so I can think and listen and be patient," she says.
Nevertheless, the realities of the television schedule remained. There were 30- and 40-hour periods working on the script, as Coel imposed a strict writing schedule on herself.
However, she says: "I'm kind of built for this shit. We all know that this industry is unforgiving, but I'm also sort of crazy. I'll take my brain off the cliff and come back."
Creative control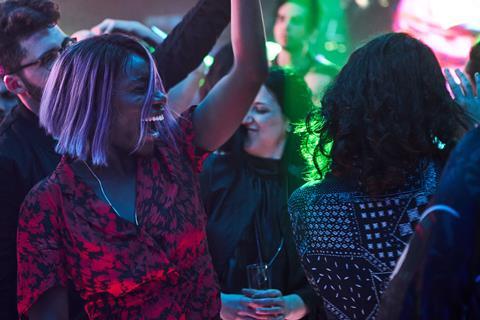 I May Destroy You follows Arabella Essiuedu, a writer whose career is on the rise when she is drugged and sexually assaulted in a nightclub. Arabella then sets about trying to piece together what happened to her.
The programme is a co-production between the BBC and HBO and produced by Various Artists Limited, with Coel serving as an executive producer for her indie Falkna Productions.
Coel took the show to BBC drama controller Piers Wenger while she was starring in Drama Republic and Eight Rook Productions' BBC2 drama Black Earth Rising, which he also commissioned.
The meeting lasted an hour. A day later he wrote to her, giving the show the go-ahead, no treatment or pilot needed. "They wanted me to remain true to my voice," she says.
Coel's appreciation for the BBC's role in facilitating her creative ambitions is clear.
"It was really a dream, I'm very appreciative that I was given full creative control and freedom but at the same time, I felt very guided," says Coel. "They questioned me when they needed to."
During lockdown, Coel has been watching a single episode a week of BBC3's Element Pictures-produced Normal People, whose boxset-like 12 x 30-minutes format apes that of I May Destroy You. "I am not too into bingeing," she says.
In fact, she questions its very nature: "Just look at what the word means – when you binge food, you barely taste it and it's a hedonistic rush. You don't get to chew and enjoy the flavour. You should let it go down, wait for the next bite."
For those reasons, Coel did not want I May Destroy You to drop all at once on the BBC iPlayer and, perhaps surprisingly given the focus on the strategy at the broadcaster, her wish was granted.
"They are so sweet, I swear to God," says Coel of the BBC's executives. "I explained my reasons and they got it."
Working with HBO
Seven months into the writing process, it became clear extra funding would be needed to create Coel's vision and so the production team looked to the US, partnering with HBO.
"This was my first time working with Americans and it was glorious," says Coel, who pays tribute to the smarts of HBO vice-president of original programming Amy Hodge and executive vice president Amy Gravitt, adding: "There was just something about knowing I had that soundboard during the process."
Coel has had little relationship with the US TV industry outside brushes with Netflix – making a rare two-episode appearance on Black Mirror, starring in BFI-backed musical Been So Long and the release, unbeknown to her, of Chewing Gum on the platform. This has led to people incorrectly assuming she has worked directly with the SVoD.
"I could have worked with Netflix on this show and I decided not to – I wanted to retain some of my rights and HBO allowed me to do that," says Coel.
She doesn't rule out working with the streamer in the future but says in this instance, given the drama is about power and exploitation, "it felt odd that a streaming service would demand 100% of my rights while I was directing, starring and writing the show, so I didn't do it."
That MacTaggart, two years on
Creative control and the politics of rights comprised part of Coel's MacTaggart. The first person of colour to deliver the keynote address, she took the opportunity to call out tokenism and the plight of diverse "misfits" in the industry.
The speech reverberated around the industry, with channel executives pledging their allegiance to those 'misfits' and it is widely regarded as a defining point in the TV diversity debate.
In the intervening years, Coel has been focused on making I May Destroy You but is curious to know how much has truly changed – whether the misfits are actually getting the opportunities or not.
What appealed to her about working with indie Various Artists is the confirmation that "there is at least one company that's platforming misfits without leaving them vulnerable".
The production company behind Dead Pixels for E4 and Julia Davis' Sky/HBO comedy Sally4Ever is headed by former C4 head of comedy Phil Clarke, who commissioned Chewing Gum in the mid-2010s and serves as an exec on I May Destroy You.
"I felt empowered [with them] but I'm not sure if that's happening everywhere," Coel says. "I am really curious to find out."
She remains steadfast in calling out racism – her MacTaggart included the notion that several key industry figures had displayed racial discrimination, intentional or otherwise – but also points to the need for understanding.
"It's tricky," she says. "It's about calling out racism whilst being a deeply empathic person and stepping into the shoes of the other person.
"Like I said at the end of the lecture, to change the narrative you need to understand where the other person is coming from. I have to call out racism while thinking: 'Can I also be racist?' What might make someone end up like that?"
I May Destroy You premieres on June 8. Coel is hopeful about its impact on its audience but is also at once reticent to fully give into those feelings.
"Part of my heart hopes that people who have had experiences that are traumatic watch this and feel less alone," she explains.
When writing the show, she spoke to people who had similar experiences to her and realised how common stories like hers were – "The sense of piecing together whether you consented or not", as she describes it.
Coel wants I May Destroy You to stir feelings within the individual to "look inward and explore our internal".
She laughs and adds: "I try not to engage too much with that part of myself. I try to think: 'Michaela you've done your job; once that thing has TXed, your job is done and it's time to move on and have a break.' When it's done, it's out in the world."
This interview first appeared on Screen's sister site Broadcast.