On the eve of Jerusalem Film Festival, Redoubtable director discusses his Jean-Luc Godard biopic.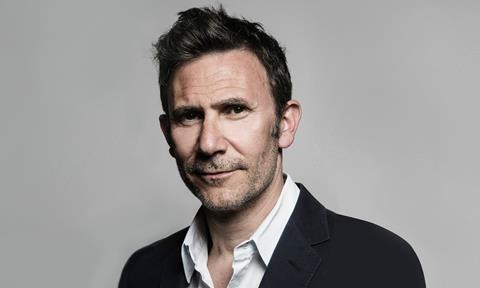 French director Michel Hazanavicius' comedic Jean-Luc Godard tribute Redoubtable opens Jerusalem Film Festival tonight in its first international screening since premiering in Competition at Cannes.
The film's colourful portrait of the iconic cineaste, set against the backdrop of the civil unrest which swept France in 1968, divided critics on the Croisette. But Hazanavicius was aware from the moment he began developing the film that he would be stepping on sacred ground.
"Everyone working in cinema owes something to Godard, he opened so many doors. There are some people out there who think it's blasphemous to make a film about Godard," he says. "I made Redoubtable in a spirit of admiration and respect for Godard and his work, at the same time as aiming to make a film that was entertaining and appealing to a wider audience."
Produced by Hazanavicius, Florence Gastaud and writer-director Riad Sattouf, with Wild Bunch handling sales, the film focuses on the period surrounding the release of Godard's 1967 film La Chinoise. Revolving around a gang of disaffected students with Maoist sympathies who plot a political assassination, it was one of Godard's least successful films at the box office but marked the beginning of his so-called "revolutionary period".
Having made his name as one of the founders of the French New Wave with classics such as Breathless and Contempt, the director, then in his late 30s, got swept up in the anti-establishment protests of 1968. As well as militant acts such as shutting down Cannes that year in cahoots with François Truffaut and Claude Lelouch, Godard would become increasingly politically engaged in his filmmaking.
"I capture a very short period in his life around 1967 and 1968 when Godard was in the middle of a personal and artistic crisis," says Hazanavicius. "He was one of the best-known directors of his generation — the Tarantino of his time if you like. Then shortly after La Chinoise, he set up the Dziga Vertov cinema collective and moved away from mainstream cinema altogether to make very obscure films with hardly any audience at all."
Inspiration for Redoubtable came from the memoirs of Godard's ex-wife Anne Wiazemsky, Un An Après, recounting the disintegration of their relationship against the backdrop of the late 1960s. The young actress, who met Godard while studying for her baccalauréat at the age of 18, appeared in La Chinoise as well as the director's Weekend and One Plus One.
"It offered an opening into Godard's life," says Hazanavicius. "I liked the idea of telling his story through the eyes of a woman, and moreover a woman in love. The intelligence of Anne Wiazemsky's account lies in the way she manages to retain the aspect of an intimate diary. She doesn't recount the story from the point of view of the woman she is now, but rather the woman she was then, which gives it a certain freshness. There was also this humour which made me think of an Italian-style comedy that I liked."
Wiazemsky gives a unique insight into a figure who remains an enigma despite his once-enormous presence in the media, especially in France. "There is a real Jean-Luc Godard who exists, but no one really knows him," says Hazanavicius. "My aim is not to create a carbon copy of Godard. I'm inventing Jean-Luc Godard out of the Jean-Luc Godard created by Jean-Luc Godard, and Anne Wiazemsky's account is another variation of a Jean-Luc Godard also created by Jean-Luc Godard.
"He is a complex character," he continues. "He is not necessarily very nice as a person. He has a capacity for cruelty but can also be incredibly friendly and generous. He has this charisma and desire to be in the public eye but at the same time craves privacy — there are lots of paradoxes."
Light touch
Wiazemsky was at first reluctant to grant an option on the book but when Hazanavicius mentioned how much he liked the humour in her account, she agreed to let him adapt the work. "She'd turned down a number of other filmmakers and in fact she turned me down at first too," he says. "Before putting the phone down, I said it was a shame because I'd found the work so funny to which she replied, 'Really? So do I but no one else seems to. I thought I was the only one.' It all moved on rapidly from there."
Louis Garrel's performance as Godard — opposite French-British actress Stacy Martin as Wiazemsky — won praise in Cannes. Garrel's physical likeness to the director in the film is also remarkable, but Hazanavicius says it was not any resemblance in real life that drew him to Garrel for the role. "Garrel is actually very good-looking, while Godard is not that handsome," he says. "But what Godard did have was charisma. It's often hard to convey charisma on the big screen but I thought someone with Garrel's looks and physique could pull that off."
Like Hazanavicius's Oscar-winning 2011 film The Artist, set against the backdrop of Hollywood's silent era, Redoubtable pays homage to a key period in cinema and French history through its aesthetics and style. "I tried to recreate the atmosphere of the 1960s through the cinema of Godard, playing with the way in which he used images and experimented with narrative forms and editing in a similar fashion, as a sort of homage to his work," says the director.
Godard fans will spot visual allusions to classics such as A Married Woman, Contempt, Weekend and Pierrot Le Fou, as well as lesser-known works such as Wind From The East, made during the Dziga Vertov cinema collective period. "Spectators who know Godard's works might have fun spotting these influences but those unfamiliar with his filmography should be able to simply enjoy the aesthetic for what it is and how it captures the period," says Hazanavicius.
Wiazemsky has told French press that she is pleased with the film. Hazanavicius has no idea, however, of Godard's opinion. "I sent him a note the day the film went into pre-production. While we were shooting, he asked if he could see the screenplay, so I sent it to him. I never got a response," he reveals. "When the film was finished, I sent another note saying I could organise a screening but I didn't get a reply. To be honest, I wasn't expecting a response."