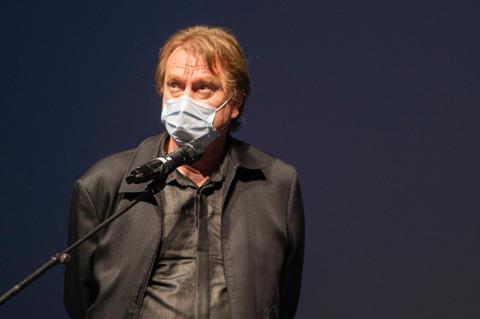 In March 2020, Finnish filmmaker Mika Kaurismäki was about to fly from to Dubai to scout locations for his new feature. The film was planned about three Finnish men who happen to meet in a Dubai bar an spend a night drinking and talking about their problems.
Then the coronavirus pandemic hit. The trip to Dubai was cancelled and Kaurismäki could have thrown up his hands and sat around frustrated during lockdown. But he had another idea: he and his filmmaking brother Aki co-own a bar in Helsinki called Corona (nothing to do with the virus, the bar has been famous for over 30years).
With just a few adjustments to the characters' backstories, he could still tell a similar story about three guys in a bar, not in the UAE but closer to home. The result is Gracious Night, which had its world premiere in Tallinn Black Nights and is being sold by The Yellow Affair.
"I don't want people to think it's a coronavirus film," Kaurismaki emphasiss. "It's anchored in this time but the problems they have could be anytime."
The film is set against a lockdown of businesses, but Covid-19i s not mentioned.
Gracious Night, set during one pivotal night, is about three men's lives at crisis points. The themes are most about family – marriages, divorces, fraught relationships with their children, and their friendship. "That's why it's called Gracious Night," Kaurismaki explains. "This night gives them energy to move on with their own problems."
Kaurismäki had been talking about the story with the actors Timo Torikka, Pertti Sveholm and Kari Heiskanen since early 2019, and the actors had spent a lot of time working on their characters. "The motor was running already that's why it was so easy to get it made," the director said. They could get started quickly because Kaurismäki produces for his own company, Marianna Films.
They shot the whole film in less than a week in early May, with a lean crew of six people (and no Covid cases). Scenes at the bar took two nights and one day. Kaurismaki had worked in a similar improvisational way for his 2008 drama Three Wise Men also starring the same actors, who are all friends in real life.
"The idea is that I work with each actor just the two of us. The other actors don't know the back stories of the other characters." As a scene develops "they have to change their ideas and dialogue sometimes while the camera is rolling."
Kaurismäki shot very long takes, sometimes one hour, to give the actors more breathing room to work on a scene. The director guided from the sidelines, leading them back to the core story if the dialogue drifted into irrelevant territories.
"The actors want to act, not just deliver a few lines here and there. It's nice to see them getting more and more space and freedom to create their character," the filmmaker added.
Unless there were technical issues, Kaurismäki only shot one take. "We want it to have characters and atmosphere that is real and authentic…You don't get three takes in real life."
And yes, there might have been a few drinks on set. The "best red wine available at Corona bar" … and during one particularly pivotal meeting, a bottle of tequila.
They shot chronologically and then the editing process took about 60 days. Besides a sauna, a bar might be the only place we can expect to see Finnish men opening up about their feelings. "With Three Wise Men, women watched the film and said they learned how their husbands open up when they are in a bar. They were thankful to see it."
Kaurismaki – who has made more than 30 features – has always had a global outlook, and hopes to get back into the world in 2021. He has projects set in Lisbon, a UK co-production, and hopes to also re-team with the Chinese investors that backed his previous feature Master Cheng. As he said, "I always have many, many projects in my mind. You have to keep the machine going all the time."