India is on the brink of a streaming revolution, with international players joining a host of local platforms. But can anyone make money in this complex and crowded market? Liz Shackleton reports.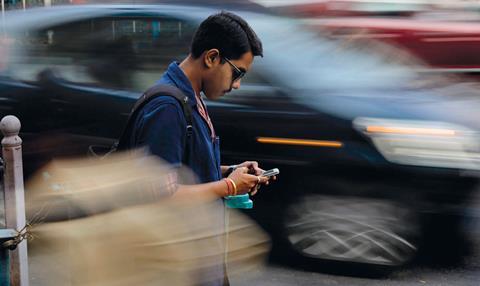 On September 5, India entered a new stage in its digital evolution with the launch of Reliance Jio, a 4G mobile internet service that bundles calls, data and video content in one of the cheapest packages that Indian consumers have ever seen.
Launched by Mukesh Ambani (brother of Amblin Partners backer Anil Ambani) with investment of $22bn, the service promises to bring affordable data plans and a wide range of content - including movies, music, catch-up TV and live sports - to a mass audience in a market that has been lagging in the streaming revolution due to its slow internet speeds.
Speaking at the FICCI Frames conference in Mumbai in March, Ambani observed that India ranks 150 out of 230 countries in terms of mobile internet connectivity. "We have a responsibility to digitally empower India, to end this digital poverty - 1.3 billion Indians cannot be left behind as the world enters a new era," Ambani said in a rousing speech.
Of course, Ambani is not the only person attempting to end India's digital poverty. Prime minister Narendra Modi's Digital India campaign aims to increase broadband and mobile connectivity across the country, including rural areas, while Jio's telco rivals Airtel, Vodafone and Idea are also rolling out 4G services and exploring content offerings.
As a result, the country's digital infrastructure is slowly improving, but as most Indians are accessing the internet through low-cost smartphones rather than computers, the future of streaming is likely to be mobile. By 2020, India will have 825 million internet users, compared to 330 million in 2015, according to the annual KPMG-FICCI report, but more than 790 million of those connections will be wireless. As most users will be glued to smaller screens, rather than smart TVs in the living room, this will influence the kind of content they consume.
Streaming giants
It's into this evolving but complex landscape that first Netflix and soon Amazon Prime Video are plunging headfirst this year. Netflix made its Indian debut in January, as part of a rollout in 130 countries, and has been buying up Bollywood films and indie content, including Q's Sundance title Brahman Naman. It is also producing a TV series adapted from Vikram Chandra's novel Sacred Games with Mumbai-based Phantom Films, and recently hired Indian producer Swati Shetty to oversee production and acquisition of original content, based out of Los Angeles.
Amazon has been keeping tight-lipped about its Indian plans but recently announced licensing deals with major Bollywood producers Dharma Productions and T-Series ahead of the launch of Amazon Prime Video later this year. The deal with Karan Johar's Dharma covers library titles and upcoming films such as Ae Dil Hai Mushkil, starring Aishwarya Rai Bachchan and Ranbir Kapoor, while the T-Series deal includes 17 new titles from hot directors such as Anubhav Sinha and Hansal Mehta, and also featuring a host of Bollywood stars. Further deals with major studios were expected as Screen International went to press. As always with Amazon, video streaming is only part of the picture - it's already one of India's biggest e-commerce operators and launched Amazon Prime, minus the video component, in 100 Indian cities in July.
With its huge population and appetite for entertainment, India seems an obvious target for the US streaming giants, but they are by no means entering a clear field. The past few years has seen a rapid proliferation of VoD platforms in India, launched by local, US and Asian companies, undeterred by the market's many complexities - from slow internet speeds and high levels of piracy, to creaky online payment systems and the apparent unwillingness of Indian audiences to pay for content online. Some of these platforms are VoD start-ups (Spuul, YuppTV, Viu and HOOQ), while others have been launched by Bollywood studios (Eros International's ErosNow and Reliance Entertainment's BigFlix). All the major Indian broadcasters have now launched OTT services (Star's Hotstar, Sony's LIV, Viacom18's VOOT and Zee Entertainment's Ditto and Ozee) and Chinese tech giants Alibaba and LeEco are also eyeing the market.
"People have different agendas for entering this space - for some it's about stock market valuation while others are hoping to eat into the ad dollars that are currently going to Google," says Ashish Patil, head of Yash Raj Films' Y-Films, which operates one of India's most popular YouTube channels. "The networks are giving a lot of their content to YouTube, where they're only getting 35%-40% of ad revenue, so they thought why not create our own platform. But that costs a chunk of money, even if you already own the content."
Breaking windows
Google's YouTube platform is already a dominant player in India's online video market - its total viewing time grew by 80% over the past year - and Indian audiences are not just watching cat videos. "We have thousands of movies on YouTube and they're being played every day," says YouTube India head of content operations Satya Raghavan. Earlier this year, Yash Raj Films released Shah Rukh Khan's latest blockbuster Fan through YouTube's rental service, Google Play, and other TVoD platforms, six weeks after its theatrical release and three months before it played on satellite TV.
Other studios are experimenting with windows. Fox Star Studios streamed Anurag Kashyap's Bombay Velvet on its affiliate AVoD platform Hotstar before it played on satellite, and Eros has streamed several films on ErosNow before satellite. Amazon has scored a coup with the T-Series titles, which it will stream a few weeks after theatrical release and ahead of their TV premiere. India's satellite broadcasters are powerful and tend to buy out ancillary rights to Indian movies on a global basis. But according to KPMG-FICCI: "For films, digital rights are currently sold bundled with the TV rights - however digital is expected to soon emerge as an independent revenue stream."
Converting to pay
While films such as Fan suggest a TVoD window is opening, the SVoD model has been slower to take off in India. Most local platforms rely on advertising revenue and are fighting over a relatively small pie, most of which has already been eaten by Google. According to KPMG-FICCI, online video advertising was worth only $179m in 2015, although it's estimated to grow to around $1bn by 2020. Streaming platforms have been experimenting with pay models, including the hybrid 'freemium' concept, but as in neighbouring China, it's a struggle getting audiences to pay.
The industry discussed this problem at length at a FICCI Knowledge Series forum in Mumbai in July, where speakers outlined a series of issues, including the fact Indian consumers already pay high rates for mobile data so feel they shouldn't have to pay extra for content. They've also had years of access to free content online, both legal and pirated, along with some of the world's cheapest packages for cable TV.
"The reason SVoD has grown so fast in the US is due to price arbitrage," said VOOT head of marketing and partnerships Akash Banerji. "US cable networks charge $80-$100 for monthly packages, while in India you get access to a massive amount of channels, including movies and sports, for rup200 [$3] a month."
Occupying a niche
If the new landscape is challenging for local companies, foreign entrants such as Netflix and Amazon face an even tougher job, as they don't have the same volume of Indian-language content across multiple genres and languages. They will also find it difficult to compete on price. Netflix monthly subscriptions are priced at $7.50-$12 (rup500-rup800) in India, compared to ErosNow's basic premium ad-free tier for $0.75 (rup50) a month.
Netflix has not released subscription figures for India, but they're thought to be lower than expected, especially as the streaming giant missed its target on international subs in the second quarter of 2016. Even if the numbers pick up, foreign streamers are likely to occupy a niche in the Indian market - targeting an upscale, English-speaking demographic in the major cities.
However, in a market with a population of 1.3 billion, an affluent niche may be all you need. The local industry is hoping the aggressive acquisitions and marketing strategy of Netflix and Amazon will convince middle-class consumers to embrace SVoD, a rising tide that could lift all boats.
YouTube's Raghavan says that although it's difficult to get paid services off the ground in India, the growth of e-commerce suggests the potential. "Indians have only learned to pay online in the last few years and yet there's already an e-commerce revolution happening. Around 75 million people have used an e-commerce platform in India, which is not negligible," Raghavan says.
India will also continue to draw foreign players simply because it's a potentially huge market that is open to outsiders. Although China has better internet and online payment infrastructure, foreign VoD platforms are not allowed to enter the market and since streaming quotas were introduced in April 2015, the volume of foreign content on Chinese streaming sites has been substantially reduced. China has also banned foreign tech giants such as Google and Facebook, which are already deeply entrenched in India.
The question now is how big the spoils will eventually grow in India and which victor will take them - global tech titans, SVoD players, local content owners or plucky start-ups. And with Amazon entering the market so aggressively, will Netflix be forced to change course? At present, as Indians turn en masse to their mobile phones for entertainment, everything is still up for grabs.
What does India's VoD boom mean for international sales agents?
India has always been a difficult market for international sales agents to sell into as the territory is underscreened and dominated by local product. "Theatrical, DVD and even TV sales are tough for smaller films in India," says Magnolia Pictures vice president of international sales Scott Veltri. "VoD offers a new platform with low upfront risk for Indian distributors that provides widespread access to indie films."
Digital aggregator Film Karavan is working with both Magnolia and Vision Films on exploiting their titles in India - it recently licensed Magnolia's Tangerine to iTunes - and also handles the certification process. "The fanbase for foreign films in India is growing and we intend to reach audiences through platforms like iTunes and Google Play; there is also demand across DTH [direct to home] and SVoD platforms," says Film Karavan head of original productions & partnerships Apoorva Bakshi.
Suri Gopalan, CEO of aggregator Vista India, says: "India has a large English-speaking population and they've had limited content available on broadcast, so we expect more international content to be available through OTT operators."
With Amazon and Netflix entering the market, SVoD is becoming the major digital revenue stream in India - and both are open to acquiring India-only SVoD rights to foreign product. TVoD and DTH platforms, such as Tata Sky, are also buying foreign films and TV dramas. Indian SVoD and AVoD platforms tend to focus on local product, although some are owned by US media groups so also offer English-language content. Some also acquire English product but so far focus on mainstream action films.
It's still early days, the players are new and local SVoD platforms are not paying high prices, but sales agents see potential in the market. "We mostly sell VoD in all-rights deals to our usual Indian theatrical buyers, but we also sell directly to platforms like Tata Sky," says Wild Bunch's Olivier Barbier. "We're doing deals on our classics, animation and genre titles. Most kinds of movies can sell, except those with too much sexual content."