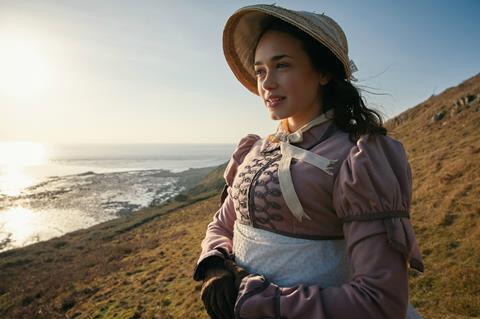 For all the thousands of international distribution executives heading to Mipcom (October 14-17), there is likely to be one single question they are seeking to address at the programme sales market: "How do I get my show to stand out among the competition?"
In the drama business, the question is even more relevant as competition is arguably tougher than it has ever been before. The arrival of the streamers has sparked a well-documented content war, leading to an increase in both the number of dramas produced and their budgets.
As a result, every channel and platform is keen to buy shows that can cut through and stand out clearly in the marketplace. Ask commissioners what they want, and the phrase that crops up over and over again is they are looking for shows that are "undeniable" — ones their audiences cannot help but watch.
A show might be "undeniable" to viewers for one of several reasons. It might have marquee acting talent attached, be based on a well-known book or other piece of intellectual property (IP) or have a compelling story penned by a leading writer or produced by a top team. Otherwise, how else could it stand a chance of competing against hit shows such as Killing Eve, Chernobyl, Game Of Thrones or Stranger Things? All of which viewers can stream at the flick of the remote.
It is no surprise talent, IP, storytelling and craft skills are themes that unite some of the top international dramas heading to Mipcom this year. Take London-based Endemol Shine's slate, which includes the Kudos-produced psychological thriller Deadwater Fell, starring David Tennant and Cush Jumbo and written by Daisy Coulam (Humans), and Fifty Fathoms' porn industry tale Adult Material, written by Lucy Kirkwood (The Smoke, Skins, Chimerica) and starring Hayley Squires, Siena Kelly and Rupert Everett.
Both shows are set to air in the UK on Channel 4 next year. As well as the talent involved, Endemol Shine International CEO Cathy Payne points out other qualities about the shows. Adult Material, she notes, should strike a chord in the #MeToo era, looking as it does at the prevalence of porn in societies around the world, and issues of consent for those involved in the industry.
Scotland-set Deadwater Fell, meanwhile, is the story of the murder of a family and its impact on a tight-knit community. "People do love a popular crime thriller," says Payne, explaining why the genre remains one of the most popular on the international market.
She adds streaming platforms have opened up audiences to types of material they may not have seen widely before, citing the international success of shows such as German thriller Dark, UK police drama Happy Valley and crime hit Killing Eve.
"People used to say they didn't want British dramas because they were too dark, the accents were difficult to understand and they didn't have glamorous locations or people. And then Happy Valley went everywhere."
Beyond Nordic noir
Also hitting Mipcom this month is Agent Hamilton, a spy thriller series based on one of Scandinavia's biggest literary properties, which has its world premiere TV screening at the market. It comes with a well-known local cast and production team, and tells the story of a Swedish agent investigating terrorist and cyber-attacks with traces leading to Russian, Swedish and US intelligence forces. Set in Sweden,
Germany, Russia and the Middle East, the series is shot in various local languages and held together by a central English-language narrative.
Justus Riesenkampff, executive vice president for the Nordics and Benelux at distributor Beta Film, says Agent Hamilton could resonate because it is a spy thriller that deals with many of the issues that countries are struggling with today, not least that in the post-Cold War era "you don't know who your enemy is or who your friend is — it's not that obvious anymore".
Agent Hamilton's executive producer Patrick Nebout of Sweden's Dramacorp bills the 10-parter as "not just another Scandinavian Nordic noir series", describing it instead as high concept and character driven. He argues the highly competitive Scandinavian market, with its big concentration of broadcasters and platforms such as HBO, Amazon, Viaplay and Netflix, is always looking for the next big thing, and has decisively moved beyond Nordic noir.
Riesenkampff suggests it is made for binge-watching, so could work on a linear channel that could also direct viewers to its streaming platform. "That's what most of the networks want to do these days — many of them try to have shows that draw their audiences into their player through the linear feed."
In Scandinavia, it will play on Bonnier Broadcasting's Swedish channel TV4 as well as its streaming service C More. It is co-produced by German broadcaster ZDF.
Embracing authenticity
Another series produced for a streaming platform is Dignity, a Chile-Germany co-production inspired by the real-life story of a mysterious German cult established by a former Nazi soldier in Chile. The show has been produced for Joyn, the new German streaming service that is a joint venture between ProSiebenSat.1 and Discovery. In many ways it is emblematic of the growing number of dramas being made for local SVoD services.
The TV series is being sold by Germany-based Red Arrow Studios International, whose executive vice president of acquisitions and content investment Alex Fraser says it is a well-known story in both Germany and Latin America and was filmed on the original site of the cult, in both Spanish and German languages. "It's particularly authentic," he notes. "And in a very crowded market, authenticity is key."
Foreign-language drama is watched much more than it used to be in English-speaking territories, says Fraser, while admitting it is often still a niche prospect. "There are opportunities — you need a really strong story to shine through."
Studiocanal sees global-sized opportunity at Mipcom for its French-language series Savages, directed by Rebecca Zlotowski, who makes her first foray into TV following lauded features including Grand Central, The Summoning (aka Planetarium) and An Easy Girl.
A glossy thriller from Canal+, based on an acclaimed novel by Sabri Louatah, Savages centres on the first presidential candidate of Algerian descent who is shot on the brink of coming to power in France. The show had its world premiere at Toronto International Film Festival in September.
Francoise Guyonnet, Studiocanal's executive managing director of TV series, picks the series out for its "powerful mix of strong storytelling and its cinematic approach". It is both a thriller and a family drama, she explains, but also deals with a universal theme that she hopes will resonate with global audiences — people's search for identity in the modern world.
Guyonnet adds that distributors such as Studiocanal "always have to fight to push foreign-language series for them to be considered on a par with English-speaking series — but as long as you have quality, I'm sure the audience wants the story."
One English-language series Studio­canal will likely have to push against is Sanditon. It is adapted from Jane Austen's final and unfinished novel for UK broadcaster ITV Studios by screen­writer Andrew Davies, whose credits include Pride And Prejudice and Les Misérables. Sanditon fits perfectly the criteria for likely success in the international market, with the story based on the work of a well-known author, penned by a leading writer and produced by a highly regarded company, UK outfit Red Planet Pictures, which makes Death In Paradise, one of the UK's top-selling shows around the world.
Costume drama remains very popular too, explains Caroline Stone, director of indie drama at BBC Studios, which is selling Sanditon. "Our core customer base all around the world — whether that's public service or commercial broadcasters — still wants to see period drama and iconic characters."
This is proof, perhaps, that a diverse range of dramas are popular on the international market — but only as long as they can cut through with the help of top talent, recognisable IP or great storytelling.
In conversation: Patrick Nebout
Founder and executive producer, Dramacorp, Sweden
Which young TV writer or director would you love to work with?
[Swedish-UK] director Lisa James Larsson [known for Britannia, Victoria, Striking Out]. It's not always that you meet directors who are passionate, driven and with an outspoken ambition to elevate all aspects of the projects they board. Lisa is one of those rare talents. And writer Audrey Fouché (The Returned). I have been looking for a project to develop with her since 2014. We're eyeing a western graphic novel that we'd love Audrey to look at. She's one of the best writers in France and Europe, with a distinctive voice.
What's your favourite recent show that's not affiliated with you or your company?
I binge-watched season two of Mindhunter over a weekend. It's a masterpiece. The surgical precision of the directing, acting, editing — everything's perfect. It's an excellent companion to [David] Fincher's Zodiac.
What's the last film you paid to see at the cinema?
Toy Story 4. It's Pixar's best franchise because it has a huge heart, it's never cynical, unlike many other animated movies. It appeals to everyone and to all generations because it's about essential things: life, family, love, death.
In conversation: Alex Fraser
Executive vice president of acquisitions and content investment, Red Arrow Studios International, UK
Which young TV writer or director would you love to work with?
The list is long, but perhaps Chewing Gum's Michaela Coel embodies the kind of exciting talent we would love to work with.
What's your favourite recent show that's not affiliated with you or your company?
I've just watched BBC/HBO's Years And Years and was both horrified and transfixed. Such a great dystopian warning of a slope we could be sliding down — no, are slipping towards — daily. Emma Thompson is so frighteningly believable. And an honourable mention for Netflix's Special — a pointed commentary wrapped in such wit and charm.
What's the last film you paid to see at the cinema?
Toy Story 4. As a huge fan of the first three films I was worried the fourth would spoil the franchise, but I needn't have been concerned. Perhaps it's a little older and wiser than when the franchise began, but it's great nonetheless.
In conversation: Caroline Stone
Director of indie drama, BBC Studios, UK
Which young TV writer or director would you love to work with?
[Irish novelist] Sally Rooney, who wrote Normal People, which she is adapting with Element Pictures for BBC Three. Also, Lisa McGee, who created Derry Girls, which was a huge hit for Channel 4. She is brilliant and has such a unique voice. Lastly, Sophie Petzal who wrote Blood for Channel 5 — she is great.
What's your favourite recent show that's not affiliated with you or your company?
HBO's Succession. I think the show is incredible, with some of the best acting and writing I am seeing on television at the moment.
What's the last film you paid to see at the cinema?
Yesterday, the film written by Richard Curtis and directed by Danny Boyle. It is such a lovely and feelgood film, which shows the music of The Beatles in the best possible light.
In conversation: Francoise Guyonnet
Executive managing director of TV series, Studiocanal, France
Which young TV writer or director would you love to work with?
I work with producers who all have a lot of young directors they want to work with. But it is very difficult for me to drop a name so I'll leave it to them.
What's your favourite recent show that's not affiliated with you or your company?
I was really impressed by Chernobyl. It's definitely a show I wish I could have distributed or produced. It fits exactly with what we are about at Studiocanal — a strong story with very European DNA and something that resonates loudly with our world.
What's the last film you saw at the cinema?
I was very lucky as I saw the new film by Olivier Nakache and Eric Toledano, the two people who directed Intouchables. Their new film, The Specials, is released in October and tells the story of two associations that fight to help young people who have autism. It's a very powerful story.