The cinema world's growing love affair with TV will be more evident than ever at this year's MIPTV.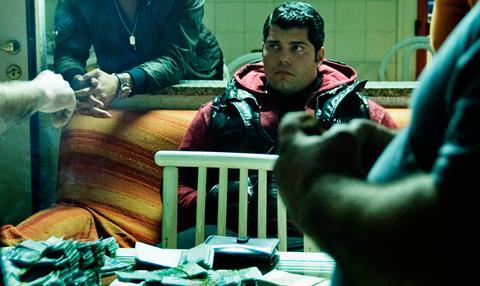 High-end TV drama, much of it involving directors and cast associated with feature film, will take centre-stage at MIPTV this year.
Among the hot projects due to be launched at the TV and digital content market, unfolding April 4-7 in Cannes, is the second series of Oscar-winning Jane Campion's Top Of The Lake, with Elisabeth Moss reprising her role as detective Robin Griffin.
BBC Worldwide is selling the series, the fourth TV production for Oscar-winning producers Iain Canning and Emile Sherman's London and Sydney-based production company See Saw, after the first series of Top Of The Lake, Banished and Love, Nina, co-starring Helena Bonham Carter and 2015 Screen Star of Tomorrow Faye Marsay, which is in production.
German Beta Film's slate includes Tom Tykwer's ambitious 1920s-set Babylon Berlin, which starts shooting in April, and Olivier Hirschbiegel's The Same Sky, which is in post-production.
Its big MIPTV sales drive, however, will be more focused on The Embassy – a glitzy Spanish-language romantic thriller from Madrid-based Bambu, the makers of Gran Hotel - and closing final territories on Gomorrah 2, also directed by a quartet of film directors led by Stefano Sollima and also including Francesca Comencini.
More attention is given to TV productions at the project stage these days than in the past, says Beta director Jan Mojto, but buyers still like to see at least a trailer before signing on the dotted line.
Lagardère Studios Distribution will unveil drugs trade-thriller series Cannabis directed by French director Lucie Borleteau, best known for the critically acclaimed debut feature Fidelio: Alice's Odyssey.
French film director and producer Tonie Marshall, who describes it as a French-style The Wire, is co-producing the series through her Tabo Tabo Film with Spanish Arcadia Motion Pictures and broadcaster Arte France.
Jonathan Rhys Meyers and Oscar-winning Anna Paquin – both of whom have segued between film and TV in recent years — will hit the red carpet for the opening night world premiere of A+E's big budget Roots remake, alongside former Screen Star of Tomorrow Malachi Kirby, who plays the central character of Kunta Kinte.
The ambitious eight-hour project is co-directed by Mario Van Peebles, Bruce Beresford, Phillip Noyce and Thomas Carter; the latter director is the only one to have worked mainly in TV.
The recent crossover of cinema talent into high-end TV drama is not a new phenomenon but the trend has been gathering speed in recent months.
"Almost every week now I have a meeting with an independent film producer who has got in touch saying, 'We've got TV projects on our slate'," says Caroline Torrance, head of scripted at Zodiak Rights, the international sales arm of the Banijay Group.
"It's a development that's been building for last 18 months and now we're getting to the point where a lot of these projects are entering post-production and being launched," she adds.
The financial and creative draw
The reasons for the growing crossover are both financial and creative.
"I call our side of the business, "the money in" division," says Hakan Kousetta, COO of See-Saw's TV division, who was hired in 2014 to oversee the financing of the company's high-end TV projects, working alongside head of television Jamie Laurenson.
A successful TV show can be quite lucrative, whereas it is tough for a producer to reap financial rewards from a film, even when it does well, he says.
Recalling his days as an entertainment lawyer working with both film and TV talent, Kousetta notes: "It was two parallel businesses and very rarely did they cross lines. Now you can't put a piece of paper between them."
He adds TV's allure goes beyond financial incentives, suggesting film talent is also enticed by the creative possibilities of the longer story arcs and different formats it offers.
Torrance concurs: "A lot of film producers who poo-pooed television as the poor cousin are now looking at the scope of the stories that are being told over six to eight hours as well as the bigger budgets that are available and are quite envious."
Zodiak's slate includes Australian Greg McLean's Wolf Creek, a spin-off of his hit serial killer feature, and crime drama Public Enemy, a first TV series for Diana Elbaum's Brussels-based film production house Entre Chien et Loup.
A well-known player in the European film co-production scene, Chien et Loup's upcoming features include two Cannes Film Festival hopefuls, Paul Verhoeven's thriller French-language thriller Elle and Belgian director Fabrice Du Welz's English-language Message From The King.
It is among a slew of independent film production houses trying out TV.
MIPdrama Screenings
Public Enemy is among 12 new high-end drama shows being previewed in the inaugural MIPdrama Screenings, a new initiative unfolding on April 3, the eve of the main market.
Other series in the line-up include Chilean drama Ramona about two sisters who move to Santiago from the countryside in the 1960s, which was written by Guillermo Calderón, who co-wrote the screenplays for Pablo Larrain's The Club and upcoming bio-pic Neruda, another Cannes Film Festival hopeful.
Wild Bunch's fledgling TV sales unit will also unveil Frank Spotnitz's Italian renaissance period drama Medici: Masters Of Florence, starring Dustin Hoffman and directed by Sergio Mimica-Gezzan, who was assistant director to Stephen Spielberg for more than a decade before moving into TV.
Will the high-end TV drama boom continue?
The new MIPdrama screenings have been prompted by the growing demand for high-end drama series.
The jury is out, however, on whether the boom — spurred by the arrival of digital players such as Netflix, Amazon and Hulu and the global move away from traditional linear television viewing to non-linear platforms – is sustainable. Some have suggested there is a high-end drama bubble which is on the verge of bursting.
Kousetta disagrees: "The technology and outlets allowing people to watch these sort of series is growing and they're monsters that need feeding… I wish there was a glut but the fact remains it is still very tough to get these shows green-lit and you have to be creative and inventive to make it happen."
Lionel Uzan, managing director of Paris-based Federation Entertainment, which produced Netflix's first original French series Marseilles and is also a co-producer on Amazon's first UK original series, the Paris-set The Collection, echoes these sentiments.
"The fact there are more drama series is linked to structural changes caused by changing viewing habits. When we look at the explosion of viewing on SVOD platforms and catch-up TV services, drama, with its length of 26 or 52 minutes, is the format best adapted to this type of non-linear consumption," says the film and TV veteran, who was previously head of sales and acquisitions at SND International.
Torrance warns, however, that it is only the premium series — with budgets in the $2.2m and upwards per episode bracket — that are truly in demand.
"There are some series in the lower budget area that could get squeezed out now that buyers have so many high-end shows to choose from."
But overall, she also sees room for growth, as viewing windows proliferate and local streaming services also get into the premium content game, citing the example of Australian streaming service Stan's financing of Wolf Creek.
"Each channel wants its channel-defining piece and that tends to be in the scripted area," she explains. "A lot of streaming services start out acquiring content and in the end they see the way to really attract viewers is to offer them something original… I think we're going to see more and more of that."
Beta chief Mojto is more cautious. He questions the exportability of some of the much-vaunted high-end series, many of which have been financed on the expectation that they will find audiences in multiple territories.
"It's not so much a bubble situation but rather that we're arriving at a time where we will see what really works and where," he says. "Just because a drama is tagged as being international doesn't mean it will be international. Not every drama will work everywhere. Only a few will make it into what I call the 'champions league'."
It is a debate that is likely to be continued at MIPTV and beyond.