Indonesian director premieres her new film in Directors' Fortnight.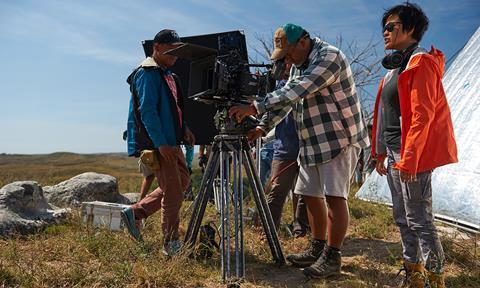 Indonesian filmmaker Mouly Surya is in Cannes with her third feature, Marlina The Murderer In Four Acts, which is premiering in Directors Fortnight. She also attended Cannes last year, when the project was selected for Cinefondation L'Atelier.
Set on the island of Sumba in eastern Indonesia, the film follows a young widow who embarks on a journey seeking justice and empowerment after being attacked by robbers and killing several men.
Starring Marsha Timothy, the film was produced by Indonesia's Cinesurya and Kaninga Pictures with France's Shasha & Co Production, Thailand's Purin Pictures, Malaysia's Astro Shaw and Singapore-based streaming platform HOOQ.
Surya's second film, What They Don't Talk About When They Talk About Love premiered at Sundance film festival in 2013.
How did the project originate?
It literally fell into my lap. I was on an awards jury with [veteran Indonesian director] Garin Nugroho who said he had this story about a woman in Sumba and it needed a female director. He said he wanted me to do it because he couldn't imagine what I would do with it. He sent me a five-page treatment and we went from there.
What do you think you brought to his story?
It was a challenge at first because it's about a woman in the countryside and I'm a metropolitan girl from Jakarta, but then I went to visit Sumba and was amazed by it. The landscape made me think of Westerns and Japanese samurai movies, so I've brought those genres into the film. I also wanted to show the diversity of Indonesia. Sumba is only one hour's flight from Bali but has its own religion.
What challenges did you face shooting in Sumba?
We did all the interiors in a studio in Jakarta, but around half of the film was shot in Sumba. We had to fly in all the equipment from Jakarta and Bali. Indonesia has very specific problems when it comes to access – there are no direct flights from Jakarta to Sumba and you don't have flights from Bali every day. But the great thing is that the island is very beautiful and you can control your exteriors – unlike Jakarta where you always have something moving into the shot.
How is independent cinema faring in Indonesia?
It seems to be doing really well – and the great thing is that it's not always the same people or focused on Jakarta. We have new directors emerging all over Indonesia. We have more cinemas now and private investors, but we don't get any government support. The challenge is always the marketing.
As SVOD platform HOOQ is a co-producer on your film, what do you think about the Netflix controversy in Cannes?
Well HOOQ is happy for us to have a theatrical release before they stream the film. As for Netflix…I've always said that the experience of watching a film in a theatre is very different to watching it on TV or your phone. But cinema is changing and the way that people consume films is also changing. What concerns me is how this will affect the way that films are financed and produced.
What's your favourite Cannes memory?
Its not a fun memory but one year me and my husband, who was selected for Producers Network, got off the bus from the airport and discovered all the taxis were on strike. It was a long walk to our hotel and that was difficult after a 16-hour flight. Of course we have strikes in Jakarta, but we were shocked that this would happen during the world's biggest film festival!