Worlds collide in 1950s-set Mrs Harris Goes To Paris. Costume designer Jenny Beavan and star Lesley Manville tell Patricia Dobson about wardrobe choices, from post-war London to Dior haute couture.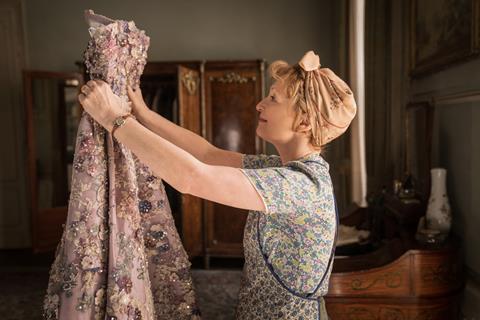 Costumes are an intrinsic part of a film but perhaps none more so than in Mrs Harris Goes To Paris. Directed by Anthony Fabian and based on the Paul Gallico novella, the Universal Pictures film follows a working-class cleaning lady in 1950s London who, after seeing a Christian Dior dress at a client's house, goes to Paris determined to buy one herself.
Oscar and Bafta-winning UK designer Jenny Beavan took on the job of recreating not just the dress Mrs Harris falls in love with but a full Dior fashion show, as well as era-appropriate London and Paris costumes.
Beavan describes her job as storytelling and bringing the characters to life via the costumes: "I can't do that storytelling without the actor and what's so lovely is the teamwork. The actor and I will have ideas and it all comes together in the fitting."
"Jenny doing the costumes was a big factor in why I did the film," says Lesley Manville, who stars as Mrs Harris. "I can't emphasise how intrinsic and important a layer that is for me building a character. What Jenny did was find the real Ada Harris in the clothes she's had for years, that she's mended and darned. Ada's a woman who wants to look nice and cheerful. I knew those things about her but when Jenny showed me colours and patterns, it started to come together."
Creating Ada Harris's costumes involved research, but when it came to recreating the Dior show, Beavan was invited to visit the fashion house's archives in Paris. "There's masses of Dior online including the 1957 show, which we based our show on, but I was told [by the producers] that Dior would bring all the clothes, and if I wanted anything, they would make it for me," she says. "In your dreams! That is not the way a haute couture house works. I wanted to honour Dior so I needed the top makers — namely John Bright at Cosprop and Jane Law. We were making this during lockdown in 2020 so I was terribly reliant on what fabrics John and Jane had in stock, but the gods of costume designers shone on us."
Perhaps surprisingly, there were not many clothes in the Dior archive to inspect. "They would do the collection, sell it and move on," says Beavan. "They gave me a photocopy of the book of sketches, fabric sample and notes from the '57 collection, and those were stunning. But John and Jane are experienced makers and understand everything about construction."
The show collection includes five direct copies of dresses from the original show, and five outfits lent from Dior's heritage collection, including the iconic Bar suit from 1947.
Although Manville's fittings were in London, all the other Dior recreations were done to measure, made in London and then fitted in Budapest where the film shot. "We couldn't go to Paris to do the fittings with the French cast because of lockdown and had to do some fittings via Zoom, so we prayed they'd sent the right measurements. Although me and my assistant costume designers are adequate sewers, altering Dior is out of my pay grade."
Gratifyingly, the end results enjoyed Dior's approval. "I'm honoured they did," says Beavan. "It was nerve-­wracking recreating Dior because I'm not a fashion person, but when John Bright showed me his Diors, I became absolutely fascinated. The joy of this job is that it introduces me to things I don't think I'm interested in, and then I become very interested."
Recreating Dior
The three key Dior gowns are Ravissante, which sets off the whole story; Temptation, the claret red dress that is Ada's first choice but is snapped up by a snooty Dior client; and Venus, the green gown Ada brings back to London where it comes to an unfortunate end when her young friend Pamela borrows it.
Ravissante was one of the trickiest to design because it has to wow while on the hanger. "That's a massive challenge because however lovely a dress is, it only comes to life when someone puts it on and neither Ada nor [her client] Lady Dant do," says Beavan. "Although it is very different to anything in the 1957 show, the pastel colours were specifically chosen so an older woman would love it. It's based on a real Dior dress. There's that heavenly moment when Ada in double floral holds it up and it's triple floral and it makes sense of why she would fall in love with it."
For Temptation, Beavan was inspired by Dior Diablotine, one of the few dresses in the Dior archives, adding a bolero to give more drama to the reveal of the neckline. "The colour was so good for an older woman, but it had to sparkle, and it also had to work on Alba Baptista [who plays Dior model Natasha]," she says. "The fabric came from a warehouse in Manchester. You wouldn't believe the endless Googling and samples we sent off for. It has a gauze under it, which made it glow under the cameras in the right way."
The third hero dress is Venus, partly inspired by a pearlescent gown called Miss Dior. "That dress had to do various things," says Beavan. "I wanted a colour that Ada would really love and we tried a lot of different greens before we got the right one. It also needed to burn and I expected the tulle waterfall panel would burn easily but it just wouldn't so we had to burn the silk." The team made three copies, one specifically for Rose Williams, playing Pamela. "Yes, it has been pointed out that it's somewhat unbelievable that Pamela would fit into one of Ada's dresses!" laughs Manville. "That was the dress I loved most. The three days we filmed that show were just wonderful."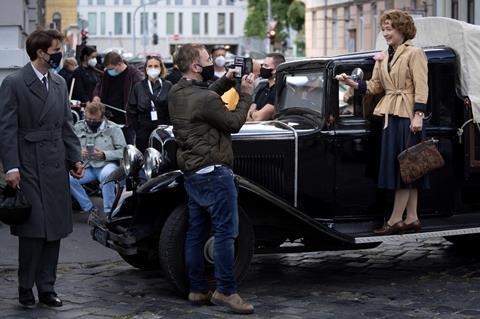 The London look
In the London scenes, Beavan put Ada in pretty patterned dresses, floral blouses and bright aprons over plain skirts, mostly original vintage from Cosprop.
"Ada wears '40s clothes because when you didn't have any money to buy new, you mend and make do with what you have," says Beavan. "My mother cared about how she looked and wore skirts made out of Heal's furnishing fabric! Ada was just not someone to wear dreary clothes. You get that from her wonderful exuberance. I hope I bring the character to life."
Manville says Beavan did just that. "So many things that Jenny did got me there with Ada — the flowers on her hat that would have been homemade, the jolly aprons she wears to work, little cardigans with bits of darning that no-one would notice on the screen."
The coat was also key. Nothing in stock fitted the bill, so one had to be made. "We wanted it to be a warm, practical coat she'd had for many years," says Manville. "And the shoes were made for me. They were robust and comfortable and polished like conkers. Everyone's shoes were like that back then. My father would polish his new shoes for weeks before wearing them."
Paris chic
Ada stays with Dior accountant André (Lucas Bravo, pictured above) while her dress is being made. It gave Beavan the chance to give the character a new, more confident look — with Ada borrowing clothes from André's absent sister. "We called her Sandrine and decided she was bookish," says Beavan. "Her clothes are mostly single-block colours, simple but chic, and very different from the London florals. When we dressed Lesley up and put Sandrine's shoes and lighter stockings on her, she just looked like someone dressed as a chic French person, so we kept Ada's thicker stockings and clumpier shoes. Even if you can't see them, they give that grounding."
"Even when I went to the nightclub wearing a cocktail dress, we kept her in the thicker tights," laughs Manville. "What was interesting about Paris was that I felt I could completely hand that over to Jenny, because Ada had no choice over those clothes."