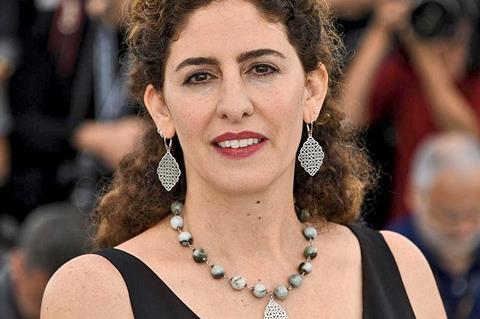 Palestinian director Annemarie Jacir is on the main Competition jury at the Berlinale this year.
The Bethlehem-born filmmaker's credits include Salt Of This Sea, Wajib and When I Saw You. Jacir also produces under the banner of Amman and Haifa-based company Philistine Films, which she created with Ossama Bawardi in 1997. She is now talking to partners about her new project, which she describes only as a "big one for me".
What is your office like?
Philistine Films produces a lot and even though I'm not personally involved in all of the films I still have my own space to work on my projects. I find it useful because I function well in an environment where everyone is totally lost in the madness of production, creativity and problem-solving. I also share an office in Bethlehem in the Dar Yusuf Nasri Jacir for Art and Research, a cultural space that my sister and I founded in our ancestral family home, a 130-year-old house. My sister is the boss there.
What is the first thing you do when you arrive in your office each day?
I say hello to everyone. Then I go into my space and look at my wall. It's covered in images, photos, postcards, sticky notes and scenes. Mostly scraps I collect, an image that means something to the film, sometimes it's something I've sketched. Still photography is also very inspirational for me. I will open my laptop and try to write. After about five minutes, I usually go to make some coffee and talk to people who are trying to work.
What was your first job in the film industry?
My first respectable job in the industry was working as a production assistant for a producer and director in Los Angeles named Gregory Orr. I was about 20 years old at the time. He was making a feature film about Holly­wood filmmakers who made films during the Second World War. I had gone to Los Angeles to find work and to learn about filmmaking. After a few years, I got into a car and drove myself across the country and have never returned.
Who do you look up to in the industry, and why?
Single parents. And filmmakers who did not sell out. I believe in ethics and it is becoming more and more difficult in this political atmosphere for artists.
What's the biggest professional mistake you have made?
Baba [her father] told me to never look back. So I don't. I must have erased those thoughts.
Who helped you most when you were first starting out?
Laurent Jacob from Cannes Film Festival. He not only selected my short film [Like Twenty Impossibles] in 2003, which changed my life, but he made me feel that my voice meant something and that anyone could have a place in our industry. Also, festivals that gave cash awards helped a lot. It allowed me to pay off my film school loans.
What was your favourite film growing up?
Fiddler On The Roof. The story, the music, the emotion, that family, exile… as Palestinians it struck a deep chord.
With whom would you most like to take a meeting?
George Clooney, for his acting, producing and politics. I think we'd have a great conversation. I'd love his thoughts on my new project too.
What is the biggest challenge facing the business?
Plastic surgery.
If you didn't work in film what job what you do?
I'd be a gardener. But possibly a famous swing dancer. I love my plants and become a bit obsessed with them. The problem is that I travel a lot, so sometimes they die. When I return home, it is deeply upsetting to me. It's actually painful. Sometimes when I think about people who have been forced from their homes and become refugees, I think the worst thing is that they had to leave behind their books and plants.
What book are you reading?
Stone Men by Andrew Ross.
What's the one TV series everyone should watch this year?
I'm a latecomer to the world of TV series but I'd say Succession.
What do you do to relax?
Dance. Listen to music. Drink good wine. Lie in the sun.
Where do you go to unwind?
The sea. It's the impossible dream now for Palestinians. We were severed from our sea. The fact I can go to Haifa and just be by the sea is something with great meaning. I feel like the luckiest person on earth.
Who would play you in the biopic of your life and who would direct?
Lady Gaga directed by Lynne Ramsay.
More Screen Life interviews