The artistic director of Canneseries discusses the clamour for places at the festival, balancing his twin loves of independent cinema and television, and why Normal People left him wanting more.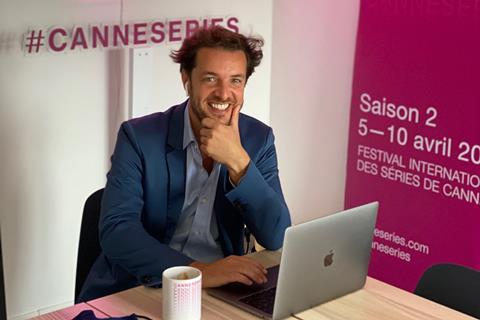 Paris-based Albin Lewi is the artistic director of French TV drama festival Canneseries, the third edition of which is due to run as a physical event in Cannes as well as online from October 9-14. The festival will be one of the only film and TV events physically taking place in the French Riviera resort city this year, alongside a special mini Cannes Film Festival, recently announced for the end of October. The latter event follows the cancellation of Cannes Film Festival's large-scale 2020 edition in May due to the Covid-19 pandemic, which also forced MipTV and Mipcom online.
Where is your office located and what is it like?
We are based in the 10th arrondissement of Paris near Place de la République and the Canal St Martin. The area is home to a lot of creative companies and our building is full of TV and film production and post-production companies. It's a good fit for us. We've created a cosy, relaxed space. We've taken off all the doors so that everyone has their own workspace but there is an open feel too.
How have you and the team adapted to the Covid-19 era?
We're a small core team but in the lead-up to the festival we can have as many as 50 people working in the office. This year, that's just not possible and our big pre-festival planning meeting will take place on Zoom.
What does your job involve in this strange time?
Normally, I travel a lot to other markets and festivals, and places like LA or London, meeting people in person. These last six months I've been on email and calls all day. You cannot imagine how many people are really desperate to come. We're spending a lot of time trying to figure out quarantine and travel requirements. I'm a fan of AirPods and spend all day pacing around on calls. I probably walk the equivalent of a marathon each day.
How did you get your career break?
I've always been passionate about film. While at business school I did internships at EuropaCorp and Canal Plus and, after I completed my studies in 2008, I was recruited for the launch of the iTunes store for TV and movies in France and Europe. My job was to create the best store possible and to get people to discover movies they didn't know about, as well as support titles everyone was waiting for. I ended up spending nine years there, launching a number of territories and becoming the European lead for independent cinema.
What was your favourite film growing up?
I'm a real movie geek. It would have to be something by David Lynch, Alfred Hitchcock or Stanley Kubrick… I'll say Hitchcock's North By Northwest.
And your favourite TV series?
The John Landis show Dream On from the early 1990s, probably when I was too young to watch it. I loved all the HBO series of that period.
How do you reconcile your love of independent film with being the artistic director of a TV festival?
Series were always there with me too, it's just they were perceived differently. But this has changed with the rise of auteur series and the long list of film directors like Jane Campion and Nicolas Winding Refn crossing over into TV.
What are you reading at the moment?
Emmanuel Carrere's Yoga. I have always followed his work, even before he was famous in France.
What TV series should everyone watch this year?
Normal People. Daisy Edgar-Jones will receive our rising star award this year. You think it's something you've seen 100 times before, but the chemistry between the two actors [Edgar-Jones and Paul Mescal] really transforms it into something else. I was sad it ran over so few episodes.
What do you do to unwind?
I'm a big squash player and try to find time for sport. I also try to step back every now and again, to take stock. The lockdown period gave me a chance to do this.
Who would play you in the film of your life, and who would direct it?
Some people make fun of my resemblance to Andrew Lincoln in The Walking Dead. I don't know if this is a compliment or not but I'll go with that. For the director, I'd love Yorgos Lanthimos, but that would suggest my life is a nightmare, so I'll go with Denis Villeneuve for the way that everything he does is always entertaining and intelligent at the same time.