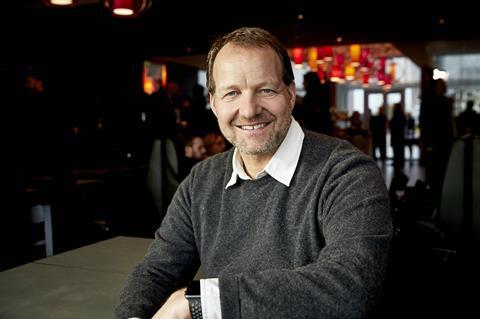 Danish producer Kim Magnusson is co-founder and head of creative at Scandinavian Film Funds and Scandinavian Film Distribution, which launched in March 2020 and will start to release its first titles later this year.
Previously, he founded M&M Productions with his father, Tivi Magnusson, in 1995, and was CEO of Nordisk Film's Film Division from 2003-09. He is also an independent producer for Tales Inc, where he is producing political satire The Cake Dynasty, the feature debut of Danish theatre veteran Christian Lollike. The cast features Nicolas Bro, Tina Gylling Mortensen and Bahar Pars, and LevelK handles sales.
Magnusson is an Oscar winner for the shorts Election Night (1998) and Helium (2013) and has served on the international outreach committee of Ampas. His features as a producer or executive producer include Men & Chicken, I Kill Giants and R.
What is your office like?
We are in an old factory building in the northwest part of Copenhagen, it's going to be the new 'Brooklyn of Copenhagen.' There are lots of creative people around us — actors, writers, we're creating a new kind of film house.
What was your first job in the film industry?
I was a child actor when I was 14 in a film called Kvindesind in 1980, I think I only had two lines. I was playing the son of Lotte Tarp, and we looked a lot alike so that's the only reason I got cast. It was fun, and with the earnings I bought my first [still] camera, a vintage Nikon F2. Later I started working as a production assistant on Danish films.
What was your favourite film growing up?
Bugsy Malone — I totally fell in love with Jodie Foster. My dad owned a great arthouse cinema at the time, and I remember sitting in that cinema for three weeks watching Bugsy Malone every day. But my all‑time favourite film is still It's A Wonderful Life.
What are you most proud of professionally?
That we went ahead shooting Anders Thomas Jensen's Men & Chicken even though we lost a lot of financing two weeks before the shoot. That was tough. I love everything in that film, Anders Thomas really creates a full universe. Within that film's universe, everything has happened, examining where we all come from and where we are going. It has so many layers, I can still watch it and find new things that I didn't even see in the script.
What is your favourite festival and why?
I love going to Toronto International Film Festival. I had a streak there of about 12-14 years with at least one film in the official selection. I love the atmosphere in the city. Lately, Zurich Film Festival and Zurich Summit are a favourite — it reminds me of those old days in Toronto, you have this great festival hub and you can bump into everyone, they have a lot of great guests and lots of strong American-European connections. Zurich's partnership with Montreux Jazz Festival also means the music strand is a phenomenal add-on.
With whom would you most like to take a meeting?
In life, the Obamas. For business, Bob Iger. As a starstruck fan, Jodie Foster.
What job would you do if you didn't work in film?
I'd be a fighter pilot.
What's the one TV series everyone should watch this year?
Like everyone else, I love Ted Lasso. And I look forward to the next season of The Crown.
What do you do to unwind?
I try to escape to a hut in the countryside woods. I like to just look out at the rain and not read my emails. We have a place in Long Island — not the one you think… it's in Funen, Denmark.
What projects are you working on right now?
We are busy acquiring a string of Nordic films for distribution. And I'm producing The Cake Dynasty by Christian Lollike; he's making his debut feature after working in theatre. It's a satire that addresses two of our biggest concerns: fear of others and obsession with looks.
Who would play you in the biopic of your life?
Everyone says I look a bit like Kiefer Sutherland.