Lizzie Gillett is the UK-based director of Passion Pictures' feature division.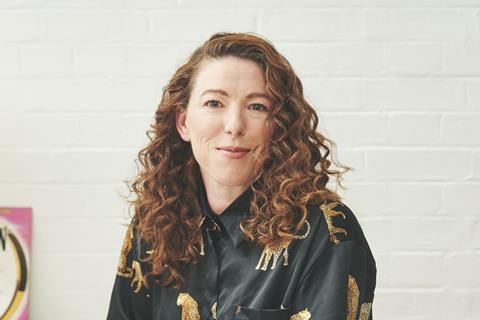 Documentary producer Lizzie Gillett started her career in her native New Zealand as a news reporter before moving to London and working for director Franny Armstrong. Gillett produced Armstrong's groundbreaking 2009 climate change documentary The Age Of Stupid, with the duo raising the $1.1m (£900,000) budget through an innovative crowdfunder.
She joined Passion Pictures in 2018 where she has produced feature documentaries including Lady Boss: The Jackie Collins Story, with CNN Films and the BBC; Telluride premiere Merkel; and The Territory, a feature documentary co-produced with the Indigenous Uru-Eu-Wau-Wau people in Brazil, which premiered at Sundance 2022.
What is your office like?
I love coming to the office and being here with my colleagues. Passion has a beautiful building in Fitzrovia. Like a lot of parents, the office is a safe haven from the chaos of home so I come in most days.
What is your morning routine?
Before work I often swim in the Parliament Hill lido or the Ladies' Pond on Hampstead Heath. Then I sometimes go for coffee with my daughter before dropping her off at school. A flat white is the most essential thing in the morning.
What was your first job?
The lead reporter for a local TV station in New Zealand — Channel 9 News in Dunedin. My mum loved it because she could watch the news and see what I had been doing that day. I was responsible for finding, filming and editing three local news stories a day.
Who was your mentor?
After moving to London I stalked [The Age Of Stupid filmmaker] Franny Armstrong on the internet and I begged to volunteer for her. I was her 'office bitch', but after five years I was her business partner, lead producer and I got an equal share in the company. She showed me that anything is possible and you don't have to do things in the traditional way.
What do you love about your job?
One thing I love is you work on a film and then it's done. There's something satisfying about moving on to the next one.
What is the biggest challenge facing the business today?
To find a way to tell big, commercial stories but not lose our soul in the process. To still maintain journalistic integrity, have something to say that's political or radical, and have an arthouse sensibility. That becomes hard when there's so much money involved.
What is the biggest professional mistake you have learned from?
One thing I've got better at is getting out of projects that are problematic early on — also, to accept if something is not commercial enough. If you get five 'nos' you should probably listen to that and stop.
What is your favourite festival?
I love CPH:DOX in Copenhagen. I swam in the harbour there — it was four degrees in the water. Like Sheffield DocFest, there is a really good mix of arthouse and commercial projects.
What job would you do if you didn't work in the film industry?
I'd work for a hedge fund. I would be terrible at it because I'm so transparent and direct but I get a thrill from that level of dealmaking.
What is the one TV series people should watch?
Industry. It makes you realise your job is not stressful.
Where would you like to be in five years' time?
Producing feature documentaries but at a bigger level and probably with more diverse directors and collaborators. Half of Passion's feature docs are directed by women and half by first-time directors. But in terms of class, we have a long way to go. You go into any production company in the UK and it's primarily middle-class or upper-class people.
What book are you reading?
Love's Executioner — it's a book written by psychiatrist Irvin D Yalom about 10 of his patients and what he learned from them. Therapy, like documentary interviews, is not as much about what you cover in the session, but the relationship between the therapist and client.
With whom would you most like to take a meeting?
US filmmaker Ava DuVernay. She's so cool, powerful and talented. It would be amazing to collaborate with her.
Who would star in the movie of your life and who would direct?
I'd like to imagine Frances McDormand playing me and being directed by Andrea Arnold. That would be pretty cool.