Jeymes Samuel finally unleashed his ambitious debut feature some 15 years after conceiving the idea, shining a light on the Black settlers that Hollywood westerns forgot.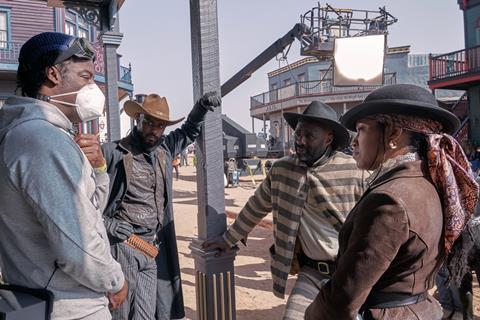 For his feature-film debut, Jeymes Samuel set himself an almighty task. The Londoner, best known as musician The Bullitts, decided he wanted to make an 1890s-set American western, with a majority Black cast and an immense budget, which he would direct and co-write, while also being a writer/producer on the soundtrack.
"There was no version of events in which I wasn't going to make this movie," says Samuel. It is this self-belief, he feels, that impressed Netflix enough to hand over the $90m budget required to make his debut, The Harder They Fall — the first film from the streamer to open the BFI London Film Festival. "It's a huge amount," he admits. "My secret is, just obey your crazy. When you have an idea, go for the jugular."
While "obey your crazy" has become something of a catchphrase for Samuel, it does not wholly capture the years he spent networking his way through the entertainment industry, assembling what he calls the "elite sniper squad" that made The Harder They Fall an irresistible prospect for Netflix. "I never had a big break. It was a grind," he says. "I just built everything like a puzzle."
A lifelong fan of the western genre, Samuel first had the idea 15 years ago to make a film based on the stories of the real Black individuals who inhabited America's Old West but did not feature in the Hollywood classics. He self-funded short film They Die By Dawn, released on streaming service Tidal in 2013, in which he starred alongside the late Michael K Williams as Nat Love and Erykah Badu as Stagecoach Mary — two characters that evolved respectively into The Harder They Fall's vengeful protagonist (played by Jonathan Majors) and Nat's formidable love interest (Zazie Beetz). "It wasn't just a proof of concept — it was a proof we [Black people] existed in that time," Samuel says.
He brought in his friend, rap superstar Shawn 'Jay-Z' Carter, as a producer, alongside more established film producers James Lassiter (multiple Will Smith hits including Ali and Hitch) and Lawrence Bender (a triple best picture Oscar nominee for Pulp Fiction, Good Will Hunting and Inglourious Basterds). Carter and Samuel first hit it off in a video call more than 10 years ago while working with musician Jay Electronica and have collaborated on projects ever since, including on the soundtrack for 2013's The Great Gatsby.
Samuel's connection with cast member and fellow Brit Idris Elba, who plays the film's main antagonist Rufus Buck, a murderous gang leader recently freed from jail, goes back even further. "I know him through the 'hood in London. We first met through music; we go back 15 years or more."
Boaz Yakin, who broke through as a filmmaker in 1994 with the Bender-produced Fresh, co-wrote the script. "I met Boaz through Lawrence, who is a friend of mine. We met randomly at Lawrence's house," reveals Samuel.
Perhaps the most important piece of the puzzle fell into place thanks to a chance encounter with Netflix co-CEO Ted Sarandos at the Malibu branch of Soho House in 2017, which turned into an accidental pitch. "I was with Lawrence and we were walking past Ted and his wife Nicole's table, talking. I didn't even know who they were, but I started going into one, and they were extremely receptive to my crazy stories. I got on with them like a house on fire, but at no point was it an official meeting."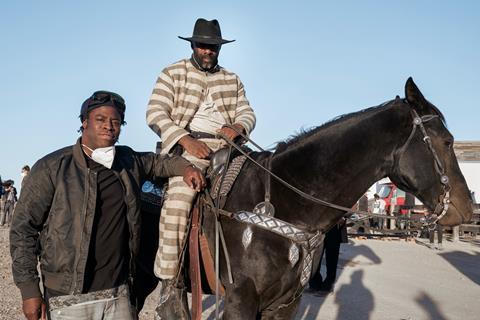 Netflix commitment
A meeting between Samuel, Carter, head of global film at Netflix Scott Stuber and vice president of original film Tendo Nagenda then followed. "The first thing Scott said was, 'Just so you know, Jeymes, this is not a pitch. We are making your movie and we can't wait.' Netflix wasn't even hedging its bets," Samuel recalls.
"I'm not sure if a major studio would have made The Harder They Fall with a first-time director. I had spoken to friends working at studios and they weren't interested." Samuel mentions the name of a film producer and financier who "offered me $5m for a smaller production back in 2017. He thought I could do The Harder They Fall as a fourth or fifth film, but it was too big for a first one. I continued down my own path."
By 2020, the puzzle looked complete. However, just as the shoot was to begin in New Mexico, the Covid 19 pandemic shut it down. "Netflix stuck with it and five months later we were back."
The delay saw some changes to the cast, which also includes Regina King, LaKeith Stanfield, Delroy Lindo and Damon Wayans Jr.
"The cast that is in The Harder They Fall is the cast I wanted," confirms Samuel. "But there will be certain crew members that changed and scheduling things that changed. All the people you see were originally in The Harder They Fall, even if a role was different."
Filming took place at Cerro Pelon Ranch in Santa Fe, less than an hour's drive from Bonanza Creek Ranch where, a year later, the tragic Rust on-set shooting would occur, resulting in the death of cinematographer Halyna Hutchins. Gunfights are a feature of Samuel's film, but he is adamant the strictest safety protocols were in place. "Our set, like most others in the history of cinema, was very safe. Our assistant director, prop master and armourers were amazing. You can't aim the gun at anybody on a set, and you check it about a thousand trillion times. In the train sequence in which Rufus Buck escapes, all of the gunshots were done in post-production. I don't know how live rounds were even on a set; all I know is that it's very sad."
New Mexico and the Old West are far cries from the Mozart Estate in Kilburn, northwest London, where Samuel grew up. He is the younger brother of musician Seal, but insists the fame of his brother, who is 16 years his senior, did not have much of an impact on his upbringing. "The house you grow up in is the house you grow up in," he says. "I was in the 'hood, on Kilburn Lane, making music with my friends and shooting short films. No-one even knew I was Seal's brother."
It was his mother's ardent love of film that would have the biggest impact on his life trajectory. "She bought me a Super-8 camera when I was eight years old, and she bought me a Bolex 16mm when I was 13. I didn't pursue music and film — I was always doing it. I just never stopped."
For someone who is immensely proud of his roots in London — a city he adores for being "really musical and culture-rich" — making a film from such a quintessentially US genre might seem a peculiar choice for his first outing.
"Stories are stories," he insists. "I don't think in terms of geographical location when it comes to entertainment. I love Quadrophenia with Phil Daniels just as much as I love Rio Bravo with Dean Martin, and I'm addicted to westerns — I've loved them since I was a child, but they've missed so much. I've not disrupted or re-envisaged the Old West; Hollywood has, by removing women of substance and people of colour from the genre. I've just corrected it."
Future projects for Samuel will include more westerns. "The Harder They Fall has always been planned as a three-parter — a prequel, The Harder They Fall and a sequel," he confirms. "I'm definitely jumping into other genres, but I'll always go back to the west."