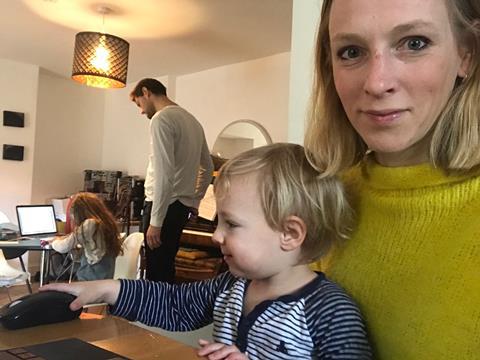 Alex Pumfrey joined The Film and TV Charity as CEO in October 2017, leading a new strategy to develop UK-wide support services.
Before joining the charity, Pumfrey was COO of Digital UK from 2013 to 2016 and, prior to that, she led the UK's £1bn digital TV switchover programme between 2008 and 2012. She lives in north London with her partner and two children.
Do you have a daily routine that you try to maintain, and if so what does that involve?
Well, I have a six-year old and a two year old, so they run the show. My partner and I are makeshift educators, nappy-changers, Zoom class co-ordinators and entertainers. Staff, basically. We all start our day with Joe Wicks' PE lesson on YouTube at 9am. If anyone deserves a knighthood after all this, it's Joe Wicks. Then my daughter starts her school work, and we juggle calls and work and battling the school portal and preventing my two year old from doing anything too dangerous until everyone collapses in a heap at the end of the day. I've tried to find a regular pattern and have decided it doesn't exist, so we're riding with the chaos.
In what way are you and your colleagues keeping up team morale?
We're having a Monday morning coffee drop-in and a Thursday afternoon tea drop-in on Microsoft Teams, which is a chance to see a few faces. Some of us are living alone, some in shared flats, others in busy households, so of course this experience is different for everyone. In some ways I am seeing more of my colleagues than at the office, when I tend to be out or holed up in meetings, and we're all seeing more of our regional teams, so there are definitely upsides.
As a charity right at the forefront of difficult times for so many in the industry, what is the key guidance you are offering to people?
We have around 100,000 freelancers in the UK film and TV industry, and our survey in April showed that 93% were out of work and nearly half were worrying about how to pay for food and accommodation in the coming weeks. We hear these stories every day, and it is really devastating. We have worked with the BFI and raised £3m, kickstarted by a £1m donation from Netflix, to provide emergency aid to individuals, and have been able to help nearly 2,000 people in urgent need which has been incredibly hard work but amazing.
Now we're looking ahead to how we can support everyone through and out of this crisis. People's mental health is a major concern as we already knew this was fragile before the pandemic hit. And we are increasingly worried that the more vulnerable and under-represented parts of our workforce will suffer disproportionately through this, and that will be a massive setback for all the good work on diversity in recent years.
For individuals, I would say remember you are part of a brilliant creative community and that The Film and TV Charity is there to support you. Feeling anxious is a natural reaction to what's going on, and please seek out the things you can do to help your wellbeing. Check out our advice at https://filmtvcharity.org.uk/covid-19-help-advice/ and our Film and TV Support Line is open 24/7, free and confidential on 0800 054 0000. Please get in touch.
How much time are you spending daily on video conference calls, internally and externally?
With the kids I can't do much more than two or three hours of calls each day, and in fairness my partner is doing much more with the children because we've been so busy with the charity's Covid-19 response. It will be interesting to see how much sticks when we're back to 'normal'. Now we all know how to use Teams and Zoom I hope that will help us all work much more flexibly in the future, and do better for those not in London or for whom 9-5 isn't the best solution.
What's your best piece of advice for home working?
Figure out what works for you and your set-up, and try not to worry about what everyone else is doing. If you're doing 6am yoga every morning, that's amazing; if you're in your pyjamas till lunchtime, go with it – just remember to switch the video off on work calls. Actually, maybe that's my best piece of advice – switch the video off when you need to!
How do you manage the space with others in your home who are also working remotely?
I don't. We're currently living in a pretty small space – though also lucky to have a garden – and just have to all cram in together. I perch at the kitchen counter or if I really need quiet I go to the bedroom. My meetings are likely to have my daughter's Zoom class in the background, a Hey Duggee soundtrack, and a fair amount of screeching, and actually without exception everyone has been really lovely and understanding.
What have you been watching, reading or listening to during this time?
My daughter and I made popcorn to watch Trolls World Tour which was the next best thing to being in the cinema. We're using Mubi and BFI Player more and I'm catching up on things that have been on my watchlist for far too long. I love documentary film and watched Man On Wire for the first time a few nights ago.
How do you differentiate the weekend from the week?
Only by the absence of Joe Wicks!
What is the first thing you will do when the lockdown is lifted?
I don't have a specific yearning, and in some ways am surprised at how easily I've adapted to a home-based life. A meal out and a movie at our local cinema would be lovely, but to be honest I'll probably be delighted to sit in a Pret [A Manger] in peace and quiet without the kids in my hair!
What do you feel is the current mood of the industry?
On the whole I feel the industry has really come together to deal with this. Many of those who would normally have been in fierce competition are genuinely co-operating to figure out how we can get through it. But we're also hearing a lot from the freelance community, on whom this industry relies, who are feeling pretty lost. Freelance life has always been precarious, and Covid has completely exposed that. So there's also a great deal of hurt, upset and anxiety about the future. At the charity we understand that, and are working hard to support people through this.
What positive change might this bring to the industry?
I am really hopeful that if we are strategic, work together, and listen to one another, that as we rebuild the industry we can make it a kinder, more supportive, more inclusive, and more positive place to work. Our creative and commercial success depends on our people – who have suffered so much through this - and we need to put them at the centre of our plans for recovery.