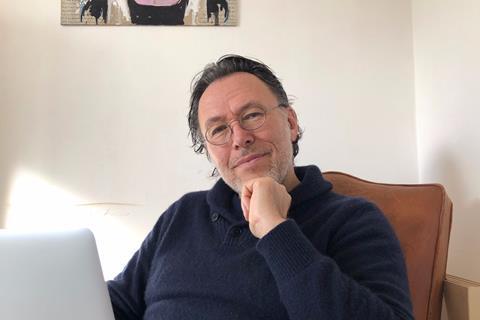 French screenwriter and script consultant Antoine Le Bos is the founding CEO of Le Groupe Ouest, a residential initiative which specialises in screenwriting coaching and project development. It is based on the rugged Coast of Legends in Brittany in western France.
Since its creation in 2006, Le Groupe Ouest has worked with more than 800 filmmakers from 50 territories worldwide and supported the development of hundreds of projects including the Cannes Camera d'Or winner Divines, Locarno Golden Leopard winner Godless and more recently Sundance grand jury prize winner Yalda, A Night Of Forgiveness.
Its flagship Less Is More (LIM) programme is a two-pronged initiative coaching writer-filmmakers with projects as well as creative producers and future story-editors, known as "development agents", on how to work with writers.
The 2020 edition - featuring 16 projects involving 20 writer-filmmakers and 12 development agents - had been due to kick off with a one-week workshop in the Wolski Forest outside Krakow in Poland in the middle of March just as the coronavirus pandemic intensified. Acting quickly Le Bos and his team, reconfigured the programme so the participants could work online instead. Le Bos, is overseeing the operation from his home in Brittany with occasional trips to Le Groupe Ouest's now empty offices.
What's the situation where you are right now?
I've been in lockdown like everyone in France since March 16. I'm in the middle of the countryside in Finistère, some 500 metres from the sea, with plenty of fresh air and family football matches in the garden. The beaches are off-limits, so I go for my daily run, early and alone in the fields in a one kilometre radius from my house.
Is it business as usual for you and your team?
The team is working from home and Groupe Ouest's offices are empty but we've transformed our core activity of coaching writers. Nobody wanted to abandon the writers. On the contrary, we all felt that this is the very moment to work harder to support the creation of stories which make sense in this new context.
We took 10 days out to reconfigure our workshops for online. It's a new way of working that we're learning at top speed so that the auteurs can profit from this period by reflecting intensely about their future films. After the virus has gone, there will be a world to rebuild and an urgent need to write stories that are lacking, drawing on this deep transformation we're all living right now.
How are you keeping an office routine going?
Groupe Ouest's permanent staff holds three team meetings a week, on Jitsi Meet. The offices are just 500 metres from my home so when we're running collective sessions I continue to work there alone, partly for symbolic reasons, but mainly to guarantee a good internet connection. Back home, I have five to six separate video calls a day. I keep the camera on. It's important to be able to see one another. It helps you carry on.
How are you continuing the work of LIM in this period?
LIM has its origins in the use of creative limitations as a tool to stimulate the creative process and generate cinema that digs deep. This pandemic is an opportunity for us to try something new.
I launched the 2020 edition last Friday (March 31) with an introductory masterclass in front of the writer-filmmakers, script-consultants and "development angels". Along with the team and a few other partners there were around 40 of us online at the same time. It was very moving to see all these people from the four corners of the world united on one small screen, all under lockdown due to the same situation of international paralysis.
How has it been replicating this process online?
The workshops normally take place in the countryside away from cities and the distractions of everyday life. Being out in nature, going for a walk in the forest or along the coast helps the participants to focus more intensely on their work. With this new online method, everyone is learning how to work and connect using other codes. It's fascinating to analyse what is coming out of this and how it differs or is complimentary to sessions in flesh and blood.
Do you think the coronavirus pandemic will influence the projects?
The auteurs don't have a choice. They have to take the situation into account. It's a new reality, especially for those participants who have lived relatively comfortable lives in the West. Suddenly we're connected by a collective trauma. This will certainly impact the projects but who knows how. We won't be able to see how for at least another six months.
Which systems are you using to communicate?
We've always been big users of Skype for smaller meetings with people based in different countries but with this new context, we moved over to Zoom and it's not bad at all.
What contingency plans are you making for the next few months?
We're going to have to convert dozens of writing workshops using the lessons learned from our experience of running LIM online. We had been planning an industry event for LIM at the end of June, a sort of co-production market on the beach. Local councillors were very supportive and restaurants and businesses in the area were looking forward to welcoming guests from across Europe and further afield. It will be heart-breaking to cancel it, but if we have to, we'll run it online. We have to bounce back creatively and ecologically.
What advice do you have for home working?
Keep one room closed and separate for thinking, reading, writing and Skyping.
If you have children, small or big, how are you managing keeping them entertained/educated while you work?
We've been watching important films together every evening, works they don't know - recent ones, classics, films that open up emotions, provoke conversation, pique their curiosity. We've been watching a lot of Italian cinema from the post-World War Two years, a period when humanity demonstrated an ability to regenerate life that leaves you speechless. Films like Federico Fellini's La Strada, Luchino Visconti's White Nights and Mario Monicelli's The Passionate Thief.
Is there anything else you are you watching and reading and listening to get you through this time?
I also managed to get hold of the complete filmography of Pierre Etaix and I've also rediscovered the joys of the skipping rope.
What advice would you give to people in the film industry who are worried about the future?
What's clear is that there's no point holding onto the past. We're going to need to reinvent, anticipate and dream in a different way. Our professions will need to continue constructing sense, to help humans come together around those common ideas and dreams that help generate hope for our children – while avoiding falling into conservationism.
What positive change might this crisis bring to the industry?
Rather than "might", I would say "must". What's happening must spark a renewal. It has to happen, in every sense. No return to the normality of before should be allowed.