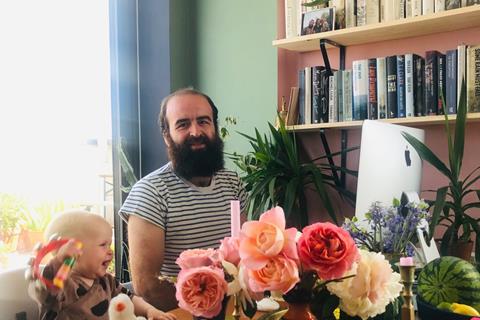 Jake Garriock is head of distribution strategy and group publicity at UK distributor and exhibitor Curzon. The company was forced to temporarily close its 13 UK cinemas in mid-March due to the Covid-19 pandemic and has since then focused on its digital platform Curzon Home Cinema (CHC).
The company is gearing up for the UK home entertainment release of Bong Joon-Ho's Oscar and Palme d'Or-winner Parasite on all paid platforms, including CHC, from June 1. Curzon released the film theatrically in the UK via Studiocanal on February 7 and it quickly became the highest-grossing foreign-language film of all time in the UK with a gross of just over £12m.
How has your role had to change following the closure of Curzon's cinemas?
The role changes with every film anyway but obviously this is a rather more dramatic shift. One of the big changes is having to make planning decisions without comparative data. Normally we are able to make fairly reasonable forecasts based on how similar films have performed and how they were released. You also have to contend with the rules of lockdown constantly evolving and the knock-on effect that has on audience behaviour. We've really had to rely on our own judgements and react quickly to the changing circumstances.
Are there ways in which the release of Curzon titles have benefited from the near-global lockdown?
I think all of them have benefited. One of the key considerations for our films is whether they will receive press coverage and lead reviews on the chosen release date. Lots of films, especially the more nuanced and delicate ones, fly under the radar without that level of careful consideration. Having that room to breathe has been a benefit.
We've some great names involved in our live Q&A series. For a snoop like me it has been great seeing inside all these directors' houses. Ruben Ostlund is currently winning for best lighting set-up.
How has it been working on the home entertainment release of Parasite during this time? As newspapers, magazines and media outlets have been forced to cut budgets are you finding it harder to secure pieces with journalists?
Team Parasite talked themselves hoarse on the awards circuit, so we are not doing a great deal of traditional talent-based promotion. The burden is falling mostly on [head of theatrical marketing] Susie Bould and [theatrical] marketing manager] Mark Towers who are running the marketing campaign. One of the key challenges is the closure of retailers and changing shopping habits. It's about trying to replicate online that impulse purchase people make when browsing in shops. But the pre-sales are incredibly strong, so we are expecting it to be a huge hit on VoD and DVD. Despite all the success it has brought us I'm personally starting to wish the film was a little less prescient!
How you manage your daily routine as you work from home?
I try to stick to my normal working hours as much as possible. My daughter's nap times decide the moments I can do any work that requires concentration and she demands her bath at 6pm sharp every day.
What advice do you have for home working?
I don't really have any advice. I've heard others say it but I don't think we're working from home; we're under house arrest during a pandemic. Any coping mechanism that works. Try not to drink too much before lunch.
Which systems are you using to keep in touch?
We are using the ubiquitous Zoom. It's a lifeline but I miss personal contact and the serendipitous conversations you have around the coffee machine.
How are you and your colleagues keeping up team morale?
Zoom again mostly. There is a sourdough starter circulating too. [Publicity manager] Hannah Farr is at the professional baker level now.
How are you juggling family life and the demands of work?
One of the silver linings of this is that I'm able to spend so much more time with my daughter. Frankly the life/work balance is better. The time I spent cramped on the Victoria Line I can use for nappy changes instead.
What have you been watching, reading or listening to during this time?
I'm normally a prolific reader but without the commute that has taken a hit. For whatever psychological reason I can only seem to read ridiculously arcane stuff – John Hosler's The Siege Of Acre during the Third Crusade being the latest example. I've been watching nerdy gardening seminars on Zoom via Garden Masterclass. Like everyone else I raced through The Last Dance on Netflix and now I regret never pushing myself at basketball. The Velvet Touch (part of the RKO upload onto iPlayer) was a revelation, it's incredible how good some of the minor films of the classic Hollywood era are.
Have you been learning any new skills or rekindling any hobbies?
My wife [Rosalind Boulton] works in production in the art department and basically can't function unless she's doing something creative, so our house is littered with various crafts and hobbies in various degrees of completion.
I have two passions in life: glacially paced films with almost no dialogue, and gardening. I just like watching things develop in real time I guess. I've started far too many seedlings during lockdown and set up a watering regime that will be impossible to maintain later in the year.
Do you think you have learned anything about yourself during this period?
Embarrassingly I learned how much hard work my daughter is. There is a big difference between knowing something intellectually and knowing something in your bones. Sounds very new-age hippy but I'm glad to have grown!
What's the first thing you're going to do when you get out of lockdown?
Play a game of football.
What advice would you give to people in the business who are worried about the future of the industry?
Working in cinema seems to be about perpetually worrying about the future. My hope really is worry doesn't override principles. Lots of things needed to be improved in the way the industry works and that shouldn't be sidelined by recovery. All the ugly home-shot footage has really driven home the need for the talented crew who work in production.