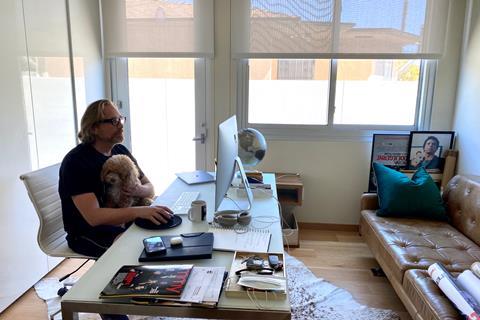 Morten Tyldum built his career directing film and TV series in his native Norway before he caught the eye of Hollywood with his local hit Headhunters. He went on to direct the wartime drama The Imitation Game, starring Benedict Cumberbatch and Keira Knightley.
His latest work is the legal drama series Defending Jacob with Chris Evans, Michelle Dockery and JK Simmons for Apple TV+. The filmmaker's further credits include the sci-fi romance Passengers, starring Jennifer Lawrence and Chris Pratt. Tyldum lives with his girlfriend and son in Los Angeles.
Where are you right now?
I just moved into a new house in the middle of quarantine, so I'm in the living room of my new house.
Is it business as usual for you and your team as you all work remotely from home?
It's as usual as it can be… My team and I work from my home office so not much else is different, except that we can't go anywhere for meetings.
Did you have films that were about to go into production or had to stop mid-shoot?
I was very fortunate to be finishing post-production on Defending Jacob the same week that the shutdown started.
What are you working on now?
I'm doing press while Defending Jacob is rolling out on Apple TV+. I'm reading a lot – scripts and books, looking for my next project. I'm also preparing some projects that we are going out with for Anonymous Content Nordic, a new company my producing partner Guri Neby and I started with Anonymous Content.
Which systems have you been using to keep in touch?
We have used Zoom, Blue Jeans and good old-fashioned FaceTime.
How are you and your partners keeping up team morale?
We are fortunate enough to have a nice backyard so we are working outside a lot to get sun and fresh air. We are trying to be flexible on work hours with the understanding this is a special time that needs a more relaxed and patient atmosphere.
What advice would you give to people in the business who are worried about the future?
There have always been changes in our industry and I think that now, more than ever, there is an audience that wants stories and content. I wouldn't be surprised if the next year or two becomes a golden age for quality drama. Art thrives under challenging conditions. Maybe the theatrical movie system will change, but other avenues will present themselves. Streaming is a big part of everyone's lives and will continue to be.
If you have children, how are you managing to keeping them entertained and educated?
I have a 12-year-old son who is doing online schooling and is keeping in contact with all his friends by playing video games online. I've also started a sort of film school for us, revisiting a lot of my favourite movies that I loved growing up. We are enjoying watching those together.
What have you been watching, reading or listening to during this time?
When I was in post-production for Defending Jacob I would spend all day looking at a screen, so I didn't watch much in my off-time when I was working. Now that the show has wrapped and is out for public viewing, I've been trying to catch up on series that I've put off and books or scripts that have been sent to me.
Have you been learning any new skills or rekindling any hobbies?
No, the quarantine has actually been quite busy since I moved into a new house in the middle of it.
What's the first thing you're going to do when you get out of lockdown?
Just like everyone else, I miss going to restaurants. I'll probably have a night out with my girlfriend.