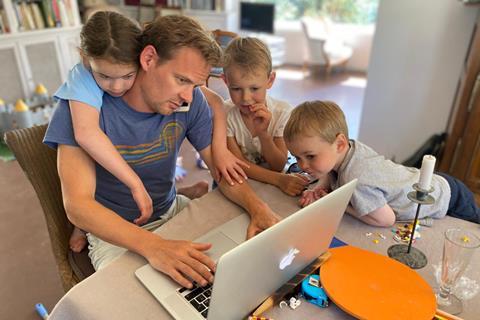 Former Bac Films managing director Mathieu Robinet was on the verge of launching a new distribution venture when the Covid-19 pandemic put his plans on hold.
Frustrated by his lack of professional activity during France's lockdown, which began on March 17 and is now easing, he decided to create an itinerant drive-in cinema to keep "the spirit of collective filmgoing alive". It kicked off successfully in Bordeaux in mid-May but following protests from French exhibitors and last week's announcement that cinemas can reopen in France on June 22 further dates have been put on hold.
What were you up to when France went into lockdown?
I left Bac last year. I'd been living quite a hectic life over the last 10 years and wanted to spend some time travelling with my young family. We did this for three months over the summer. Since September, I've been working on a new venture I was planning to launch in Cannes but Covid-19 meant I had to postpone my plans. Thankfully, we've been living in a house on the northern French coast during this period. It's usually very rainy but by some fluke it's been the sunniest part of France for the last three months.
How did the drive-in idea come about?
I was feeling kind of useless. I could see medical professionals working hard, battling the virus, while my work situation was slowing down. Several people I spoke to said, 'We should do a drive-in' but it was always just an idea, nothing concrete. Yohann Comte at [sales company] Charades, who is a good friend, kept badgering me about it and I finally decided to go for it.
How did you pull it together in lockdown?
It was very organic. I started calling friends, and friends of friends, at distributors like Le Pacte, Haut et Court, The Jokers and Wild Bunch. People were very available because everything had stopped. They were all like, 'It's a crazy idea but let's go for it'. We ended up being around 40 volunteers. We communicated through Zoom a lot, but Slack more than anything else. I was amazed to see how a team could come together so quickly. I had never seen something so efficient, joyful, and enthralling. When I arrived in Bordeaux for the opening night, after getting a special permit to travel, it was the first time I'd met the onsite team in person.
How have you juggled this with family life?
It's been intense. Our children are eight, five and three-years-old. They're young and demanding. My wife and I suddenly found ourselves cooking, cleaning, home-schooling and caring for the younger ones while trying to carry on our work. It's stressful doing calls at the same time as trying to teach your oldest daughter how to read. We try to organise shifts.
How do you manage your daily routine as you attempt to work from home?
When we went into lockdown, we had a plan for a routine but with three young children it's difficult and it kind of collapsed.
Why did you kick off the drive-in initiative in Bordeaux, given you're currently in northern France? How easy was it to get permission? How did you keep people safe?
We wanted to find a spectacular space so we decided to go for the biggest square place in Europe, the Place des Quinconces in Bordeaux. The mayor was very supportive but getting all the authorisations in time was still tough. We got the final go-ahead 12 hours before the first screening, which was sold out. We set up a very strict protocol to avoid any physical contact. All the tickets were pre-sold digitally and everyone was wearing masks.
Which films did you show?
We focused on arthouse titles with something to say about the situation we're living through, both dramas and comedies. We opened with Thomas Lilti's 2014 film Hippocrate: Diary Of A French Doctor (aka The Freshman). It talks about the crisis in the public healthcare system. The director is a former doctor who went back into the profession during the pandemic. He recorded a very nice message for the screening. The first two people to drive-in were doctors who had been in the thick of fighting Covid-19. It was their first night out in two months. They were very moved.
What was the end result?
We ran for nine nights and showed 10 films, drawing around 4,000 spectators in total. What was telling for me was that the many of the spectators were in their 20s and 30s. It showed me that you can get millennials to watch arthouse films on the big screen. My sense is that they need to see themselves in the films that you offer. It's something I want to work on more deeply in my new venture.
The drive-in model has taken off in a number of places around the world during the pandemic but in France you came under criticism from local exhibitors. What happened?
They felt that we were offering an alternative to the cinema theatres whereas we simply wanted to keep the spirit of collective filmgoing alive while they were shut. We always said it would stop when the cinemas reopened.
Cinemas have been given the greenlight to reopen in cinemas on June 22, are you going to squeeze in other dates before that?
I've cancelled the rest of the tour. It doesn't make sense anymore because the cinemas are going to reopen. We had been planning a screening of farming drama In The Name Of The Land in a field in northern France for tractors, a sort of 'tractor-in'. I'd also been working with Ladj Ly on an event in his neighbourhood where he shot Les Misérables.
What lessons have you learned for the future from this experience?
I've realised you can work with people remotely and be very efficient and in some ways much more dynamic than in an office thanks to apps like Slack. It's changed my perception about ways of working which will have implications for my new venture in the future. If the kids had been at school, I'd have got loads done and been able to finish early and spend more time with them. I'm not sure if I'm ready to return to traditional office life and a flat in Paris.