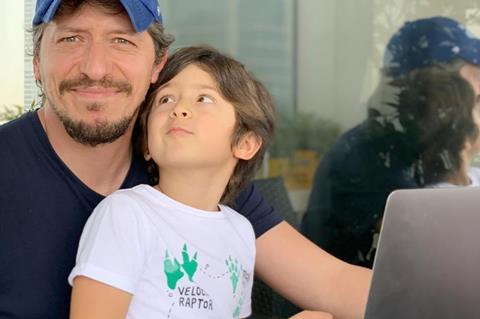 Dubai-based distributor Gianluca Chakra is the founding managing director of Middle East distribution company Front Row Filmed Entertainment, which he created in 2003 with his father, the late film industry veteran Michel Chakra.
Alongside its theatrical distribution operations, Front Row is a pioneer in digital distribution in the Middle East as the first distributor in the region to do premium VOD releases, sign exclusive aggregation agreements with iTunes, GooglePlay and YouTube and work with Netflix, when it brokered a worldwide deal for the award-winning Lebanese film Very Big Shot in 2016.
In 2019, Front Row and its long-time strategic partner the Kuwait National Cinema Company (KNCC) joined forces with London-based sales and financing outfit Rocket Science to launch the Dubai-based film and TV company Yalla Yalla, aimed at making shows and features for the Arab-language market.
Dubai started shutting down mid-March and imposed an official lockdown from April 4. It started to ease some restrictions last week.
What is the situation in Dubai?
Disinfectant sprays are a way of life as are masks and gloves when stepping outside. We now do our grocery shopping via delivery but nothing enters our home perimeter before being disinfected. Early on in the pandemic, a neighbour was taken away by 'the men in white'. The lifts were shut down and the communal areas of the whole building were disinfected. Obviously, that day no deliveries were allowed and I was forced out, armed with a mask and gloves. It was like a scene from 28 Days Later….
When did the cinemas shut officially?
Cinemas were ordered to close on March 15. The first MENA territory to shut all cinemas and congregation places was Kuwait. After that Saudi, UAE and the rest of the MENA countries followed.
Any visibility on when they might open again?
The word is that cinemas are planning a soft reopening during the Eid al-Fitr celebration [May 23-24], marking the end of Ramadan, but nothing is certain.
What releases did you have in cinemas and what did you do with them?
We had just opened Philippa Lawthorpe's Misbehaviour as a joint release with Empire International. It spent just two days in cinemas. We got permission to shorten the window and release it on premium VoD. We did the same thing for Resistance, which was also due out in cinemas during this period, as well as for Endings, Beginnings, The Assistant, Escape From Pretoria, The Song of Names and The Truth. We're no stranger to digital distribution and have always encouraged the on-demand business.
With your offices closed, have you and your team managed to work productively from home?
We shut our offices on March 10. There are 21 of us in total. It's very much business as usual. The graphic designers have even moved their workstations home. I'm glad to have a team that understands the gravity of the situation as it's clearly visible that everyone has upped their game. Team work has never been more productive.
Any indication of when you can go back into the office?
In theory 30% of the workforce can go back but I'd rather keep everyone safe until we feel comfortable about going back as one team. Working in shifts is going to be a burden to us all which could cause more harm than good.
How have you managed homeworking? Have you continued dressing for the office?
Because the weather has been amazing, I've turned the terrace into a workstation and that is where most of the business is being done. The dress code is easy, bermudas and t-shirts – and if calls are with LA, so early in the morning, a cap is a pre-requisite.
How is Front Row keeping busy while cinemas are shut?
Our model has never relied solely on theatrical. We've understood that the business is shifting for a long time and have been getting ready for that day. We acquire over 100 titles a year which helps us mitigate our risk. The marketing team is very focused on digital and on-demand and has worked hard to fortify relationships with the platforms.
How have you and your colleagues been keeping up team morale?
Morale is relatively high. The on-demand business is keeping everyone occupied. Now that there is a significant surge everyone is busy and excited. Part of our days are also spent on strategising the possibility of eventual theatrical releases, hopefully at the beginning of summer. Now that most of the major studio releases have shifted, indie distributors will have a big role to play in kickstarting the theatrical business and rebuilding trust in the whole moviegoing experience.
Your new banner Yalla Yalla has a number of productions in the works. What has happened to them?
Our amateur wrestling comedy Sumo is still in pre-production. We're producing alongside Intouchables producer Yann Zenou and Bafta winner Emily Leo, Oliver Roskill and Ado Yoshizaki Cassuto as well as Veep and Avenue 5 creator Armando Iannucci. The original shooting date might change. We're seeing how things evolve. The Arabic-language remake of Perfect Strangers is supposed to start shooting the first week of June. The film is fully financed and we're still hoping to go ahead. We've managed to gather a great cast which will soon be announced, however we'll see how things evolve. The Arabic-language remake of Intouchables is also proceeding quite nicely and we'll hopefully soon be announcing fresh developments on that, which aren't small.
If you have young children, how have you managed to keep them entertained and educated while you work?
The UAE schooling system is technologically advanced. My five-year-old is being educated via their e-learning systems, guided by my partner in crime who turned out to be an amazing teacher. His granny, who normally lives in Rome, got stuck here so little Mick is always entertained with board games and arts and crafts. He knows how to build rocket ships out of cartons now! My partner is a health and sports freak, so we all get to exercise at 5pm which includes him too. I even took my first Zumba lesson.
I've also had time to teach movies 101 to my son and introduced him to films such as The NeverEnding Story, Gremlins, Annie, The Sound Of Music. The Goonies and ET. He cried when ET was about to die and again when he went home – and so did I! I'm such a sucker for that film.
What are you watching, reading and listening to yourself through this time?
I'm doing a lot more script and treatment reading as we are getting loads of projects in through Yalla Yalla. When I'm working I can only concentrate with instrumental music and because I'm such a film geek, I listen to artists like Yann Tiersen, Alexandre Desplat, John Barry, Marco Beltrami and obviously Ennio Morricone. The latter a bit more now that we've acquired the rights to his doc directed by Giuseppe Tornatore (Ennio: The Maestro).
What positive change might this situation bring to the industry?
In order to rebuild trust, the whole moviegoing experience will have to change which means a closer collaboration between distributors and exhibitors. A lot more creative solutions will have to be implemented such as collaborations with government sectors and ticketing apps offering a wider reach and probably finally the introduction of dynamic pricing.
I think this time of unity and social distancing for the good of the planet is bringing us closer than we ever were. In my opinion, because of that, community cinemas will surge as people want to get more personal with films and the people, which will bring fresh value to the whole experience.
The on-demand business will tenet itself as the leading source of entertainment and now that people are practically exposed only to that, the competitiveness of these same platforms will surge which means they would all need to feed this new beast. Productions will surge and new concepts and formats will definitely arise. This is a time for creative thinking and thinkers. The sky is the limit.
What's the first thing you'll do when the lockdown lifts fully?
If the weather permits, hit the beach.