With Cannes prizewinner Capernaum shining a light on the plight of neglected refugee children in Lebanon, director Nadine Labaki tells Nikki Baughan why she is putting her faith in the power of cinema.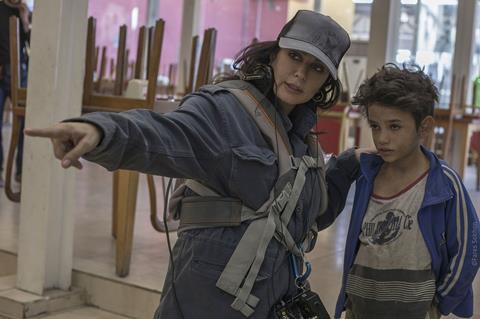 For such a poised and clear-eyed film, the title Capernaum, meaning 'chaos', may seem somewhat incongruous. Yet while it most obviously refers to the traumatic life of its child protagonist Zain, played by Syrian refugee Zain Al Rafeea, struggling to survive the dangerous streets of Beirut while also suing his parents for neglect, it could describe the process of the film's making.
For three years, Lebanon-born co-writer/director Nadine Labaki, whose previous features are Caramel and Where Do We Go Now?, thrust herself into this unseen world, speaking to the city's children about the traumatic experiences that formed the basis of her screenplay, written with Jihad Hojeily and Michelle Keserwany. She then cast real street kids, shot for six months in Beirut with hand-held cameras and spent two years editing the footage into a film that has now been nominated for multiple awards, including the best foreign-language film categories of Bafta and Oscar.
"It's not a classical way of making a film," Labaki acknowledges. "It's very chaotic, very organic." But she felt it was the only way to give the forgotten children of Beirut an authentic voice. "Living in Lebanon, which hosts over one-and-a-half million Syrian refugees, the sight of children working on the streets, deprived of everything, is something you are exposed to on a daily basis. I spoke to lots of children in shelters, in slums, in prisons, in detention centres. They have a very developed sense of justice. They know this isn't right. The film is intended to be the plea of these children."
While Zain is clearly the product of neglect, Capernaum is careful to take a balanced view of his parents' own dire plight. "I needed to reflect reality," says Labaki. "You can't be judgmental towards them because they're part of a vicious circle, a system that's not allowing them to breathe. I wanted to put the viewer in that situation, to change their perspective."
Casting the lead role was crucial with so much of the story resting on Zain, who is forced out of his home and finds himself in the care of Ethiopian illegal immigrant Rahil, played by Yordanos Shiferaw, looking after her infant son while she works. "I had a group of people who were touring Lebanon, going to difficult neighbourhoods and interviewing kids," Labaki says. "Zain was found in one of those slums, playing with friends. What was striking about him was that he is physically smaller than his age, because of malnutrition, but sounded like an adult in every response and reaction. He's very wise because he had to be; he grew up on the streets, he had to outsmart everyone.
"They are not actors, so you have to draw in their own personalities and struggles," continues Labaki of directing her young non-professional cast. "You have to create the circumstances for them to be themselves. You can't expect a child to do what you want, when you want. Sometimes Zain would do something in a different scene, so you had to be able to capture it and keep it for a different time. You need to have that freedom."
That freedom came, Labaki says, from the fact that the picture was a "family affair". Her husband, music composer Khaled Mouzanar, produced the film, and they lived alongside editor Konstantin Bock and cinematographer Christopher Aoun during production in Beirut. The result is an immersive work that has captured the attention of audiences, festivals and awards bodies alike, from Cannes, where it premiered in Competition in 2018 and won the jury prize, to, most recently, Bafta and Oscar voters.
"It's huge exposure not only for the film, but for what the film is trying to say," Labaki notes of the awards buzz. "[The refugee crisis] is already a universal subject, but it has to become a universal concern. We have to acknowledge there are almost 1 billion children in the world in this situation."
Indeed, when the red carpets are rolled away there are already screenings and round-table discussions planned in Lebanon with government ministries, judges and lawyers. Labaki is confident the true legacy of her film will be to help inspire lasting change. "I am using my tool, which is filmmaking, to ignite some kind of change," she says. "I truly believe cinema can do that. It humanises a problem, it puts a face on it. It's no longer just something you hear about in the news reports. You see the struggle."
Thanks to the production's ongoing collaborations with UN refugee agency UNHCR and Unicef, the struggles of the film's young stars have at least been eased; all the children are now in school, and Zain and his family have resettled in Norway. For Labaki, this is the greatest reward. "It was the biggest victory for me to see my actors, who were struggling in real life to prove they legally exist, to be in Cannes, applauded and appreciated."