Premiering in Venice's Orizzonti section, Naji Abu Nowar's Theeb is a coming-of-age story about a young Bedouin boy who is forced to grow up fast following the death of his father and the arrival of a British army officer on a mysterious mission.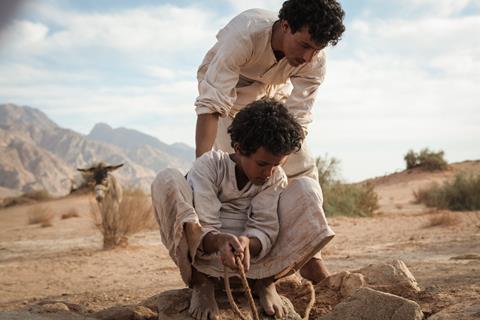 Set in 1916, the beginning of the Arab Revolt, the film was shot on Jordanian locations, including Wadi Rum, where David Lean filmed Lawrence Of Arabia.
The cast mostly comprises non-professional Bedouin actors, including teenager Jacir Eid, who plays Theeb. Working with input from the Bedouin, Nowar co-wrote the script with Bassel Ghandour, who also produced with Rupert Lloyd. Wolfgang Thaler (Whores' Glory, Ulrich Seidl's Paradise series) worked as DoP.
Nowar's feature debut following his well-received short Death Of A Boxer (2009), the film received support from the development fund of Jordan's King Abdullah II, Abu Dhabi Film Festival's Sanad, Doha Film Institute and Visions Sud Est. After Venice, it moves on to Toronto's Discovery section.
Where did the idea for the story come from?
I'd always wanted to make a Western and in 2003 started writing a kind of Sergio Leone, Arabic Western, which I didn't think was very good. Then in 2010, Bassel sent me a short film script about two Bedouin brothers that he wanted notes on. I loved it, and was in the desert just driving around, when it occurred to me that this could be a feature film. That was the initial concept for the story, but the real story we developed in collaboration with the Bedouin. Just sitting there listening to these old mens' stories – the themes, the ideas and characters – really shaped the final script.
How did you first make contact with the Bedouin?
Through a friend who worked as a fixer in region. I told him we were looking for a tribe that was one of the last to settle, so had been born as nomads and grown up as nomads. Most of the Bedouin had been forced to settle by the late '90s. I felt it was very important to understand their way of life, as it would have been in 1916, which was the beginning of the end for their totally nomadic lifestyle. So it was important that we accurately captured that time and their way of life is not forgotten.
One of the Bedouin, our associate producer Eid Sweilheen, became a very important part of the film and we couldn't have done it without him. He didn't know cinema at all, but helped us find all the actors and understand their way of life.
How long did development take and how did you fund that process?
We researched between six months and a year, then moved down to live with the Bedouin for a year in their village, where we finished the script and held acting workshops. It was a wonderful time as it's such a generous, hospitable culture. I put on weight because they were always feeding us. We mostly financed that process ourselves but also had a development grant from Sanad that we used to work on the script.
How did you finance production?
We mostly relied on Jordanian entrepreneurs – it takes a community to make a film and we had a huge amount of support from crew, who deferred payments, friends and local entrepreneurs. Many Arab films go the European subsidy route, but we decided we didn't want to wait for other people's decisions, just go for it, and the local community jumped on board and really helped us when they realised we were doing it ourselves.
It's very low budget – I think some documentaries have bigger budgets. We shot in 2012 and were in post for a year as it took us a while to find funding to finish the film. We did edit and premix in my apartment in Jordan, then final mix, foley, music and VFX in London and the Academy of Art University in San Francisco, with a team that also worked on Beasts Of The Southern Wild.
In the end we had funding from both Abu Dhabi and Doha. Most funds usually want to be the only one involved during post-production, but they really worked together to help us. They just wanted us to get the film made and make it the best film it could be.
Wasn't it expensive shooting in remote locations in Jordan?
Yes, we had to bring in equipment from Europe, and all I can say is that we had a great team and producers who could make it happen. It was tough because I was rewriting at night to merge scenes, as we couldn't hang around if we missed shots. And some locations we had to miss entirely because it was impossible to get in even though we had very light equipment. But we were lucky because we had the Bedouin helping us. They know how to deal with that environment and are great trackers, which is useful when you get lost. We kept getting stuck in the sand and they had to rescue us.
How did you end up working with your DoP, Wolfgang Thaler?
He read the script and I flew to Vienna to meet him. He'd already shot in Wadi Ram. As the film follows a journey, we originally wanted to move along the route and spend each night in a different location, but logistically it wasn't possible, and we ended up staying in a camp and travelling each day to the locations.
The great thing about Wolfgang is that he's shot documentaries and narrative all over the world, in the most remote places, so he can shoot in any environment with limited equipment and still create wonderful cinema. It was also important that we respect Bedouin culture – and he has that sensitivity and the Bedouin just loved him.
What are you working on next?
I'm very ambitious about the kind of cinema I want to make in the Middle East. I love the films of Kurosawa, Kubrick, John Ford and Leone – big-screen cinema – but its difficult to find finance for those kinds of films in the Middle East.
We were one of the few Arab films that raised private finance. The European funds are usually looking for something much more arthouse. So if we can show Middle East investors the potential of this type of cinema, more people might invest in larger films.