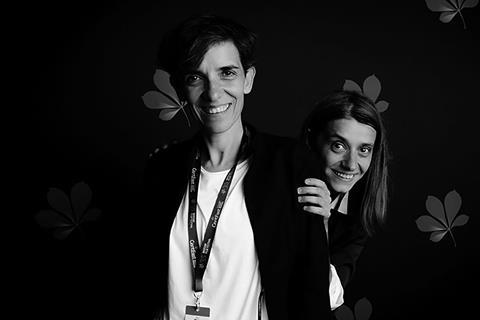 The Bulgarian animator Mina Mileva and the actress-turned-filmmaker, Vesela Kazakova, have put the spotlight on Britain for their first fiction feature, Cat In The Wall.
The film - their fourth shot as a duo - has been unspooling at a slew of European film festivals, including Locarno, where it premiered, Sarajevo, Warsaw and Valladolid. A set of future festival dates have yet to be announced.
Set in Brexit Britain, the film tells the story of a Bulgarian single mother, determined to make it without benefits, unlike her neighbors, on her feuding British council estate.
"It's based on a true story that happened to Mina and her son Jerome on their council estate," says Kazakova. "I was there at the time when the neighbours came to fight for their cat, and I witnessed first hand the feeling of injustice because quickly the feud was about social divide and benefits rather than a cat. We sat down with Mina and thought about the unusual circumstances – how an abandoned cat could provoke such social debate and introduce people who would never meet otherwise? Mina did become friends with this family and delved deeper into the drama of their life."
The film drew support from the Creative Europe MEDIA program in Brussels, British production company Glasshead, Bulgarian national television, French company Ici et La, and the regional fund Ile de France in partnership with CNC.
Shot in Mileva's flat, the film was, "made on a shoestring with little cash and a lot of services and help from friends and colleagues," she says.
Several pitch awards brought in additional help, including Connecting Cottbus and Cinelink in Sarajevo. "Complex financing for a Bulgarian film because most of them are made with the help of a single source – the Bulgarian National film centre," says Mileva.
Their ten-year-old company, activist 38, has focused on documentaries, until now. With Cat, the filmmakers decided to take a deliberate break from this format. Activist 38 co-produced Cat with Glasshead in the UK.
"A friend working in the London banking sector encouraged us to write a script when he heard the story," says Mileva. "He said that at work they read a lot of scripts in order to support films and that this topic paints a good picture of the society. It was a good challenge for us as documentary filmmakers. At that time, we have had enough of scandals in Bulgaria and were looking for a change. Our first two docs have created a lot of debates on an institutional level. Uncle Tony, Three Fools and the Secret Service offended the film guild and the ministry of culture and the film fund sent off censorship letters to festivals, while The Beast Is Still Alive made a television scandal."
The duo are interested in films that promote, "bigger ideas." "A bit of activism doesn't hurt," says Mileva. "We were always taught in film school in Bulgaria to observe and make films about 'small people'. Well, actually we want quite the opposite – to make films that attempt to make a society change.
They are next working on an experimental psychological project with Kazakova's family. Says Kazakova: "We want to bring forward strong female characters that we don't often see in cinema, even in this day and age. We also want to touch upon funny and absurd political and social developments in Bulgaria, like the obscure idea of a third sex, the newborn homophobia and the domestic violence."
Their films have won a slew of prizes, including the Fipresci award at the Warsaw International Film Festival and the Best Bulgarian debut at the Golden Rose festival.