Simon Hayes and Paul Massey, two of the sound maestros who worked on No Time To Die, tell Screen about bringing aural nuance to James Bond's most emotional journey.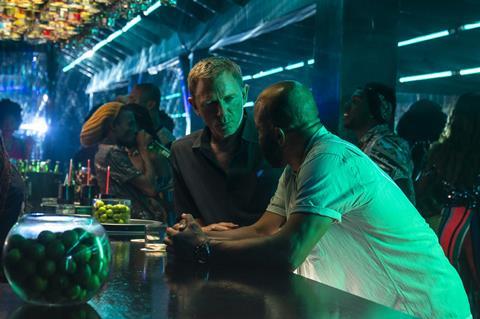 Simon Hayes is not a fan of whispering in nightclubs. The veteran production sound mixer gets annoyed any time he sees a film with characters whispering to each other across a loud dance floor. "You just don't buy it as a viewer," he says.
So when he was hired to work on the 25th James Bond feature, No Time To Die, Hayes had a special plan for the film's Jamaican club scene. "As a sound mixer, that whispering is something I've tried to devise a way of avoiding," he says. His methodology involves playing music at full blast for the minute before "action" is called so the cast knows what the loud environment would sound like, and then when cameras are rolling, continuing to play a "thumper track" — the sub-bassline that holds the rhythm but can easily be filtered out in the mix (for this scene it was 35Hz). The cast can hear those basslines "and they don't feel exposed… it feels completely ordinary to them to speak at the level they normally would in a nightclub".
"Even the background dancers loved it because it felt like they were in a club," adds Hayes, who was working on his first Bond production after a career that includes Les Misérables (winning both an Oscar and a Bafta) and Layer Cake (during which he got on "like a house on fire" with future 007 Daniel Craig).
The sound work on No Time To Die started long before that bassline was thumping. "The great thing about working with Eon, and with Barbara Broccoli and Michael G Wilson, is they are hugely supportive of all of the HoDs collaborating in prep, so by the time we get cameras and booms out, we all know exactly what we're trying to achieve."
Explained simply, Hayes says his role during shooting is "to be able to supply the post-production sound team with original performances from the actors that hugely reduce the amount of dialogue that needs to be re-recorded in post".
The mission to minimise reliance on ADR — additional dialogue recording — was something director Cary Joji Fukunaga, working on his first Bond film, also prioritised. "One of the first things Cary spoke to me about was the fact this is a story," recalls Hayes. "Of course, it's an action movie as well, but it's a love story and he desperately wanted to do everything that he could to help me protect those original lines. Cary believes there's an honesty and truth in those original performances."
Hayes also subscribes to that view: "There's an emotion and a truth and a unique magic that happens on the set when the actors are standing opposite each other in the moment. That's very hard to recreate afterwards in a vocal booth."
Hayes says that even during the high-octane car-chase sequences, such as the ones filmed in Matera, Italy and in Norway, "Cary and his stunt team worked with the mantra of 'keeping it real' on the stunt and driving sequences. If Bond and his passenger had key dialogue in a vehicle as it was being driven at speed, Cary still wanted to capture it, rather than putting the car on a low loader, limiting the speed the vehicle could travel and, consequently, the energy that real driving brings to the screen." The interior microphones he used for the car sequences could record down to a whisper.
Sound was crucial in another pivotal sequence (spoilers ahead), in a sinking trawler as Bond has to say goodbye to his friend Felix (played by Jeffrey Wright). "When I first read the script, I was worried this might be a scene that would be traditionally ADR'd" — because the actors were performing with noisy hydraulics and rising, churning, bubbling water. But, again, Hayes worked his magic and Fukunaga was happy to support the extra work involved to save most of the original dialogue recordings.
The sound mixer pays tribute to special effects supervisor Chris Corbould (a veteran of 15 Bond films) who repositioned hydraulics on the tilting trawler and moved the hoses that produced the bubbles so the actors' dialogue could be preserved.
"Chris was prepared to take those risks to try and save the sound, which other special effects designers may not be so keen on," explains Hayes. Director of photography Linus Sandgren was also open to allowing boom microphones in the scene because radio microphones would have been waterlogged.
Even departments such as hair and make-up were supportive. Hayes hid microphones in Rami Malek's hair when a chest microphone was not able to pick up the sound needed as the actor carried the young Mathilde for an entire scene. It was yet another instance when Fukunaga said, "Just do it."
Working together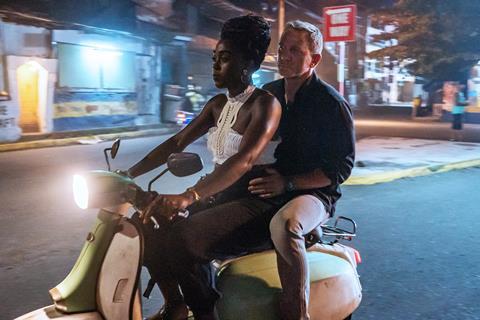 On a production like No Time To Die, there are dozens of sound collaborators, including supervising sound editor Oliver Tarney, co-supervising sound editor James Harrison, supervising dialogue editor Becki Ponting, sound effects designers Eilam Hoffman, Michael Fentum and Bryan Bowen, sound effects editor Dawn Gough and many more.
Hayes and the other on-set team handed over their tracks to a post sound team including re-recording mixer Paul Massey. Massey concentrates on the soundscape with dialogue (from production as well as ADR) and music (including Hans Zimmer's score) while his counterpart Mark Taylor handled mixing the sound effects and Foley recordings; in total they worked with around 1,000 tracks.
The final mix process took about three weeks, not to mention two weeks of creating a long list of deliverables — which included a Dolby Atmos mix, a 7.1 surround sound mix, a 5.1 surround mix and an international version where local-language dialogue tracks can be added seamlessly, as well as a version for Imax and another for home cinema and streaming formats.
In addition to the 52 tracks created in the final mix, releasing in Dolby Atmos (the first time for 007) means there are an additional 112 tracks created as "objects" for the immersive Atmos experience.
It was Massey's first collaboration with Fukunaga. "He was very specific with what emotion or detail he wanted to get from the sound. And he was happy to try different approaches to get there."
Massey has worked before with composer Zimmer, and the trust already built between them helped smooth the post-production process. Zimmer's team "split everything out for me — the drums separate from keyboards separate from vocals, and so on… I could then go in and enhance the percussion, or change the levels on instrumentation or rearrange the positioning in the room."
Massey, who was born in the UK and now lives in California, jumped at the chance to work on what he calls "the most iconic franchise". The sound veteran, who has more than 200 film credits and has won Oscars and/or Baftas for the likes of Bohemian Rhapsody, Master And Commander: The Far Side Of The World and Walk The Line, was especially impressed with the collegiate atmosphere Eon built even on a large, complicated production.
"It felt collaborative from the first moment," he says. "There was a real team spirit. There was no time for any little squabbles or disagreements."