Nomadland's journey to the screen began with friendships forged during the 2017 awards season. Screen talks to a trio of the film's producers plus source author Jessica Bruder about bringing the non-fiction book to life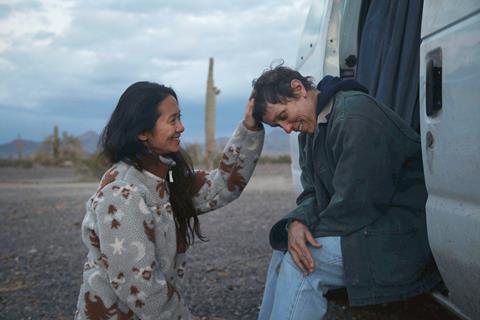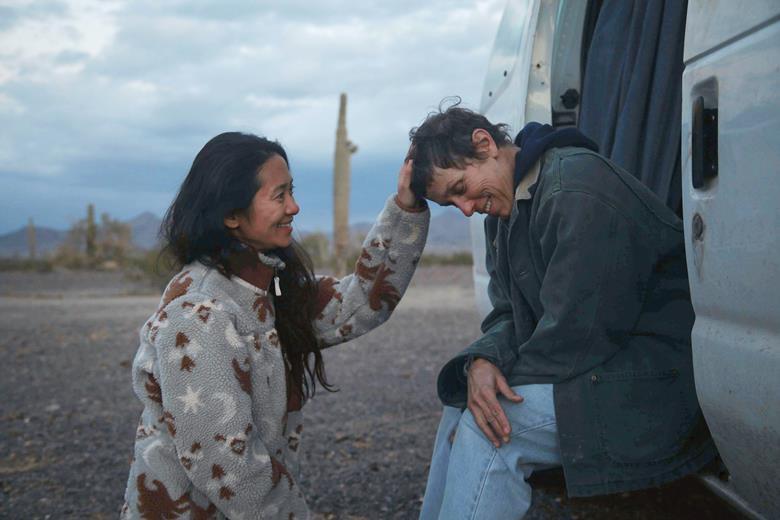 On the surface, Chloé Zhao's Nomadland might appear to promise grim viewing: a 61-year-old widow, Fern (Frances McDormand), is driven onto the road after the economic collapse of her Empire, Nevada hometown, living out of a van and scraping by on seasonal jobs. But Zhao's film celebrates the community created by its boomer-generation nomads: people who support each other and share their skillsets for the common good. Similar, in fact, to the way Nomadland's producers, including Zhao and McDormand, came together to shepherd the project to the screen — and widespread acclaim.
It began with Jessica Bruder's book Nomadland: Surviving America In The Twenty-First Century, published in September 2017. To research it, the Brooklyn-based journalist went undercover at an Amazon warehouse and worked at a beet harvest, meeting and befriending her nomadic subjects while living out of a van herself for many months. She was surprised when, a month after the book's publication, she received a call from Jasmine Lake at United Talent Agency offering to represent it. After all, Bruder reasoned, "There's so much emphasis in our society on youth, wealth and celebrity, and this book didn't have any of those ingredients. It didn't have any sex or violence, either." She laughs. "It didn't seem like an obvious candidate for a film."
Peter Spears didn't agree. Only five days after Bruder met with Lake, Spears' husband Brian Swardstrom — another agent at UTA — had seen Lake's internal posting about the book, picked up a copy and handed it to him. An actor who turned producer after being inspired to do so by Diane Keaton, with whom he worked on 2003's Something's Gotta Give, Spears had already been on a decade-long odyssey adapting André Aciman's novel Call Me By Your Name into the Oscar-winning film by Luca Guadagnino. On reading Nomadland, he says, "I thought there could be a great film there," while recognising something that "felt prescient", despite the book covering the Great Recession years of 2008-11.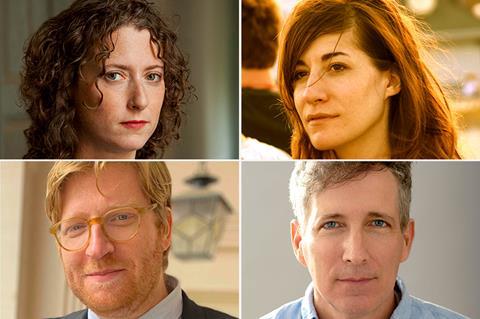 Swardstrom also represented Frances McDormand, whom he considered ideal for the lead role. She and Spears had got to know each other well, particularly on the 2017 awards circuit (with Three Billboards Outside Ebbing, Missouri and Call Me By Your Name respectively), and they decided to option the book and produce it together. "I don't think we pictured what it would become with Chloé's involvement," admits Spears. "We thought it would be a more straightforward adaptation with Frances playing Linda May [a real-life nomad from Bruder's book]."
Zhao was also working that same awards circuit, with her second feature The Rider, a modern western drama set in the Badlands of South Dakota and starring non-professional actors playing versions of themselves. "We met Chloé very early on in the process," says Spears. "We never met anyone else. It was actually on the afternoon of the Independent Spirit Awards in Los Angeles. We agreed to do the movie together and the next day Chloé packed up her car and drove out to the desert to meet Bob Wells and all the people [featured in Bruder's book]. So pre-production kind of began the very next day."
Zhao had immediately pitched the idea of making the film in the style of The Rider and her debut Songs My Brothers Taught Me (also filmed in South Dakota). Rather than playing Linda May, McDormand would star as a fictional, composite character alongside real-life nomads including Wells, the organiser of the annual Rubber Tramp Rendezvous (RTR) nomad festival, Swankie and Linda May herself. It would involve placing McDormand in real situations (such as a sugar-beet farm and an Amazon fulfilment centre), but also require constructing narrative situations and location sets, in which the real nomads would perform. "For Frances and I, this style of filmmaking was completely new," Spears explains. "So Chloé very smartly suggested that Mollye Asher and Dan Janvey help round out the team."
Asher had met Zhao in 2007 when they both started graduate film school at NYU. "We were in the same class and we became friends before working together, which I think makes for the best kind of working relationship," says Asher. "So when it came time to make her first feature, Chloé asked me to work on it. It was set on a Native American reservation in South Dakota. I went to this place I had never been to before, and that's been my journey with Chloé — going to these communities and places that are not my own."
Asher says it was "a natural thing" for her to join the production, "because of the unusual way Chloé approaches films". She defines this as having to plan as thoroughly as you would for a traditionally made movie, while leaving space for moments of discovery. "That means scheduling is different. We shoot for a lot more days. It's a much smaller crew so we can blend into the environment. Then, of course, working with non-actors, you have to understand this is new to them, so there's a forming of trust prior to the shoot that's more in-depth than on a regular shoot."
Crafting narratives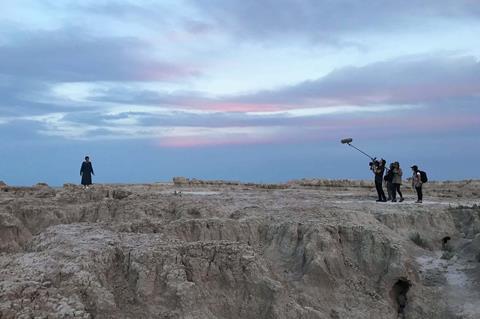 It was Janvey's experience building productions dependent on non-professional actors that drew Zhao to him, recognising in each other a kindred spirit. "It was very clear the way Chloé, Mollye and Josh [James Richards, Nomadland's cinematographer/production designer] make movies was something I was striving for in my own work — crafting narrative films in real-life environments, within communities," he explains. "They felt like cousins."
Janvey, who like Bruder and Asher also lives in Brooklyn, had produced filmmaker Benh Zeitlin's thesis film while they were both at university. He went on to produce Zeitlin's Beasts Of The Southern Wild (2012) and Wendy (2020), and in the intervening years worked with other filmmakers: fiction and non-fiction and a blend of the two (he co-produced Jonas Carpignano's Mediterranea featuring a non-professional cast). "I had experience on Wendy working with non-professional performers in a studio environment, so I had a good sense of the structural vocabulary you need around that," he says. "There is a straight line from that to Nomadland."
With Fox Searchlight (as Searchlight Pictures was then called) taking on the project as a negative pick-up, and the $4m-$6m budget quickly secured from independent financiers ("People were excited, given the successes of our previous work," says Spears), production began in September 2018 in the South Dakota Badlands — reassuringly familiar territory for Zhao and Asher. They would film in five different states over the next five months, living mostly on the road in vans and motels, with a crew of only 36 people.
"It was all hands on deck," says Asher, who like all her fellow producers — Spears, Janvey and of course Zhao and McDormand — was present through the entire shoot. "I love working with people who are not necessarily film people, so that's something I definitely geared towards. I got the beet harvest to work with us, and did a lot of the gathering of the nomads for the RTR scenes. Making the RTR was a months-long process."
Janvey describes Nomadland as "being quite a meta production", because they restaged the 50-strong 2011 RTR festival "from scratch" just a week before the real 2018 festival (now with around 10,000 participants), with most of their performers then heading off to the real event. Janvey's role was to bring his experience of working with Zeitlin to "push the limits of what you're capable of doing financially to build a large infrastructure and marry that with Chloé and Josh's very distinct process". This required everyone involved to "wear multiple hats", Spears adds. As well as showing up in the movie as an actor, he mucked in with "craft services, location scouting, set decoration and helping to hold a boom".
Meanwhile, though she was not present for the entirety of the production, Bruder was engaged as a consulting producer. The role required her to "supply as much fodder for the non-fiction elements as possible", she says, "whether it was recordings of interviews I had done, or photographs and materials from Empire way back in the day. I tried to give them my B-sides, my outtakes, just anything that would be useful, and to connect them to people."
Down the road
Making Nomadland was, all agree, a true adventure. "A really beautiful experience," Spears reflects. "I can't imagine another group of people better suited to working together and living together for five months in these areas which were challenging at best, and often breathtaking, too. Mollye and Dan were a great bridge to the style of filmmaking that Chloé came from, but together we were all building a new bridge to create this movie with its own unique situation."
While the ultimate impact of that adventure is still being felt (Screen International speaks with the producers just two days before the film's six Oscar nominations are announced, but after it had received seven Bafta nods and won two Golden Globes), Nomadland's producers are looking ahead keenly to their next projects.
"I have a few in development," reveals Spears. "One with Searchlight, which is about Tennessee Williams and his partner that Luca Guadagnino is producing with me, and Matthew Lopez, who wrote [acclaimed stageplay] The Inheritance, is writing." Asher is working with Josef Kubota Wladyka, another former NYU classmate, on the Darren Aronofsky executive-produced Catch The Fair One. "It stars a non-professional actor, Kali Reis, who is a professional boxer, and she does an amazing performance," she says. "It's sort of like an action thriller, so very different than Nomadland."
Janvey is less specific about his plans. "I am just looking for new adventures," he laughs. "Always looking for new adventures with exciting voices like Chloé's." Bruder is similarly circumspect about her next literary endeavour, but says that "apart from my standard non-fiction jam, I am looking for new ways to collaborate". Inspired by the way she saw the Nomadland team operate — "they had such a great energy, they were just so ready for anything" — Bruder is now "looking for new ways to play with others", while still marvelling at the success of Zhao's adaptation of her book, making improbable stars of the people she met and befriended while writing it.
"It feels like an out-of-body experience, especially watching Linda May and Swankie and Bob get caught up in this wave surrounding the film," says Bruder. "It was so unimaginable when this project began with just me standing in the desert with a tape recorder and a pad, trying to get people to talk to me. It's been a real thrill."