A few local hits have softened box-office declines in Nordic countries.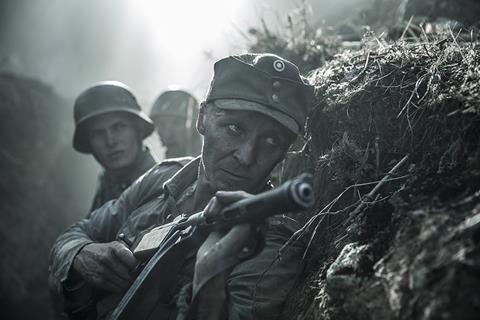 Denmark
Denmark has had 2017 admissions so far of about 11 million, down 8.8% overall, with Hollywood films down 13% (compared to a record 2016 boosted by Rogue One: A Star Wars Story) and local films down 7% (without another hit Department Q sequel). Still, Danish market share of 22% is solid compared to other territories. Local successes have included comedy sequel Three Heists And A Hamster (number five for the year), dark comedy Small Town Killers (number 19) and — in smaller numbers but exceeding expectations — The Stranger, the best-performing locally produced documentary of the past six years.

Finland
Aku Louhimies's war drama The Unknown Soldier has topped the box office in Finland, making $12m as of December 6. That means it has performed three times as well as the number-two film on the chart, Pirates Of The Caribbean: Salazar's Revenge. The Unknown Soldier, released by SF Studios, is one of the biggest local films ever produced, with a budget of $8.25m, so it was always under pressure to perform at a high level. The patriotic nature of the film also connected to Finland's year celebrating its centenary of independence. The film has helped to boost cinema admissions in Finland to 8.7 million, up 1% on 2016.
A number of local films steered clear of The Unknown Soldier, so market share for Finnish films is at 25% compared to 2016's 29% (which was boosted by The Angry Birds Movie). Other local performers during 2017 are comedy sequel Lapland Odyssey 3 on $3.5m; family sequel Jill, Joy And The Mysterious Stranger on $2m; historical drama The Eternal Road on $1.6m; and biopic Tom Of Finland on $1.2m.
There are high hopes for local Christmas releases including 95, a patriotic story about Finland winning its first ice-hockey world championship against Sweden in 1995; and Moomins And The Winter Wonderland, based on Finnish artist/writer Tove Jansson's beloved children's characters.

Iceland
In Iceland, a nation with some of the highest levels of cinemagoing per capita in Europe, the box office is down just 1% in 2017 (to November 30) compared to the same period in 2016, but admissions are down 4.3% to 1.2 million according to cinema association Frisk. But it is good news for local films as market share has hit 12.4% (up from 6.6% in 2016). The biggest local hits — in first and second place at the overall box office — have been thriller I Remember You, based on Yrsa Sigurdardottir's bestselling novel, which has earned $717,000, and festival hit Under The Tree (Iceland's Oscar submission), which has passed $630,000 and is still on release. Coming-of-age drama Heartstone, a Venice 2016 selection, secured a respectable 13th place with $301,000.

Norway
In Norway, local films slipped as US studio titles occupied nine of the top 10 spots, led by Disney's Beauty And The Beast. The top local film, Nordisk's family adventure The Ash Lad: In The Hall Of The Mountain King, sat in third place on $4.3m. Overall admissions have been down 10.4% to 10.4 million in Norway, and local market share has dropped from 22.3% in 2016 (a year boosted by The King's Choice) to 16.5% so far in 2017. That could be helped when Harald Zwart's epic 12th Man opens on Christmas Day.
Festival hits What Will People Say and Thelma had modest performances, with 98,000 and 60,000 admissions respectively. Local family films did better: Trio — The Hunt For The Holy Shrine earned 130,000 admissions; Casper And Emma Go Hiking achieved 135,000; and children's documentary Together hit 139,000.

Sweden
In Sweden, the top 10 was exclusively Hollywood fare and the top local film — at number 12 — was The 101-Year-Old Man Who Skipped Out On The Bill And Disappeared, which had a cumulative total (including its late-2016 tally) of $8.4m.
Other homegrown films with solid performances at the box office included Borg McEnroe on $3.7m; family animation Bamse And The Witch's Daughter on $3.2m (including late-2016 results); comedy All Inclusive on $3.2m; Palme d'Or winner The Square on $3m; and debut feature Sami Blood on $2m.
Local market share received an end-of-year boost from Solsidan The Movie (adapted from the hit TV show of the same name), a comedy about three couples in a summer resort. SF Studios released the film on December 1, instantly achieving the top debut number of 2017 and the best-ever opening for a local film with a non-Christmas Day release. It had 205,000 admissions including previews for its three-day opening.