Back in the alternative universe of 2019, SF Studios' SVP of international production Fredrik Wikström Nicastro thought it would be too expensive to shoot large-scale period drama The Emigrants at home in Scandinavia.
The original plan was to shoot Erik Poppe's film — adapted from Vilhelm Moberg's lauded novel about Swedes who emigrate to America in the mid-19th century — in the Czech Republic starting this summer, taking advantage of less expensive crews and the 20% tax rebate on eligible costs.
"We had already done location scouting and a lot of prep work for the shoot in the Czech Republic," Wikström Nicastro explains. But by May the team realised they did not want to risk shooting abroad. "It felt like the right thing to do to move it back to Sweden." The nine-week production kicked off in September in Västra Götaland on the western coast of Sweden.
Wikström Nicastro has now learned that Scandinavia can comfortably host a period epic. "It's great for our industry to do these more ambitious films back home," he says, noting the crew would amount to 50-60 people per day in Sweden. In the Czech system, however — where salaries are lower and key departments including lighting, electrics and set building tend to be more generously crewed — he suggests they would have employed at least 100 crew members per day.
The financial impact was not necessarily seen in increased production costs — it was more about the rebate they had lost. SF had to find an extra $1m for the now-$10m budget.
Two weeks before the shoot they added extra insurance for Covid-19, with UK-based Media Insurance. Sweden, which famously never had a formal lockdown, has experienced relatively high numbers of corona­virus cases for the region, with nearly 6,000 deaths as of late October. But thanks to safety precautions, there has been just one case of Covid‑19 among the crew of The Emigrants. The production's detailed tracing system and rapid testing helped confirm there was no spread of the virus, and the crew member returned to set after their quarantine.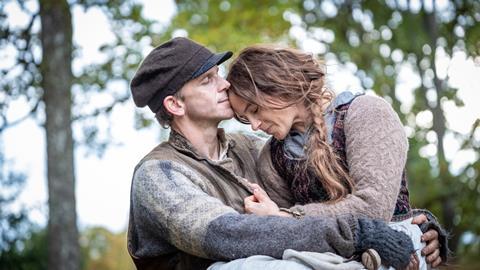 Western Sweden's regional funder Film i Vast pitched in for some of the film's extra costs, as did the Swedish Film Institute.
Film i Vast, Scandinavia's largest regional film fund, has been busy during the pandemic, hosting Ruben Östlund's Triangle Of Sadness, Joachim Trier's The Worst Person In The World and many more. The funder was able to boost its investments in several projects.
About 40% of Triangle Of Sadness had been filmed before the pandemic intensified, and another week of shooting took place in late June in a studio in Trollhättan with Woody Harrelson (the production pulled strings to get him safely to Sweden). On September 19, the production moved as planned for an eight-week shoot in the Greek islands.
From colour-coding to UV
Across the rest of the Nordic countries, producers are finding new ways to shoot all kinds of productions safely. And, compared to Sweden, more typical lockdowns translated into fewer cases in these nations, with 715 coronavirus-related deaths in Denmark by late October and less than 500 in other Nordic countries. Iceland had reported only 12 deaths.
All eyes were on Iceland at the start of lockdown, when Baltasar Kormakur paused shooting on his Netflix series Katla for just two weeks in early April; they were the first in the world to come up with safety protocols such as colour-coding different crew departments. The director reveals with a laugh that his idea was inspired by children's colour-coded wristbands to stop overcrowding at Icelandic swimming pools.
The Katla team made a video about some of their safety protocols, which Netflix CEO Ted Sarandos shared with other productions made by the company (Iceland now has official shooting guidelines created by the government and producers' association).
Also during the pandemic, Will Smith posted an Instagram photo from Iceland's famous Dettifoss waterfall in early September; he is thought to be there shooting an as-yet-unannounced TV show. Robert Eggers' The Northman started shooting in Ireland and Northern Ireland in August and will send its second unit to Iceland.
Danish production The Marco Effect, the new thriller in the Department Q series, was already two-thirds into shooting in the Czech Republic when lockdown started, so they had to reschedule their last 15 days of filming in Denmark instead, three months later. Producer Mikael Rieks of Nordisk Film says: "We had to rethink action, continuity, script and not least match up with CGI." The film followed the usual safety measures (with the production even writing its own 25-page safety manual) and also used "powerful UV rays to disinfect all equipment and props several times a day".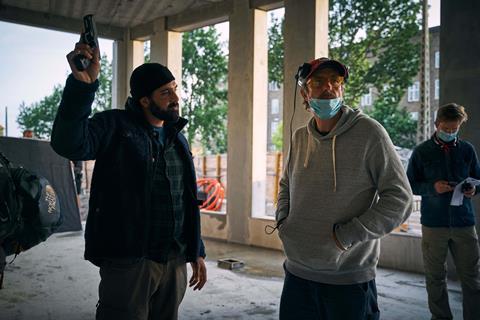 Flexible production
Lars Bredo Rahbek, head of production at SF Studios Denmark, shot Charlotte Sieling's pan-Scandinavian historical epic Margrete — Queen Of The North during spring and summer. The ambitious feature was originally budgeted at about $10.7m, with another $1.6m then added for Covid-19 measures, using crew from nine countries. The Prague shoot — scheduled for 34 days — started on March 1 before the country's lockdown just 11 days later; filming resumed on June 15.
One initial concern producers Birgitte Skov and Bredo Rahbek had was whether safety measures would equate to shooting fewer pages per day. "That proved not to be such a big issue. We did shorter lunchtimes, and added more crew in select divisions like production design and costume, so there was less waiting time. In the end, there were no extra shooting days." It helped that director Sieling had experience shooting big US TV shows like Homeland. "She knew where we could push and how to adapt," explains Bredo Rahbek.
The crew could number 130 people, and one banquet scene also had about 150 extras — retaining the scale was important for the high-end look and feel of the film.
Bredo Rahbek sums up the sleepless nights he, Skov and other producers in general have had forging ahead in uncertain times. "It was like jumping out of a window not knowing if you could land on your feet, but at least you'd done your best to strap on your parachute," he says.
Bredo Rahbek's other project this year — Bille August's drama The Pact about Danish writer Karen Blixen — was set to shoot in March, but ended up waiting until June in Denmark followed by a week in Belgium in August. "Denmark is handling [Covid-19] well as a nation. The organisations have been quite clear about what it takes and how to work with security experts," says Bredo Rahbek.
In Norway, the high-profile shoot of 2020 has been Mission: Impossible 7. The Paramount sequel was on hold for seven months, but became one of the first tentpoles to start shooting again in early September in western Norway for six weeks, working with production services company Truenorth Norway. There were 900 people involved with the production, and yet they had no coronavirus cases on set. The face masks used numbered in the tens of thousands.
Cast and crew stayed aboard the hotel ship Hurtigruten, which kept the production in a bubble. Ships are used as crew housing in Norway even in non-pandemic times, when demand can exceed the number of hotel rooms available.
Aage Aaberge, producer at Nordisk Film, shot in June near Oslo for Narvik, the Second World War epic directed by Erik Skjoldbjaerg. They had to significantly change the schedule — the film had been slated to shoot over the rest of the summer to be readied for a Christmas 2020 release. That release was pushed back a year to give the crew time to shoot the bigger war scenes (which also need snow) starting in April 2021. They secured some extra funding from the Norwegian Film Institute and were able to renegotiate some terms of their coverage with insurers Hiscox.
Norwegian drama/comedy Nothing To Laugh About was supposed to start shooting in March and was put on hold until the end of July. But after five days of shooting in Oslo, six crew members tested positive for Covid-19 — meaning cast and crew had to go into a 10-day quarantine. The planned shoot for the Norway-Lithuania co-production went to Vilnius as expected later in the summer, and the six-day Oslo shoot was able to happen safely again after that. The film is editing now.
In Norway, other local shoots have included Joachim Trier's The Worst Person In The World, but other films such as Ole Giaever's La Elva Leve chose to postpone until 2021 because of seasonal needs. In mid-October, Norway introduced a guarantee fund to help producers move ahead with more confidence.
In Finland, US-based XYZ Films started production in mid-October on Riley Stearns' sci-fi feature Dual, starring Karen Gillan and Aaron Paul. After some delays, Finnish producer Bufo had been shooting Saara Saarela's Memory Of Water this summer in Estonia, Norway and Germany, and was relieved to have wrapped on October 2.
Fisher King is shooting a feature film sequel to its popular TV series Bordertown, which Netflix will release outside of Finland (where Aurora Studios has rights). Producers Matti Halonen and Johannes Lassila at Fisher King say they did not have to make major adjustments to their plans, and the budget only went up by about 3%. "We planned very carefully how to work and we made sure all the scenes with actors and extras were planned with safe social distancing." They added, not entirely joking: "In Finland this comes quite naturally, as we tend to be introverts. Our social distancing is at least four metres in almost all situations!"