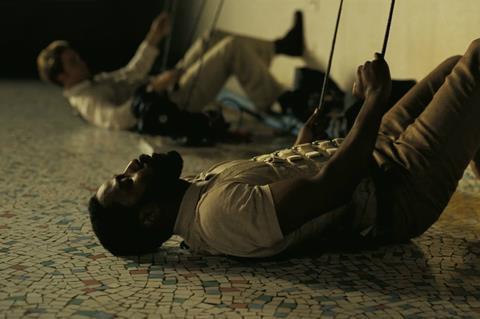 The North American box office generated $2.25bn over the course of pandemic-ravaged 2020, yet only $450m after the lockdown came into effect last March – less than Disney smash The Lion King alone managed over four weekends in summer 2019.
Bereft of screens after most cinemas temporarily closed their doors in spring, studios elected either to push their tentpoles into this year, pivot to PVoD, or cut deals with streaming platforms.
The result was the lowest January 1-December 31 period of the modern era. While comparisons are futile under such circumstances, for the record 2020 ticket sales fell 80.28% against 2019, which recorded one of the highest unadjusted box office years on $11.4bn.
According to Comscore there were 921 releases in 2020, marking a 56.1% drop from 2,098 in 2019. Of those 921, 60 were studio releases (including repertory titles) for a 50.4% year-on-year drop from 121 in 2019.
However the story of 2020 cannot be told adequately by one year-long chart. The unprecedented nature of a year brought to its knees by Covid-19 created another significant metric – the March 20-December 31 post lockdown chart.
Sony's 'Bad Boys For Life' rules full-year chart; Warner Bros' 'Tenet' is post-lockdown champion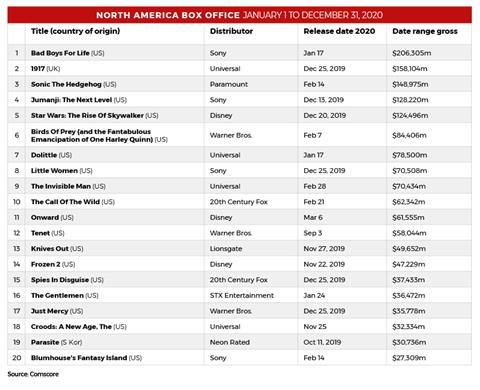 Sony's Bad Boys For Life opened on January 17 and was the highest grossing film of 2020. It ruled the January 1-December 31 2020 chart on $206m.
Next was Universal's 1917, a 2019 holdover that grossed $158m in 2020, rising to $159m including ticket sales from the platform release on December 25, 2019.
Paramount's Sonic The Hedgehog, Sony's Jumanji: The Next Level, and Disney's Star Wars: The Rise Of Skywalker filled out third through fifth slots (see chart).
Looking at the March 20-December 31 chart, the box office champion was Christopher Nolan's Tenet, which opened through Warner Bros on September 3 and finished the year on $58m. It ranked 12th on the full-year chart and would have been expected to gross a lot more in an ordinary year, despite mixed reviews.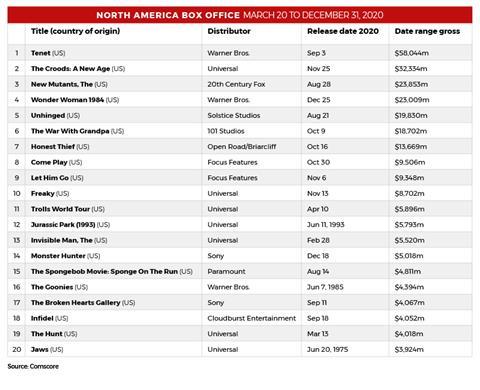 Second on the post-lockdown chart was Universal/Illumination's The Croods: A New Age, which opened on November 25 and finished 2020 on $32.3m. It placed 18th on the full year chart.
Disney/20th Century Studios' The New Mutants in third place opened on August 28 and had amassed $23.9m by the end of the year, while Solstice Studios' Russell Crowe thriller Unhinged – the first new, major studio film back in cinemas after the March lockdown – opened one week prior to The New Mutants and finished the year on $19.8m.
Rounding out the post-lockdown top five was 101 Studios' comedy The War With Grandpa starring Robert De Niro. The distributor opened on October 9 and finished 2020 on $18.7m.
And what of Warner Bros' Wonder Woman 1984? After the much-delayed superhero sequel debuted day-and-date in US cinemas and on HBO Max (for a 31-day run) on December 25, it grossed $16.7m on opening weekend, climbing to $23m by the end of the year to rank sixth on the post-lockdown chart.
Besides Tenet and The Croods: A New Age, none of the films on the post-lockdown chart made it into the top 20 of the full-year chart, although The New Mutants finished at number 22, The War With Grandpa number 27, and Wonder Woman 1984 number 29.
Studio market share
The January 1-December 31 2020 champion was Sony on $493m (including Columbia and TriStar repertory titles) and 22.2% share.
Next came Universal/Focus Features on $487m (including repertory residual revenue from 2019) for 21.9% share; Warner Bros on $259m (including New Line repertory titles) and 11.7%; Disney releases on $256m for 11.5% market share; and Disney-owned 20th Century Studios releases on $187m for 8.4%. Both the Disney and Fox numbers include repertory residual revenue from 2019.
Paramount ranked sixth on $184m for 8.3% and Lionsgate seventh on $79.6m for 3.6%.
Post-lockdown market share measured from March 20-December 31, 2020, painted a different picture.
By this metric, Universal/Focus features was number one on $124m for 30.6% market share, followed closely by Warner Bros on $119m for 29.5%, and 20th Century Studios in third on $36m for 8.9%.
Rounding out the top five were Sony on $29m for 7.2%, and Disney releases on $22m for 5.5%. Solstice Studios, which released Unhinged in late August, placed sixth on $19.8m for 4.9% share, and in seventh place was 101 Studios on $18.7m for 4.6%.
In this post-lockdown chart, Open Road/Briarcliff, which released Liam Neeson thriller Honest Thief in October, ranked ninth on $15.4m for 3.8% share, while Paramount came in at number 10 on $9.8m for 2.3%. Lionsgate finished 14 on $2.9m and 0.73% share.
It bears repeating that cinemas were largely out of action for most of 2020. After the March closures, some reopened in early summer albeit at restricted capacity – a situation that will endure well into 2021 until vaccines have provided herd immunity – and with no tentpoles, audiences got to see new independent fare, repertory titles like Jurassic Park, Beetlejuice and Gremlins… and went to the drive-in.
By the time new studio films Unhinged, The New Mutants and Tenet opened in late summer, roughly 70% of the North American exhibitor footprint was back up. However audience confidence remained low in many places and box office, already hindered by limited available seating due to social distancing protocols, suffered.
The level of open cinemas dropped to roughly 50% towards the end of the year and fell again to around 40% by December. Cinemas in Los Angeles and New York have remained closed since last March.
Summer grosses drop sharply year-on-year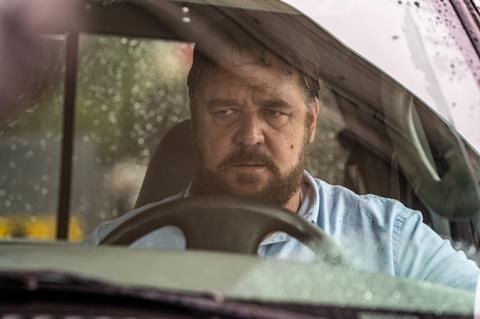 Summer 2020, lacking major new releases until August, generated $177m and fell 95.9% against the $4.3bn haul in 2019, when The Lion King and other tentpoles roared.
Whereas summer 2019 accounted for 38.2% of that year's total box office, summer 2020 made up 7.74%.
"Those were the really tough months for the industry when so many theatres were shut down," said Comscore senior media analyst Paul Dergarabedian. "Then it started rebounding around the time when Unhinged, Tenet and other films were released like New Mutants.
"To me, the biggest impact was on the summer, which in any given year is an incredibly important 18 weeks for the industry, and in 2020 it just got completely decimated for obvious reasons."
Drive-ins and repertory releases prospered
Faced with nationwide cinema closures and low confidence levels among audiences, drive-ins enjoyed a bountiful period.
Overall, drive-in ticket sales generated $132m in 2020 compared to $152m the year before – an impressive haul considering that in 2019 drive-in attractions would have included the likes of the all-time (unadjusted) number one box office hit Avengers: Endgame, while the 2020 crop was comprised mostly of repertory titles and independent films.
After ticket sales of $3.4m in March ($5.9m in 2019) and $2.1m in April ($10.1m), the level vaulted to $15.1m in May ($15.7m) and $20.6m in June ($30.5m) as the weather improved.
July was the biggest month as drive-ins generated $23.5m and accounted for 80.5% of the month's total box office, compared to $37.9m and 3.28% in 2019.
May grosses year-on-year were roughly the same, although the share was at the other end of the scale – 92.5% in 2020 compared to 1.6% in 2019, when summer season was up and running with the second weekend of Avengers: Endgame.
April 2020 saw drive-ins take the largest share of the total month's box office. Coming just after the lockdown, $2.1m in ticket sales accounted for 93.7%, compared to $10.1m and 1.1% in April the year before. Grosses and share began to slide in August, when Unhinged and The New Mutants opened in cinemas and audiences had more out-of-the-home choice.
Studios and other distributors do not break out their drive-in grosses. Among the independent hits were IFC Films' The Wretched, The Rental, and Relic, all of which, sources said, grossed a significant portion of their respective $1.8m, $1.6m and $1m box office from drive-ins.
More than half of the $1m box office from RLJE Entertainment's August horror release The Tax Collector came from 38 drive-in screens, according to company sources. The film also enjoyed the rare distinction of opening number one day-and-date in both theatres and in the VoD charts.
"Back To The Future, Ghostbusters, and E.T. – what was old was new again," said Dergarabedian. "Movies that drew people to theatres 40 years ago were drawing audiences mainly to drive-ins, and some bricks and mortar as well."
Universal's 1993 classic Jurassic Park was the top-grossing repertory release of 2020 on $5.8m, followed by Warner Bros' The Goonies (1985) on $4.4m, Universal's Jaws (1975) on $3.9m, New Line's Elf (2003) on $2.74m, and Universal's Back To The Future (1985) on $2.71m.
Next came Beetlejuice (Warner Bros, 1988) on $2.3m, E.T. The Extra-Terrestrial (Universal, 1982) on $2.2m, Ghostbusters (Sony, 1984) on $2.1m, Gremlins (Warner Bros, 1984) on $1.9m, and Shrek (Universal, 2018) on $1.7m.
Sluggish December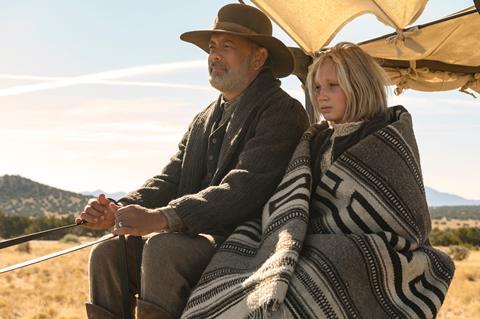 By the end of the year, the traditional huge numbers in December and in particular the last week of the year did not materialise. Besides Wonder Woman 1984 there was Paul Greengrass' western News Of The World starring Tom Hanks for Universal, which scored a $2.3m December 25-27 opening weekend, finished the year on $3.7m, and at time of writing stood at more than $7.2m in North America.
Compared to December 2019 release Star Wars: The Rise Of Skywalker, which was adding tens of millions of dollars each day in its first nine days, the 2020 crop was sluggish, inching ever onwards towards the hoped-for salvation of 2021 with a few million a day in the best cases.
However Dergarabedian remained positive about the cinema-going experience. "Any number is a good number in this marketplace. The fact that the communal immersive movie theatre was able to draw anyone, and then on top of that drive-ins did so well, shows that people are drawn to the big screen in such a profound way.
"It's still in our DNA to want to go to the movies. People are going to find a way – even if it means driving further away or not eating or drinking at the concessions."
2021 tentpoles line up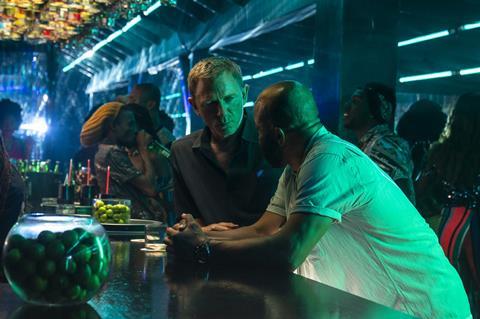 There are plenty of films scheduled for release in 2021 and the studios have dated many tentpoles that got pushed from 2020.
MGM/Eon's James Bond saga No Time To Die is the first mainstream heavyweight title and the industry is watching closely to see if it sticks to its April 2 release.
It will take many months for the vaccine programme, currently behind schedule in the US, to get on track, and there are likely to be more postponements in the months ahead as Covid surge across the US.
Sony's Morbius and Warner Bros' The Many Saints Of Newark – the film prequel to HBO's The Sopranos – have already been pushed deeper into 2021.
The hope among the industry is that the landscape will start to settle by summer and the second half of the year, and 2022, will offer a better gauge of the recovery.
At time of writing schedule highlights for the first half of the year besides No Time To Die include Disney/20th Century Studios' The King's Man on March 12, Sony's Peter Rabbit 2 on April 2, Paramount's A Quiet Place Pt II on April 23, Disney's Black Widow on May 7, Universal's F9 on May 28, Disney/Pixar's Luca on June 18, and Sony's Venom: Let There Be Carnage on June 22.
Beyond that, July promises Paramount's Top Gun: Maverick, Universal/Illumination's Minions: The Rise Of Gru and Disney's Jungle Cruise.
Sony's Morbius and Warner Bros/Legendary's Denis Villeneuve's Dune are set for October. As things stand, Warner Bros' entire theatrical slate this year has been mandated by parent company WarnerMedia to launch day-and-date in US theatres and for one month on corporate sibling HBO Max.
Steven Spielberg's West Side Story from 20th Century Studios is now set for December 10, and Warner Bros' The Matrix 4 for December 22.