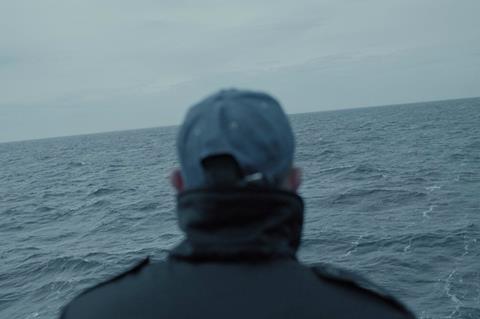 With the internet playing a key role in revolutions across the world in the past decade, it is perhaps no surprise that Tymur Yashchenko's debut feature U-311 Cherkasy was inspired by a YouTube video.
The true story centres on two Ukrainian sailors who serve on the U-311 Cherkasy, a naval ship involved in the Russian annexation of Crimea in 2014. 48 Ukrainian sailors defended the vessel for over three weeks, before it fell to the Russian siege.
U-311 Cherkasy is making its world premiere at the Odesa International Film Festival (OIFF) in the national competition programme on Tuesday July 16.
Screen spoke with Yashchenko about naval cinema inspirations, finding funding, and the political implications of his film.
Can you tell me where the idea came from for this film?
I empathised with the events that happened in 2013-2014 in Kiev, known as 'Maidan' or 'Revolution of Dignity'. They were transformative events, right after the 'Orange Revolution' in 2004, for a Ukrainian nation in a post-Soviet reality. The energy of patriotism and identification which I personally received was just looking for realisation. I saw a video on YouTube and I very clearly felt that this is a story for a film. It is an especially personal story for me because I was born and raised in Cherkasy city in central Ukraine, plus I'm deeply in love with the Black Sea, and naval stories. I was never interested in a navy or a military drama cinema till I saw that video, where the sailors with sticks in their hands are ready to fight, or defend themselves from hybrid 'civil attack'. That video gave me huge impulse and inspiration. Than I started to work on a script.
How did you get the money together?
The starting point for the film was pitching at the Ukrainian Film State Agency in 2016, where we won and received half of the budget. Previously, Studio Munka based in Warsaw had a big impact - they financed the 2015 prologue short Lev.
Did you use any war films set at sea as inspiration?
The story is a bit similar to Dunkirk. As in our story, Dunkirk is a story from Second World War where England has nothing to be proud of. [It was a] complicated situation… more of a human story than [a traditional] action blockbuster film. When we were writing a script, we felt similarity with Battleship Potemkin by Sergei Eisenstein, so in U-311 Cherkasy you can find some similarity with that masterpiece, and both stories happened in the Black Sea near to Odesa. But the main difference is that U-311 Cherkasy is not a political propaganda film. That's what I'm really proud of.
Can you tell me about your introduction to film - did you train in film? How did you learn your craft?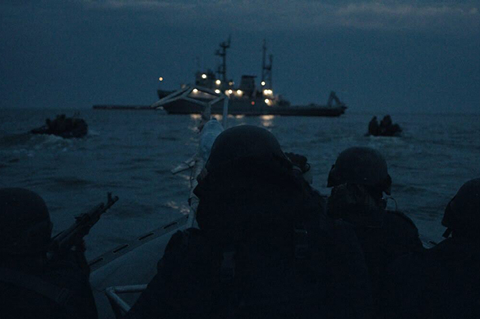 Practicing and getting the film crew before jumping to deep water with a big-budget debut feature film - that was the main reason for making the short Lev. I have lived in Poland since 2010; in 2016 I got into the Ukrainian film industry. I had no doubts that I had to do a short first to check the 'engine'.
What are the challenges of getting funding for films in the Ukraine?
I think the challenges are the same as everywhere. This is a very fresh industry, it was reborn in 2014. Big and amazing work was done by Ukrainian Film State Agency, that is for sure. A lot of debuts nowadays come from young fresh and hungry directors, such as myself. I could say that the main challenge in Ukraine is a post-Soviet mentality. That is the deepest problem which damages everything, including the film industry.
Is it a political risk making films about the relationship with Russia?
U-311 Cherkasy is not a political film for me. It has a very strong political background, but it is not the sense of the film. For sure it is a film about post-Soviet reality, and the place for Ukrainian identity in it. This is a film about people in a complicated situation and their decisions and mind transforming in it. The film is also about the Soviet Navy. It was the same organisation before 1991 and basically nothing changed before 2014. It was also a shock for me, just as for the Ukrainian Navy, that Russia started a war in my country. It is still a shock for everyone in the Ukraine. But I think that historically it is a positive change for Ukraine, I think it is very important to identify your enemy, inside and outside, the enemy which also lives in a collective mind. My country is finding its identity and I'm happy to see that way, even if it's so traumatic. Ukraine is a young democratic country with aggressive totalitarian neighbour on a border - that is the Ukrainian reality for the last five years, or for the last 400 years if you look deeper into history. It's important to talk about that.
What does Odesa Film Festival mean to the Ukrainian scene? How does it help a film?
Odesa is 'the Ukrainian Cannes'; I had no doubts about where to present the film to a Ukrainian audience. It is the first ever film about the Ukrainian Navy; Odesa is a city with a deep Navy history, where the Ukrainian Navy forces are based. Also personally I'm in love with that city and will be proud to present my film there.
What are you working on now? What would you like to do next?
I'm working on two projects. One of them is a Ukrainian biographical historical drama film with co-production potential. It is a biography of Volodymyr Ivasiuk - a great Ukrainian composer and singer who tragically died in 1979. The other project is a black comedy Polish western. I live in Warsaw and would like to represent myself in the Polish film industry also.