Oscar-winning director also talks Kim Jong-Un and North Korea: "we never hear the other side".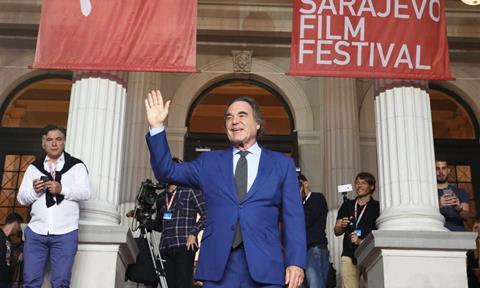 US filmmaker and three-time Oscar-winner Oliver Stone is at Sarajevo Film Festival this week to receive an honorary Heart of Sarajevo, the festival's top prize, for his contribution to the art of film.
Sarajevo is also hosting a selection of his works, including Vietnam War drama Platoon, whistleblower biopic Snowden and his most recent work The Putin Interviews, a four-part series of interviews between Stone and Russian president Vladimir Putin.
Speaking to Screen at the festival, Stone said that the reception to the series, which has seen him criticised for not pressing Putin harder on certain controversial topics, had been tough to take, if unsurprising.
"The interviews were very difficult, Russia is almost a declared enemy of the US. Look at the abuse I took from the US, and also from Britain, which is very much allied to the US. There is a price to pay," he said.
"I don't want to pay that price all the time," he continued, adding that he was in no rush to find another political interview subject.
Asked whether, in hindsight, he still believed his approach to The Putin Interviews was the right one, Stone insisted: "If I was confrontational, I wouldn't have gotten the depth that I got."
"I'm working to try to bring peace to this situation, it's very difficult," he added.
During his Sarajevo masterclass earlier in the week, Stone suggested that those critical of US president Donald Trump should also look further into the US political system and analyse what he described as the "Deep State".
"A lot of people believe the Deep State is stronger than any president," he reiterated to Screen.
"The degree of control that the military has over the fate of the United States – we never talk about that."
Trump and North Korea
Stone was critical of the US's emphasis on its military and president Trump's recent "fire and fury" threat aimed at North Korea.
"The United States, it seems, needs an enemy. Why do we spend so much money on our military and our security? Why are we so scared? We have two gigantic oceans [either side of the country], yet we are always talking about security. The US acts as if we're the most threatened nation on earth," he said.
"Trump said he wanted to rebuild American infrastructure first, he didn't want to have unnecessary silly foreign interventions, and yet you can see in the last few months the same kind of talk. We have a military security complex, you have to go along with that or you don't stay in office," he continued.
Is he worried about the potential ramifications of the war of words between Trump and North Korean leader Kim Jong-Un?
"Of course I'm worried, I'm very worried. My wife is Korean and her family are in the corridor not far from the border – they would be the first victims of this thing. I love Korea," said Stone.
He also stressed that when it came to North Korea, "we never hear the other side".
"We've been provoking [North Korea] for years. Why? This provocation has driven them crazy. North Korea was wiped out in the Korean war, every city was wiped out, [there was] tremendous damage. Of course they are paranoid about the United States, they have a reason to be," he continued.
Stone had explored the possibility of doing a North Korea-focused project with his producer Fernando Sulichin about six or seven years but nothing came to fruition. Should the opportunity to interview Kim Jong-Un present itself now, would Stone take it?
"It would be difficult," he admitted. "I would worry about the language issue and whether he would really be human. I found Mr Putin to be a gentleman, you could talk to him about anything on the record. I don't know what kind of character Kim Jong-Un is."
"It's not like I'm looking for it but if it was there on a plate, maybe I would take it," he added.
Upcoming projects
While Stone has explored presidents and their power in both Nixon (1995) and W (2008), he ruled out ever making a film about Donald Trump: "I don't think people want me to make a Donald Trump movie."
However, Stone said that development is moving swiftly along on his TV series about infamous US prison Guantanamo Bay, on which he is working with a writers' room. Last month, US network Showtime announced that it had landed rights to a 10-episode first season.