Olivia Colman was drawn to Maggie Gyllenhaal's The Lost Daughter for its honest depiction of a flawed mother.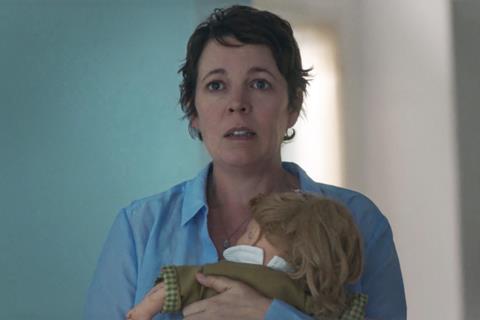 Olivia Colman first met Maggie Gyllenhaal at a lunch in New York to discuss The Lost Daughter, Gyllenhaal's feature directing debut which she adapted from the Elena Ferrante novel of the same name. "We were both a bit nervous, it could have been a polite lunch. But it ended up that we got on really well, there was a lot of laughter. There was champagne. We went on for hours."
Her instant connection with Gyllenhaal was just one reason Colman signed on to play Leda, the complicated woman at the heart of The Lost Daughter. Leda is a middle-aged university professor who confronts her own unsettling past while on a beach holiday. Leda is not always likeable — for instance when a family on the beach asks her to switch sun loungers so they can sit together, she refuses. "I didn't think I'd played anyone like Leda before," says Colman, who has a SAG best actress nomination for the role. "I don't think I remember a woman like that depicted so honestly on the screen, and that was appealing to me. She stands her ground and I dream of being that sort of person.
"The way Elena Ferrante depicts women is that she tells the truth," Colman adds. "Maggie has a lovely way of putting it, like we all have an agreement to not talk about certain things, and Elena Ferrante breaks that agreement. This character can say, 'I don't like talking to my children on the phone.' It's just absolutely honest and she's not ashamed to be who she is."
Colman did not feel the need to go back to the source novel. "I tend to just go with the script, because the writer has chosen the pieces [from the book] that they find most valuable, so my job is to honour what they've written."
The actress first suggested to Gyllenhaal that Jessie Buckley might be great as the younger Leda — struggling with tough choices relating to motherhood and family when she is trying to build her academic career. "Jessie is one of the most extraordinary actresses I know," says Colman. "She was the first person I thought of."
Colman and Buckley chose not to overprepare together, as they represented Leda at such different points in her life. "We just decided on an accent that worked between us, and that was it." She adds with a laugh that Buckley could have "thrown me under a bus by playing Leda with a limp… but we just trusted each other.
"Maggie gave us so much freedom, and Maggie also didn't try to patronise the audience by saying this is the same actor. Everybody knows we are two different people. We are playing a woman in different stages of her life, so differences are bound to happen. She just let us do our thing."
Before the Covid-19 pandemic, the production had considered filming in New Jersey and then perhaps in Canada. They ended up moving Leda's holiday to Greece. The film shot in summer 2020 on the Greek island of Spetses (helped by local production services company Faliro House). "I had done a few jobs in the pandemic where you can't be near each other," Colman explains. "You have to stand apart from the crew, who you normally would be mates with. But we were all together on an island, quarantined together and nobody was coming on or off the island. We'd have the islanders playing extras."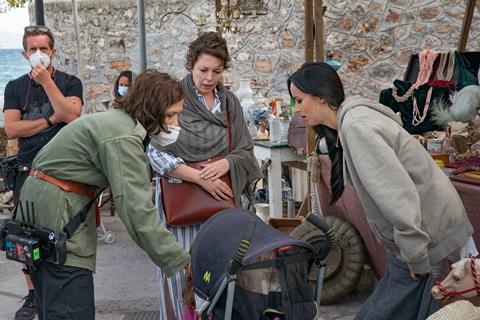 Gyllenhaal did not come across as a first-time director to Colman. "This is her directing debut, but it's like she's done 20-plus years of film school," she says. "Every day she's been on set learning what a good director is and what a bad director is.
"Maggie knows what you need to hear to get to the right place. One thing that was lovely is that if she had a note for you, she would whisper it only to you. As Dakota [Johnson, co-star] said, it wasn't like we had to worry if Larry the boom operator thought you nailed that note. It's just a secret for you and Maggie. Sometimes she might tell Dakota one thing and tell me something else. She made it fun, and allowed us to play. Good work comes out of feeling safe and feeling free."
Netflix acquired most of the world rights to the film on the eve of its premiere at Venice, adding more — including the UK — in October, and has released it in select cinemas and on its own platform. The Lost Daughter's launch caps a fertile year for Colman, as she also appears in Mothering Sunday (the Cannes 2021 selection directed by Eva Husson), and serves as narrator in Will Sharpe's The Electrical Life Of Louis Wain (which played at Telluride and Toronto in 2021). She has also contributed voice parts to animations Ron's Gone Wrong and The Mitchells Vs The Machines.
For 2022, she appears in Emer Reynolds' Irish thriller Joyride and will shoot smaller parts in Marvel mini­series Secret Invasion and Warner Bros' Paul King-directed Wonka.
Colman — who won the Bafta and US Academy Award for The Favourite, and was Oscar-nominated for best supporting actress last year with The Father — has also become more active on the production side after setting up Peckham-based South of the River Pictures with her husband, writer and showrunner Ed Sinclair. "We wanted to set up our stall because we want to support new voices," she explains. "We've done an awful lot of reading and looking at new writers and young writers and people with different voices and different stories to tell. The pandemic was actually a good time for development and reading."
South of the River Pictures co‑produces Landscapers, a four-parter for HBO and Sky written and created by Sinclair, inspired by the true story of a mild-mannered English couple, Susan and Christopher Edwards (played by Colman and David Thewlis), charged with killing her elderly parents. "It's a fascinating story, and he sees it from an empathetic, beautiful viewpoint," Colman says. "If he hadn't cast me, I'd have been so cross."