Olivia Colman, star of Yorgos Lanthimos's The Favourite, talks to Screen about her transformation into Queen Anne, her dislike of early starts and why she is now much better behaved at awards ceremonies.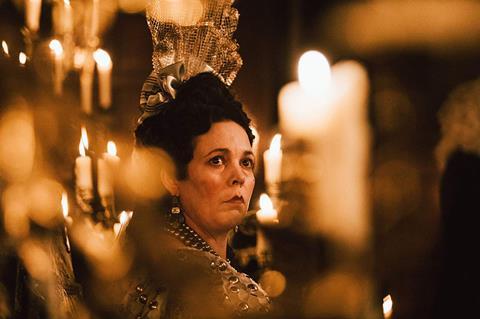 Despite having a Golden Globe and three TV Baftas to her name, Olivia Colman still finds herself overwhelmed by awards attention. "I still go, 'Oh my god, it's really exciting,'" says Colman on the buzz she is garnering for her portrayal of Queen Anne in Yorgos Lanthimos's period comedy The Favourite, which is a major contender for Fox Searchlight this awards season.
Colman began her career by establishing herself as a regular on the UK TV comedy scene, with turns on cult series such as Peep Show and Green Wing. Colman recalls her first ever Bafta awards, which she attended with the cast and crew of Peep Show, as an exciting experience: "I pooled money to buy a nice dress, I felt like Cinderella. Then I got really drunk and vomited on the way home."
Despite earning rave reviews for her performance as a victim of domestic abuse in Paddy Considine's 2011 drama Tyrannosaur, she was curiously absent from that year's Bafta film nominations. The accolades did come, however, on the small screen, with Colman then winning three Bafta TV prizes in two years, including for her lead role in ITV series Broadchurch. She then received a Golden Globe win and Primetime Emmy nomination for her supporting turn in BBC/AMC's The Night Manager.
As a result, the actress admits she has to be more considered at ceremonies. "You have to be a bit better behaved because people actually notice you," she says with a grin.
Another regal role, as Queen Elizabeth II in Netflix's The Crown (following Claire Foy's portrayal of the younger Elizabeth in the series), looks set to push Colman's profile into the stratosphere when it starts streaming next year.
This year, she won the Volpi Cup for best actress at Venice Film Festival for The Favourite, and has since notched up Golden Globe and SAG nominations for best actress for the same film. Co-stars Emma Stone and Rachel Weisz have also been recognised by the latter bodies in the supporting actress categories.
Portraying one third of the love-and-power triangle between Stone and Weisz was a joy for Colman. She became particularly close to Stone during filming, which was useful because the two share a series of intimate moments as Stone's Abigail — a former lady of note now down on her luck — employs a tactic of seduction as she attempts to climb the royal court's social hierarchy.
One scene was particularly intimate to perform, involving Stone's character getting into bed with the queen, putting her hand up her dress and beginning to pleasure her. Both Colman and Stone were conscious of the latter's hand straying far enough up the hefty outfit to make it look realistic, but not so far as to cause a distraction. Colman came up with an ingenious solution. "Emma and I were both a bit nervous that, during the fingering scene, she might get too far up there — so I got a wet sponge from the make-up department to put up my dress. It was hilarious." As for her other co-star, the romantic moments were straightforward. "Kissing Rachel Weisz is really no hardship at all," Colman says with a smile.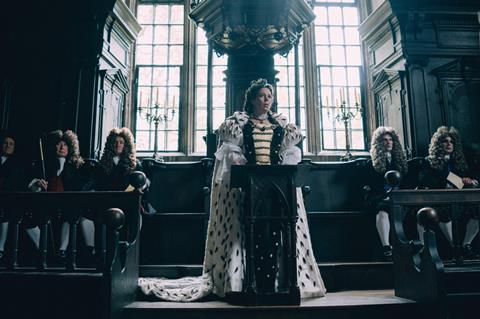 The trio are now all good friends. "We hang out together and they come to my house for Sunday lunch," says Colman. "We also do a lot of WhatsApp, sending funny videos to each other. When we were at Venice Film Festival [for the film's premiere], Rachel couldn't attend because she'd just had her baby, so we all filmed a barbershop song and sent her a video."
Colman describes The Favourite as "the most fun" film she has worked on. "We all giggled a lot," she remembers. The three-week rehearsal period saw the actresses get to know each other through a series of physical games set by Lanthimos. "We played trust games, held hands, roughed and tumbled. We were like a bunch of kids. But there was method in his madness — he knew we could then go and do anything on set."
On considering who outside of her immediate trio was the funniest to work with, Colman says that when Nicholas Hoult, who plays landowner and political schemer Robert Harley, was in the room, the rest of the actors "were all fucked" when it came to delivering their lines. "He is funny anyway, he has a very naughty twinkle. When you put him in heels, a three-foot wig and lipstick… we couldn't look him in the eye."
The set of The Favourite was also a positive experience for Colman because of the atmosphere created by director Lanthimos and the film's producers, including Ceci Dempsey from Scarlet Films and Ed Guiney from Element Pictures. "This and Tyrannosaur are my two most treasured film experiences. The subjects are very different but creatively they were similar. I felt completely safe on both. If you think you're not in safe hands, you're always second-guessing yourself."
Colman had to put in the work to play Queen Anne, the gout-ridden and largely wheelchair-bound monarch who has been the victim of much tragedy, having miscarried or given birth to stillborn babies on at least 12 occasions, with a further four of her children dying before the age of two.
Not one for early mornings, the 3:45am make-up sessions to "get her gout on" were not overly welcome, but Colman credits hair and make-up designer Nadia Stacey for being "brilliant at everything she created" and making it a relatively painless process. Learning to ride a horse was also a challenge as she had never sat on one before — the team was taught by a group of film industry veterans called The Devil's Horsemen. "I just sat on it like a lump of lard," says Colman.
Becoming a queen
Asked about getting into the character of Queen Anne, and the contrast between that role and her portrayal of a monarch in The Crown, Colman is reluctant to delve into discussing her craft. "I'm not very good at talking about my process — I just do it," she explains.
The actress adds the look of Queen Anne was key to her being able to get into character. For the part, she grew her hair long and put on a significant amount of weight. "Yorgos said Queen Anne was big but he didn't really like make-up and wanted it to be real," she recalls. "I had the best Christmas ever, though eating three portions of everything did get depressing. It goes on really quickly and then you realise you have to lose it again."
It is a busy time for Colman, who is using shooting breaks from The Crown to cover promotional activities for The Favourite. She takes several moments to practise her Queen Elizabeth voice, for which she is being professionally trained. "I've always been ambitious, naively ambitious initially," says Colman of her diverse career trajectory. "But you temper that and you say, 'I'm working and that's brilliant.' The best thing that ever happened to me was not working consistently for a good many years — it means I will always appreciate work."