SCREEN SUBSCRIBERS: Originally conceived as a German-language project, Alone In Berlin failed to entice financiers. But when Hans Fallada's novel was republished in English to huge acclaim, director Vincent Pérez re-imagined the film. Now it is making its debut in Competition at the Berlinale.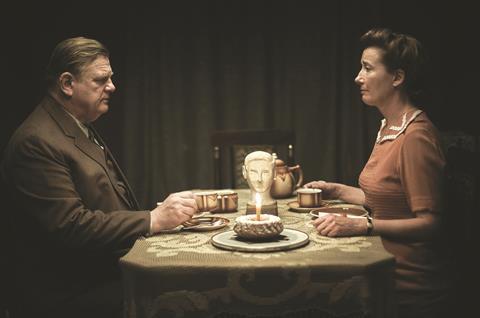 After making a name for himself as an actor in the 1990s in films such as Cyrano De Bergerac and La Reine Margot, Vincent Pérez moved behind the camera with 2002's Once Upon An Angel.
But after directing just two features, the Switzerland-born, France-based Pérez was not sure he had any more stories to tell and was thinking of quitting directing. Then, in 2007, he read German author Hans Fallada's anti-Nazi novel Every Man Dies Alone
Originally published in 1947, and based on Gestapo files, the book had deep meaning for Pérez, whose mother was born in Germany in 1939 and whose family suffered under the Nazi regime (his family on his father's side is Spanish, his paternal grandfather having died fighting Franco in that country's civil war). Motivated by Fallada's words, Pérez went searching for his German roots and was determined to turn the book into a film. "It's a story that has to be told," he says. "It became an obsession that never left me."
The film based on that book, Alone In Berlin, is the story of Otto and Anna Quangel — played by Brendan Gleeson and Emma Thompson — a working-class couple who, having lost their only son to the war in France, embark on a two-year campaign against the Nazis, writing 286 propaganda postcards and leaving them in public places. Suddenly a marriage that had been dying, even before their son's death, is rekindled as they work together and learn to love again. But their small act of resistance soon earns the attention of Daniel Brühl's police inspector, who is charged by his SS superiors with hunting them down.
"What was most attractive to me was the very simple story of the Quangels. They're ordinary people who do something quite extraordinary. They're heroes but they're reachable heroes," says Pérez. "What they did was something anybody can do, but nobody was doing because it was too dangerous."
Tough sell
Every Man Dies Alone has been adapted before, twice for German television. But Pérez and his Paris-based producer, Master Movie's Marco Pacchioni, found French financiers were not interested in telling a German story. Then, at Cannes in 2009, Pérez met X-Filme's Stefan Arndt, producer of that year's Palme d'Or winner The White Ribbon. The book was one of Arndt's favourites and he agreed to partner Pérez and Pacchioni, although they discovered German financiers were not that keen either.
"I was convinced that with the background of the Palme d'Or, an Academy Award nomination [for The White Ribbon], German film prizes, European Film Awards, I really thought I'd be able to finance it," says Arndt. "And I failed."
At that stage, the plan was to shoot in German, but when the book was translated into English for the first time in 2009 and became an international bestseller, it suddenly made sense to make it in English, opening up potential financing streams and audiences. Pérez determined to tell a universal story rather than a specifically German one.
"Why tell this story to the German people, they know their story," says Pérez. "The Germans are doing such fantastic work on not forgetting what happened. And so the idea with Stefan was to open it up and to tell it everywhere, to make it more international."
Pérez started work on a new script, in collaboration with Good Bye Lenin! screenwriter Achim von Borries and overseen by James Schamus (Brokeback Mountain), who joined the project as a producer. Following the 2014 Berlinale, Paul Trijbits and Christian Grass of UK-based FilmWave also came on board as producers. Budgeted at $16.4m (€15m), the project was set up as a Germany-UK-France co-production. Alison Thompson and Mark Gooder's Cornerstone Films is handling international sales with Pathé distributing in France and Benelux.
To replicate wartime Berlin, the film-makers shot briefly in the German capital but mostly in Görlitz, where The Grand Budapest Hotel and The Reader had previously been filmed. The production team renovated an empty building to stand in for 55 Jablonski Street, the apartment house where Otto and Anna reside in close proximity to their neighbours — a retired judge, an elderly Jewish lady and members of the SS.
"It's lifting the veil on what it must have been like to be a very ordinary person living in Berlin under such an oppressive regime," says Trijbits. "There were all manner of people, all represented in Jablonski Street. Everybody was living in fear."
Cast in place
Pérez says Thompson was the only person he considered for the role of Anna Quangel. Luckily, the Oscar-winning actress and screenwriter was also a fan of Fallada. Mark Rylance (Bridge Of Spies) was cast as Otto but had to bow out due to a scheduling conflict, and Gleeson (In Bruges) signed on.
"I think Emma always wanted to play this part and she's wonderful," says Trijbits. "She is able to transport us into Jablowski Street and you can totally imagine her living there in the world we've created."
So much so, says Pérez, that when both Thompson and Gleeson first stepped into their characters' apartment, they rearranged the props. "She moved some chairs, some furniture. She recreated a place for herself. He did the same thing, as if they were really moving into that apartment together."
When Screen visited the set towards the end of an eight-week shoot, the production had transformed a disused factory just outside Cologne into a furniture mill circa 1943, restoring the existing lathe equipment to working order and hiring former employees as extras.
For a pivotal scene in which Gleeson's taciturn foreman is queried about his loyalty to the ruling Nazi Party by brown-shirted supporters of the regime, the actor's face remained a stoic mask as he wondered aloud how much more a father could give to the Fuhrer than his son's life, while beneath the surface Otto's emotions churned.
"Otto Quangel is described in the book as a slightly different kind of character but Brendan brings such an intense, powerful, quiet but hugely rich, nuanced performance," says Trijbits.
"He's an incredible actor," agrees Pérez. "I was so lucky to have him play that part, because he doesn't show anything but you feel so much when he's Otto. He's so intense. He did so much research. It was wonderful to work with him."