Colin Brown highlights 12 online services aspiring to assist with everything from financing and rights management to screenings and networking.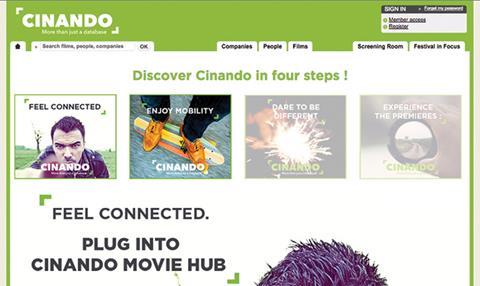 Now in its 11th year of servicing film professionals on the international sales and distribution circuit, Cinando has more than 60,000 users — many of them courtesy of their registration with the Cannes Marché du Film and other partnered movie markets around the world. Available in three languages — English, Spanish and Chinese — Cinando is in a constant bid to keep up with marketplace shifts and demands.
"Because users are very often on the move when they need a contact, info on a film or even a screening time in a market, our technology now allows them to download the full database in their device. It was still inconceivable a few years ago to have data and photos of 60,000 people and 40,000 films stored in a mobile phone. For us it became possible two years ago," says executive director Jérome Paillard.
Other upgrades have included a feature allowing users to exchange data across different platforms, a white-label digital video library for festivals and a new website back office where users can manage their data using dashboards and reporting tools.
"While working constantly with data and figures, we do not forget the human aspect of our activity, which will always be the engine that moves the industry forward. Isn't our main job to run a market in real life?"
Launch date 2003
Key executives Jérome Paillard, executive director; David Capaldi, head project manager.
Cost to users $95 (€85) per year, but is included with the registration at the Cannes Marché and other film market partners.
Ownership structure Owned and operated
by the Marché du Film.
Business model Supported by the EU's Creative Europe programme as well as advertising and subscriptions.
www.cinando.com