Colin Brown highlights 12 online services aspiring to assist with everything from financing and rights management to screenings and networking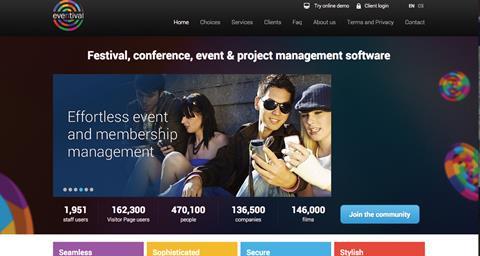 A logistical toolbox for all manner of event planning, Eventival started life in a French farmhouse room and has since grown to become "the most frequently used film festival management software around the world," says co-founder and director Tomas Prasek. "Dawna Cha [founding partner] and I gave Eventival all we knew in the beginning, but now the most valuable input is from our clients. As a result of this, we keep adding features all the time — I don't think Eventival has taken a single nap for six years.
"At first, it used to be only film festivals. Two years ago, Eventival began to be discovered by conference organisers, film and literary award organisers, clubs and interest associations, and most recently also NGOs and music festivals.
"We think we really know how to organise and simplify the life of people who work with a lot of data when organising dynamic and often unpredictable events. We want to keep doing just that, only in a lot of other fields.
"Our biggest lesson was that delivering the service well has to be
complemented with a diplomatic insistence on its use. We used to lose customers because we did not manage to help them get beyond that magic point where they suddenly realise they do not want to work without Eventival. It doesn't happen any more because we are putting a lot more effort into the initial year."
Launch date Established in the UK in 2008 and operated from France for its first year; in 2009, the company relocated to Prague.
Key executives Tomas Prasek, co-founder & director; Dawna Cha, co-founder & business development director.
Cost to users The annual service fee for film festivals ranges from several hundred to several thousand US dollars for the flagship service.
Ownership structure Privately owned.
Business model Main source of revenue is an annual service fee plus income from additional programming or consulting work.
www.eventival.com