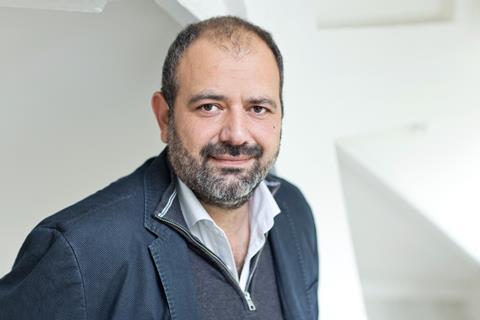 Orwa Nyrabia is in his fourth edition of artistic director of International Documentary Festival Amsterdam (IDFA). The festival opens tonight (November 17), amid a partial Covid-enforced lockdown, with the world premiere of Louis Hothothot's Four Journeys.
The event already bears his strong imprint. This year, Nyrabia has made significant changes to the programme structure. He has launched a new competition strand, Envision, for documentaries using bold and innovative cinematic language which sits alongside an International Competition showcasing "the best of the art. Singular films that are artistically confident, well-rounded, and universally relevant".
He talks to Screen on the eve of the festival about the quality of projects, his fear that backers are playing it safe, and the introduction of an IDFA Queer Day.
Have you received more submissions than usual because of filmmakers keeping their projects back last year during the pandemic?
In terms of numbers, it is not more entries than usual. Gladly, it is almost back to the entry levels of 2019. [But] the number of good films was truly bigger than usual. It was more of a pleasure to programme. I think the pandemic pushed all of us into a bit of an existential space. I see filmmakers seeing a wider philosophical world than usual. Maybe the collective disaster [of Covid] took us to a place where we are a bit more contemplative.
Please talk a little about the choice of Four Journeys by the Chinese-born Netherlands-based director Louis Hothothot to open the festival?
Four Journeys is a film that anybody can relate to. The film revolves around the fact that the filmmaker himself was an illegal second child in China. He's going back home from the Netherlands to China to rebuild a sense of family. I believe this feeling of being illegitimate, of being the extra one, is a universal experience. And there is something about the film language that stood out.
There are filmmakers, not many of them in the world, whose language is actually film language. They usually do not know how to describe the film or write about it as well as they make it. The way he knits the political history and his political positions into the film, into the family narrative, is so organic. This reminds me of Agnes Varda where you watch a film and you don't feel this is great craftsmanship. this is the filmmaker just speaking to you.
What do you make of the mood of the international documentary industry right now?
Many [companies] are trying to polish their line-ups or to pick more films…I think this is a good choice at this moment, that we all try to push this high standard
However, we know that the economy of film is severely hit. It is, I am afraid, leading a bit to what I fear the most for film, which is playing it safer than before. Whether on the side of festivals, sales agents, or exhibitors and buyers, it seems like everybody is trying to play it safe and make up for the lost money.
However, filmmakers are not. They are trying to be themselves and to make works that will not necessarily fit the paradigm of the market. I think this will lead to a great clash when we again have great cinema being left out by the market.
You've talked about trying to move away from an obsession only with feature films. How does this year's IDFA address that?
The market is very conventional in the sense everybody thinks they know exactly what will work. To me, there is something about celebrating Artavazd Pelechian [the Armenian director who will receive a lifetime achievement award] whose classic masterpiece The Seasons of. The Year is 28 minutes [in length]. As opposed to another film we are celebrating, Johan van der Keuken's Amsterdam Global Village which is over four hours. To me, this industrialisation which makes 90 minutes such a sacred number is kind of ridiculous if not redundant. It creates so much fakeness in the appreciation of film. It's our role as a festival to encourage opening one's mind.
The festival has introduced an IDFA Queer Day this year. Is there a sense that LGBTQ+ work has been under-represented until now?
For years and years, IDFA has been trying to make a political statement that we stand by LGBTQ+ rights and filmmakers. What we see is so many more good films being made on LGBTQ+ experiences than ever before. This leads me to say that this stops being about films from a minority demanding its rights.
The number, quality and diversity of LGBTQ+ films that we watched and selected this year tells me it is also about a new human social era where queerness is part of the zeitgeist. This is beyond us making a political statement. This is a wave of good filmmaking.