While Hollywood studios traditionally dominate the nominations for the animated feature Oscar, gems from around the world are vying for attention. Screen highlights four titles from Europe, Asia and South America.
Ruben Brandt, Collector (Hungary)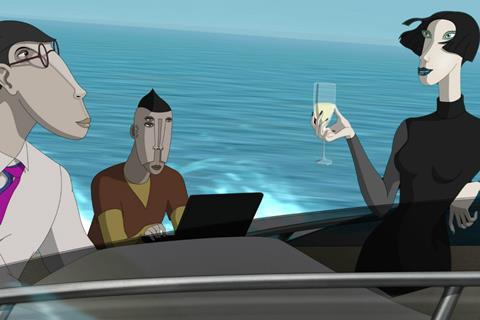 Dir. Milorad Krstic
It may have taken more than two decades to return to the big screen, but artist-turned-filmmaker Milorad Krstic has delivered an impressive follow-up to his 1995 animated short My Baby Left Me, which won the Golden Bear at the Berlinale and best first film at Annecy International Animated Film Festival. Taking six-plus years to complete, Ruben Brandt, Collector is the story of the titular protagonist, an art-loving therapist haunted by nightmares of famous artworks, who believes he is forced to steal paintings in order to preserve his sanity. Beginning with an exhilarating car chase and taking in heists at the Louvre, Tate and MoMA, it is, in Krstic's words, "a complex story of art, psychology and crime".
Financed by the Hungarian National Film Fund and the Hungarian film incentive, the project began life back in 2010 as a series of unconnected drawings, which eventually became the basis for his screenplay. "The film stands on several legs and the first is the story," he says. "That is the most important layer. The second is the graphic world, which I wanted to express as unique, not cliché. Then comes the animation."
With its cast of eclectic characters — professional kleptomaniac Mimi is exaggeratedly long-limbed, another character is entirely two dimensional — Ruben Brandt boasts a look and feel entirely its own: a personality that has seen it win over audiences at festivals including Locarno, Sarajevo, Warsaw and Chicago. Its distinctive appearance is largely down to the fact Krstic animated the film by hand. "When I draw with a pencil, I get great joy from the movement of the hand," he says. "It's the same way that a dancer gets joy from moving their body to the music. The basis must be the free dance of your hand on the paper, or on the screen. That's the energy."
Despite Ruben Brandt's originality, Krstic admits he drew a wealth of inspiration not only from his own love of art, but also works of literature and cinema. And for eagle-eyed viewers, an extraordinary level of background detail will reveal itself. "I always thought about what it would be like if someone watching on DVD paused the film," the director says. "It's a huge canvas, so you would see not just the character, but what's behind them, what's on the left and right."
As such, the film is packed with brief but striking moments of homage: a train stamped with EAP for gothic novelist Edgar Allan Poe; an exhibition poster referencing cinematic pioneer Georges Méliès; a dream sequence that draws direct inspiration from both Jim Jarmusch's Ghost Dog: The Way Of The Samurai and Seijun Suzuki's Branded To Kill.
Ruben Brandt opened in its native Hungary in mid-November through Mozinet, and Sony Pictures Classics — which acquired North American rights from HNFF World Sales — plans a year-end qualifying run ahead of a 2019 US release. Despite his eye-popping visual achievement, Krstic is keen that international audiences respond to the film as a compelling drama. "I hope that people who experience watching the film just once will be occupied by the story. That, for me, is enough." Nikki Baughan
Have A Nice Day (China)
Dir. Liu Jian
In the history of the best animated feature Oscar, first awarded in 2002, a number of foreign-language titles have been nominated — including five from Japan's Studio Ghibli — but none ever from China, Taiwan or Hong Kong. The region's animation sector is hoping that may change this time around with the submission of two titles: On Happiness Road from Taiwanese director Sung Hsin-Yin and Chinese director Liu Jian's black comedy Have A Nice Day.
The latter made its world premiere in Competition at the Berlinale in 2017 and was reported to have been praised by Chinese filmmaker Jia Zhangke as a milestone in Chinese animation when it screened at his fest in Pingyao. Written, directed, animated and produced by Liu, Have A Nice Day has drawn comparisons to Pulp Fiction for its violence, suspense and dry wit, and to Waltz With Bashir for its realistic, adult-targeted art animation. The film follows Xiao Zhang, a young driver in a small town in southern China who steals a bag containing one million yuan ($144,000) from his boss in a desperate attempt to fix his fiancée's botched plastic surgery so she won't call off their wedding. But news of the robbery spreads fast and over the course of one night, everyone starts looking for Xiao and his money.
Liu set out to examine human nature with his independent production: "The goodness and the darkness within us and the boundary between them, especially when facing big choices. Is our destiny predetermined, or can we change our fate with our own efforts?
"I try to make films that have intertwining plots, absurd events, complex characters and deep themes," adds the director, whose first feature-length animation, Piercing 1, was a film noir that played in Annecy's official selection in 2010 (Liu also teaches animation at China Academy of Art in Hangzhou).
Since its Berlinale premiere, Have A Nice Day has travelled to numerous festivals around the world including Pingyao International Film Festival, where it won the best director award in the Fei Mu competition for first and second-time Chinese directors. It also won best animation feature at the 2017 Golden Horse awards, which are considered the Oscars for Chinese-language cinema. One bump along the way came when the film was forced to withdraw from Annecy International Animated Film Festival in June 2017, where it had been set to play in Competition.
While the producers have no comment on the circumstances around the withdrawal, the film had been cited as a potential target of Chinese government disapproval due to its caustic commentary on politics, culture and China's place in the world.
Have A Nice Day was produced by Yang Cheng for Nezha Bros Pictures and Liu Jian for his Le-Joy Animation Studio. Jiamei Spring Pictures was also a producer and financier. In January 2018, JQ Pictures opened the indie animation in China where it took $377,200.
Represented by Edko Films for Asia and Memento Films International for the rest of the world, it has sold to multiple territories including the US (Strand Releasing), the UK and Ireland (Mubi) and France (Rouge Distribution). Jean Noh
Tito And The Birds (Brazil)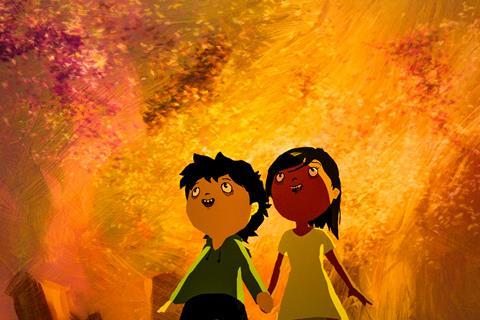 Dir. Gustavo Steinberg
Given his background in politically and socially charged live-action drama, Brazilian filmmaker Gustavo Steinberg's Tito And The Birds seems to be something of a departure. But the producer, director and writer sees Tito — an exquisite, painterly animated adventure inspired by cult children's film The Goonies — as a continuation of his worldview. "Except now I'm talking to kids," he says. "I wanted to make a movie about this very complicated stuff that's going on in the world and I thought animation was a better choice to communicate with a younger audience."
The "very complicated stuff" to which Steinberg refers is fear. "The culture of fear that is completely transforming the landscape politically and socially," he expands. "This new kind that is multiplied by the media. We have to talk about that because if kids grow up in a world where this culture of fear is a normal thing, it's only going to get worse."
Born and raised in Sao Paulo, Steinberg says he witnesses its impact every day. "Sao Paolo is known as the city of walls, because everybody lives behind walls, fences, electric and barbed wire, or inside condos, so you can really feel fear as a contagious thing," says the filmmaker. "I'm not saying the city is not violent, it is. But the factual basis is much less real than the imaginary violence that contaminates everybody. And it has got worse." Indeed, since Tito premiered at Annecy International Animated Film Festival in June, Brazil has undergone a marked political change with the election of Jair Bolsonaro as president. "We elected a fascist," says Steinberg. "But Brazil is just the newest kid on the block of this extreme far-right political movement. It's happening all over the world."
In Tito, a young boy uses pigeon power to combat the fear that is paralysing his society, a contagion of paranoia that is helping the rich get richer. "Donald Trump was one of the biggest inspirations for our villain and we decided that before he was even a [US presidential] candidate," says Steinberg. "We managed to catch something in the air. My executive producer says that maybe reality caught up with the film. In a way, it's a very exciting moment because we believe this film can have a real impact in the world, and can open a discussion within families and schools."
As a newcomer to animation, Steinberg took it upon himself to learn about the medium before he started production, visiting Annecy in 2013. "I talked to anyone who would talk to me," he says. "I had 50 meetings. I got to sit with people who were already nominated for Oscars, talking about the script, the characters, so Annecy was amazing in every possible aspect."
It was there that Steinberg met fellow Brazilian Daniel Greco, who came on board as executive producer. Greco had supervised Luiz Bolognesi's Rio 2096: A Story Of Love And Fury, which won Annecy's Crystal award in 2013. "What I did was bring a lot of experienced and talented people on board because I knew we had a big challenge ahead," says Steinberg. This talent also included Gabriel Bitar and Andre Catoto as his co-directors.
Bitar suggested the expressionistic oil-painting style, although the idea of animating the film with only oils was discounted as too expensive and time-consuming. Nevertheless, the backgrounds were created using oil-paint brush strokes photographed and imported into Photoshop. The characters were created using cut-outs and digital animation to emulate the feel of oils. Smoke, water and light effects were created frame-by-frame with oil paint during compositing.
Financing came from Brazil's film agency ANCINE, Ibermedia, the Brazilian Development Bank and regional Sao Paulo incentives. Tito premiered at Annecy and has since screened at Toronto, Sitges, Warsaw, New York and Haifa. Indie Sales handles international sales and territories licensed so far include China, France, Spain, Sweden and the US. The film was released in Brazil by Europa Filmes. Outside of Brazil, it will be dubbed. "We are doing the English version right now," says Steinberg.
In the US, Tito is being released by Shout! Studios, which will open it in Los Angeles in December to qualify for the Academy Awards, before going wider in late February/early March 2019. "It's not easy, because we don't have any budget, so it's about talking to [the press], screening the movie to people at festivals," says Steinberg. It would not be the first time a Brazilian animated feature has been nominated for an Oscar — Boy And The World was given a nod in 2016 — but for Steinberg, it is all about getting the film's message across to a larger audience. "That's what really matters," he says. "If we get an Oscar nomination, the film will reach a level where we will be able to talk to more people. We have to talk about this stuff to kids." Mark Salisbury
MFKZ (Mutafukaz) (France-Japan)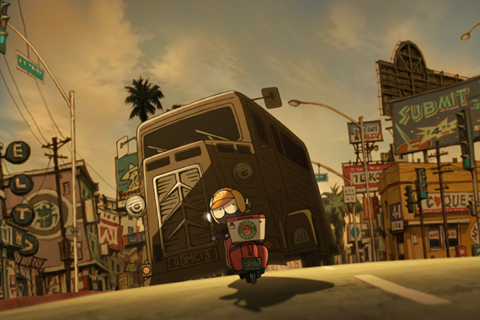 Dirs. Shojiro Nishimi, Guillaume Renard
French-Japanese genre mash-up MFKZ (Mutafukaz) revolves around anti-hero Angelino: an oddball, no-hoper born on the wrong side of the tracks in Dark Meat City, a dystopian reimagining of Los Angeles as a burnt-out, gang-run, cockroach-infested hell. His life as a pizza-delivery boy comes to an abrupt end after he bumps his head in a scooter accident, which unleashes hidden supernatural powers and makes him the target of a mysterious gang of Men in Black.
Produced by Paris and Lille-based digital production house Ankama, the film, aimed at a young-adult audience, is the fruit of an unusual collaboration between French graphic-novel artist Guillaume 'Run' Renard and Japanese animator Shojiro Nishimi at ultra-hip Tokyo animation production house 4°C. The film's grungy settings, irreverent dark humour, themes of social degradation and exclusion, and brooding and award-winning electronic score by French DJ The Toxic Avenger (real name Simon Delacroix) and Guillaume Houzé, make it one of the most timely, edgiest works submitted for consideration in the animated feature Oscar category this year.
"You could say it's got a bit of a different vibe from the other films that have been submitted, but this is one of the reasons why we decided to put it up for consideration. It's something different and original," says Frédéric Puech of Ankama, one of the film's three producers, alongside company co-founder Anthony Roux and Tanaka Eiko.
MFKZ co-director Renard oversees Label 619, a boutique graphic-novel collection within Ankama's publishing arm, specialising in works riffing off pop and urban culture themes and references. There, he manages the work of other artists, co-ordinates collective projects and also produces his own graphic novels, including the Mutafukaz series on which MFKZ is based. The deeply detailed worlds of his work, including that of MFKZ, draw inspiration from the "golden age of sci-fi, Z movies and popular Latino culture", says Puech.
The feature adaptation of the Mutafukaz series grew organically out of Ankama's collaboration on other projects with 4°C, best known for cult anime works such as Batman: Gotham Knight and Tekkonkinkreet, on which Nishimi had worked. Prior to creating the graphic-novel series, Renard made a short film called Mutafukaz that screened at Sundance in 2003.
"He had always harboured secret hopes of adapting the series as a bigger feature but hadn't thought it was possible. It was when Ankama started working with 4°C on other projects that the conversations began," says Puech. The production process was unusual in that Renard wrote the screenplay and worked on the reference design but all of the animation was done in Japan. "I think this combination of French creativity and 'Japanese touch' widens the appeal of the film internationally and extends its reach to anime fans, who may not have been interested in the film if it had been simply an adaptation of a French graphic novel," says the producer.
MFKZ premiered at Annecy International Animated Film Festival in 2017 and has since toured other festivals. Paris-based sales company Celluloid Dreams has sold the feature into a slew of territories including North America where it was picked up by GKIDS, which ran limited Oscar-qualifying screenings of an English-language version in October. It has been released theatrically in the UK (by Manga Entertainment) and Germany (Peppermint Anime). Melanie Goodfellow