Exclusive research from Broadcast Intelligence shows the Academy Awards' inattention to female filmmakers is only part of the problem. Screen examines data that reveals how actresses have often been cut adrift from the awards mainstream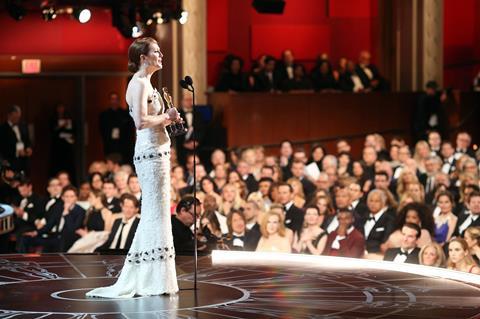 If Glenn Close clinches the best actress Oscar this year for her performance in The Wife, this will be the highly regarded veteran performer's first win from seven Academy Award nominations spanning nearly four decades.
It will also be the second time in four years that a film has won best actress despite receiving no other Oscar nominations — Still Alice performed the same feat with Julianne Moore in 2015.
That might strike many as a random fact with no particular significance, but it is reflective of a bigger gender imbalance in the films that are achieving the industry's highest accolade. For many years, films showcasing the best work by actresses have received less overall attention from Oscar voters.
New research from Broadcast Intelligence has crunched the numbers across all Oscar categories, paying particular attention to the titles nominated for best actor and actress (see graph below). Of these, for example, the 50 films nominated for best actor in the past 10 years received 241 nominations in other categories, of which 198 were in non-acting categories. The 50 films nominated for best actress in this period received just 155 other nominations, of which 123 were in non-acting categories. Of the 50 films nominated for best actor, 23 of them also received a nomination for director. Of the 50 titles nominated for best actress during this period, just 13 secured a director nod.
Last year, The Shape Of Water was the first best picture winner to feature a best actress nominee in 13 years since Million Dollar Baby in 2005. Over the same period, six best picture winners — Birdman, 12 Years A Slave, The Artist, The King's Speech, The Hurt Locker and Million Dollar Baby — also picked up best actor nominations.
The mismatch between screenplay and the acting categories seems even more egregious. Of the last 18 films to win for adapted or original screenplay, only one (Precious in 2010) has featured a best actress nominee, whereas 10 featured a best actor nominee.
Meaty roles for men
So what does this reveal and does it matter? The obvious conclusion is the majority of films considered overall most worthy of accolades by Oscar voters are driven by male performances. Each year, in order to find the five best actress nominees, the net has been cast wider, scooping up performances in films that are more at the margins of the awards conversation.
There are simply fewer films driven by female characters that are anointed major prestige dramas by the industry gatekeepers. And since it is usually necessary to cast a movie star even to get a $15m indie film greenlit these days, it is also relevant that there are fewer female movie stars than male ones. Fewer roles, hence fewer stars, hence fewer roles — that is a closed loop the industry needs urgently to address just as much as the lamentable gender imbalance in directing, cinematography, editing and other disciplines.
Emerging from the Broadcast Intelligence research, there are two findings that do provide encouragement — one relating to the past and one to the present. The first is this gender imbalance is a more recent phenomenon, as anyone familiar with the Golden Age of Hollywood, its female stars and the strong roles for women might guess. In fact, the imbalance is most visible in the past 20 years. For example, in that period, only one film (1999's Shakespeare In Love) won both best actress and a screenplay award. In the previous 20 years, from 1979-1998, 10 films won best actress and a screenplay award, including the likes of Fargo, The Piano, The Silence Of The Lambs and Terms Of Endearment. Hollywood has the creative potential — and surely the incentive — to write strong roles for women on a more consistent basis.
The even more encouraging news is that there are signs this is actually starting to happen. Last year's best picture race eventually came down to a battle between The Shape Of Water and Three Billboards Outside Ebbing, Missouri — both films driven by female protagonists that captured the imagination of global audiences.
And, just as was the case in 2018, the five films nominated for best actress in 2019 received more Oscar nominations overall than the five films nominated for best actor — prior to these past two years, this last occurred in 2007. The 32 nominations in total achieved by the five films nominated for best actress is the highest tally since 2003, the year of strong, female-driven films Chicago, The Hours, Frida and Far From Heaven.
In 2019, the two films receiving the most Oscar nominations, with 10 apiece, are ROMA and The Favourite — two very different films about women that have netted a collective five acting nominations, all earned by female performers. Both are engaging audiences on a global scale and are profitable for their investors.
Hollywood, surely, is taking note.
Focus
Between 2010-2019, there were 50 Best Actor and 50 Best Actress Oscar nominees. Here is a snapshot of additional category nominations over that period.
| Category nominations | Films nominated for best actor | Best actress |
| --- | --- | --- |
| Picture | 35 | 25 |
| Director | 23 | 13 |
| Adapted screenplay | 18 | 12 |
| Original screenplay | 14 | 11 |
| Cinematography | 12 | 9 |
| Film editing | 20 | 12 |
| Production design | 13 | 6 |
| Costumes | 12 | 7 |
| Makeup and hairstyling | 6 | 2 |
| Original song | 7 | 3 |
| Original score | 11 | 8 |
| Visual effects | 2 | 1 |
| Foreign film | 1 | 2 |
| Sound editing | 9 | 6 |
| Sound mixing | 15 | 6 |
Sole Nominees
Six films in past 10 years only received a best actor Oscar nomination: A Single Man; A Better Life; Trumbo; Captain Fantastic; Roman J. Israel, Esq; At Eternity's Gate
12 films in past 10 years only received a best actress Oscar nomination: Julie & Julia; Blue Valentine; Rabbit Hole; The Impossible; Still Alice; Gone Girl; Two Days, One Night; 45 Years; Joy; Elle; Loving; The Wife
Source: Broadcast Intelligence