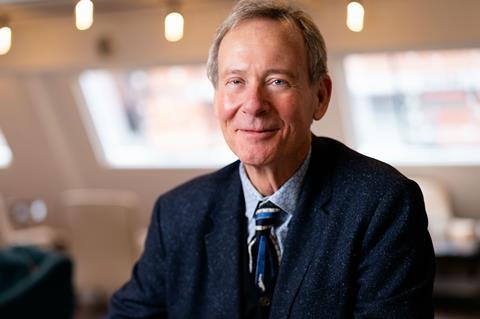 Industry veteran Andrew Chowns leaves directors trade body Directors UK in rude health, with a 7,000 strong member base having doubled under his tenure.
The last few weeks have been some of his most challenging, with work drying up for directors, who are primarily freelance and desperately trying to obtain support from the government.
Speaking to Screen's sister publication Broadcast in the week that he retires after a decade at the helm, Chowns said the industry's key stakeholders are already "putting a great deal of thought about what our industry should look like when we come out of recovery", especially in terms of diversity and "good old-fashioned industrial relations", which he called a "dying art".
"I'm absolutely convinced TV will not look the same once this is over," said Chowns, speaking just days before his retirement.
"The re-fashioning of a post-coronavirus industry is a great opportunity for positive change and a lot of talk is already going into avoiding simply reproducing the fault lines of the past."
Former Pact chief operating officer Chowns said working conditions had changed "for the worst" during his 10-year tenure, mainly due to pressure on budgets filtering down to those represented by his team.
"They work harder, longer, and have more responsibility than before - often without the necessary support," he added. "There is a 'show must go on' mentality that is deeply ingrained in our industry. At its extreme, it means people are prepared to accept things that they shouldn't."
This has contributed to a quantifiable worsening of the mental health and wellbeing situation, according to Chowns.
He cited his greatest career achievement as being the trade body's work on diversity reporting, which in the past couple of years has led to the publication of groundbreaking research into BAME and female directors.
"We made sure it was no longer possible for people to pass the buck on this as the data is sitting right in front of you," he went on to say.
"Every employer has had to confront what we were telling them about the lack of diversity in our workforce."
Away from diversity, Chowns presided over a doubling of the trade body's member base and made strides in "returning directors to the mainstream" of industry conversation and policy-making.
Harrower's agenda
Chowns' replacement is Andy Harrower, who moves from his role as director of licensing at UK music copyright collective PRS for Music.
Harrower's agenda, according to Chowns, will be dominated by attempts to negate the worst of the short- and long-term impacts of Covid-19.
He will need to lead on the conversation over when directors can safely return to work and how best to deliver the workforce back into production, as dramas around the world flood back into production simultaneously once restrictions have been lifted.
"There is a big piece of work to do around making sure people feel safe and confident to come back to work and directors will be at the heart of that conversation," added Chowns.
Away from coronavirus, sitting atop Harrower's inbox will be the need to strike rights deals with the SVoDs so that creatives can benefit in some form from IP. This is taking place as SVoDs relax their attitudes to IP ownership and start giving indies and creatives a bigger piece of the pie.
Harrower will "hit the ground running", due to his rights work at PRS For Music, according to Chowns.
"Deals will have to be struck in the not-too-distant future," he added. "Streamers know they can't keep operating without the consent of people who work for them, or the rights holders."
This article first appeared on Screen's sister site Broadcast.