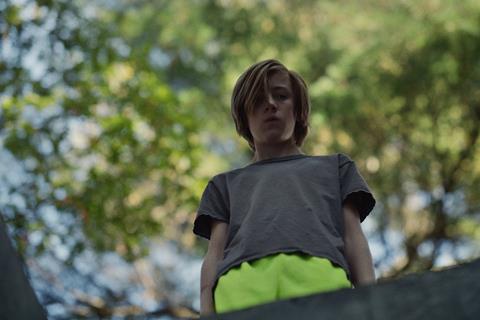 After earning a Cannes Label laurel, coming-of-age drama John And The Hole directed by Brooklyn-based Spanish visual artist Pascual Sisto was held back from buyers and finally gets its close-up in Sundance's US Dramatic Competition section on Friday (January 29).
Charlie Shotwell (Captain Fantastic, All The Money In The World, upcoming Morbius) plays a youngster who puts his parents and sister in a bunker near their fancy home in the woods. Michael C Hall and Jennifer Ehle play the bemused parents, and Taissa Farmiga is the older sister. Birdman co-writer Nicolás Giacobone adapted the screenplay from his short story El Pozo.
Mutressa Movies produced and financed John And The Hole, and co-financier 3311 Productions served as executive producers, in association with co-financier Oscura Film. UTA Independent Film Group and ICM Partners handle sales and John And The Hole premieres at 3pm PT.
How did this feature originate?
It happened when I was living in LA. Nico [Giacobone] and I collaborated on a short film in the early 2000s and we've remained long-distance best friends as he lives in Argentina now. He sent me this short story EL Pozo, which in Spanish means the well. It has this incredible momentum and a very big premise. We just started talking about it and he casually said maybe this would be a good screenplay. I was in LA and he was in New York and we did a few Skype meetings and I was thinking of moving to New York so we met regularly to discuss the script.
When did you film it?
The project itself took about three years from conception to where we are now – casting, funding and all that. We shot in fall 2019 in Massachusetts, around the Lincoln area, close to Boston. It could have taken place anywhere in a suburban setting.
What were the biggest challenges?
Casting was the hardest thing. Taissa [Farmiga] came earlier on. We were casting the kid, and then there was a hiatus of about a year and finally we secured the parents and we had the whole family and then everything moved at a better speed.
How did financing come together?
Our producer Alex Orlovsky was there from the beginning and he was fundamental in gathering the final financiers that we ended up working with, which is Mutressa and 3311.
What did you set out to achieve with this film?
Obviously it's good to not reveal much about the film. There was something about always seeing the unseen, being able to see the invisible or things that are not really there on the surface, but permeate through surface. They somehow are there but you don't want to acknowledge it.
What are the broader themes?
It's normal that we're going to put the Gen Z label on it. I'm a Gen Xer but and there's this feeling that [John is] going through what is multi-generational. So I don't think it's specific to now – we have the devices that they're all looking at and in my youth we had other things, but it's more about deeper things, for example you think you might know somebody and you don't.
I read about snowplough parenting and talked with the actors about it in pre-production… a new style of parenting where [the parents] are ahead of [the children] clearing any problems that might come up… but on the other hand it's problematic because when they hit a bump, they're really going to lose the bumper and lose the tyres and are just going to fall apart.
We approached it as a fable. It was always intended to be a realistic, contemporary take on a fable by shooting in a naturalistic way instead of making it feel very magical… while using a little bit of the language and the leitmotifs of fables.
Why does the family house have lots of glass?
It's a real house. It was the fishbowl idea; the idea that it was like a shop window setting where you could see in from the outside and it was very exposed. There's something Brechtian about it too, that you're watching from the outside in and the family is on display.
Does John And The Hole take on a new resonance for you given what the world's gone through since you made it?
We literally finished editing in mid-March, the first week of the peak in New York, so it wasn't really yet like a lockdown but they were already starting to say that you should stay home. We submitted it to Cannes and worked on sound and colour. I watched it again and, at least in New York where we live in smaller spaces, people might empathise with the characters in different ways than they would a year ago. Depending on the quarantine measures in each country, people are going to identify in various degrees with the film.
Can you remember how you felt when you learned you were on the Cannes Label?
It was after Cannes had postponed and it was before June.. It's an incredible thing and it helped the film because it was a very dark time for society in general. It was the peak of the pandemic, we had just shot this film, and we didn't even know if it was going to be released in theatres… the Cannes Label shone a light on the film and gave us a light at the end of the tunnel. It opened many doors. It was a time that was so uncertain on many levels that the Cannes thing was the most solid defining element we could have ever hoped for.
Why didn't you start sales at the virtual Cannes market last summer?
This is more a conversation for the financiers and producers but they felt that doing business remotely wasn't the same. It's a low budget film and needs all the help it can get. So we waited and hoped things got better. We were hoping for a US premiere and the producers were looking at Sundance. Because of the Cannes Label and the pandemic, [Sundance programmers] were open to seeing films earlier than usual and when we got accepted, it made sense to wait.