Ian Sandwell talks to the film-maker about his creature feature Howl, the follow-up to his FrightFest 2012 premiere The Seasoning House.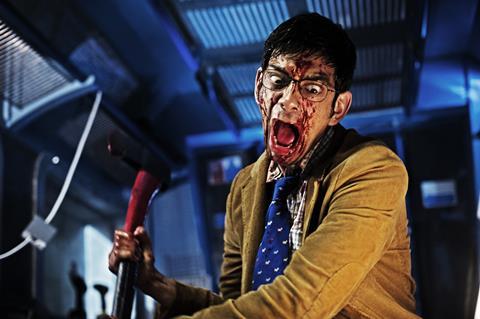 "I wanted to get away from big, furry werewolves," says Paul Hyett about his second directorial outing Howl.
"I love the werewolves in The Howling and An American Werewolf in London, but I felt that it had been done - and done brilliantly - by those guys."
Special-effects and makeup designer Hyett made his directorial debut in 2012 with thriller The Seasoning House, which led to him getting the job on Howl.
Producers Ed King and Martin Gentles saw the world premiere at Film4 FrightFest and thought Hyett would be a good fit for the creature feature, written by Mark Huckerby and Nick Ostler.
"It wasn't so much about being a werewolf film," recalls Hyett about what attracted him to the project. "It was about these interesting characters that were trapped on a train with a threat outside trying to get in.
"It was about how all of them react to the situation. Every character is so well-written that they each have their own journeys. It's a very heightened horror movie."
Starring Ed Speleers (Plastic, 'Downton Abbey') Shauna Macdonald (The Descent), Sean Pertwee and former Screen Star of Tomorrow Rosie Day, Howl follows a group of people stuck on a broken-down train in the middle of the forest who are set upon by werewolves.
Screen spoke to Hyett at Glasgow Film Festival where the director brought two auspicious clips of the film to show in its FrightFest strand.
The first introduced the eclectic group of characters, culminating in a neat stuck-in-the-door sight gag, while the second saw at least one of them meet an untimely demise and gave the first sighting of Howl's take on werewolves.
"I wanted to throw away some of the mythology, especially them transforming overnight," explains Hyett.
"I thought 'what if they transform over years?' with the bones slowly breaking and moving, and the muscles are straining leading to an ugly mess of twisted bone and muscle. It was trying to do something that hadn't been done before."
With the makeup work "second nature" to the film-maker - "I know I can always do cool werewolves" - casting was crucial to ensure Howl wouldn't just be remembered for the creatures.
The director jokes that the first thing actress Day asked him was whether she had a speaking part in the film, after her sensational deaf-mute turn in The Seasoning House, but adds that everyone brought "well-rounded thoughts" to their characters.
"The nice thing about directing them [the actors] is that everyone had a feel of how their character would react in the situation," says Hyett.
"I gave the actors a lot of breathing space to react how they felt was right, even if it wasn't in the script. It was really about understanding the cast and how to help them do their thing to help you do your thing."
As for the lessons learnt from his first experience in the directing chair, Hyett adds "It was really understanding the importance of preparation.
"This was a much more complicated film, with a much bigger cast and lots of VFX with over 360 shots. Thankfully in my career as a prosthetics guy, I've had a very good grounding in prosthetics and VFX. It would have been quite daunting otherwise."
Howl is set to be delivered at the end of March. Metrodome International handles world sales.