Paul Raci's role in Sound Of Metal could have been written for the war veteran — a child of deaf adults, he is fluent in sign language and once ran an addiction ministry. Screen talks to him about the acting opportunity of a lifetime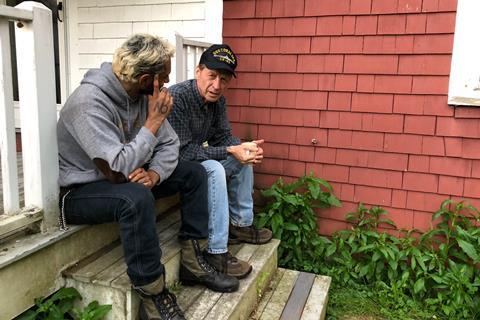 Paul Raci, hot off the role of his life in Sound Of Metal, recalls how those close to him reacted when they watched the US indie drama starring Riz Ahmed as a rock drummer who loses his hearing.
"Friends of mine asked me if I wrote the script," says Raci with a throaty chuckle. "I'd been trying to write one that I hoped would fit me. Of course, every gas-station attendant in Hollywood is writing his own script, but yeah, it's very closely aligned with what I've been through."
Director Darius Marder did not want a familiar star name to play Joe, the leader of a rural community for deaf recovering addicts where Ahmed's character Ruben is sent to receive counselling on his new condition. When the opportunity came his way, Raci latched on to what was essentially an autobiographical role.
"I loved reaching into it," says the Chicago-born actor, now in his early 70s, who cut his teeth performing David Mamet plays and moved to Los Angeles in 1990. "Darius says every actor has a garden that he can dig into, and my garden happened to be full of what Joe has experienced.
"I've been a sign-language interpreter where deaf addicts have to go through hearing addiction programmes. I was involved in a church out here in Los Angeles, where I ran an addiction ministry. I've had addiction problems myself coming out of Vietnam all those years ago."
And Raci is also a CODA — a child of deaf adults. Many in the industry will now be familiar with the acronym after Sian Heder's recent Sundance Film Festival breakout of the same name. "I am very aware of that movie," says the actor. "I thought it was very well done. I belong to an organisation called CODA and we're all excited about it. I know the [film's] actors Troy Kotsur, Marlee Matlin and Daniel Durant, and I'm so happy for them."
Kotsur is a star at Los Angeles' Deaf West Theatre, where Raci has appeared. "The theatre did a performance of John Steinbeck's Of Mice And Men and, politically, they would make all the farmhands deaf, but the farm owner has hearing, which would show you the oppression that deaf people sometimes feel living in this hearing culture.
"My parents were both deaf — my father almost since birth and my mother was deafened at the age of five, spinal meningitis in both cases. My parents were made deaf so it's not congenital with me. But I learned sign language before I learned how to speak English."
Raci was impressed how Ahmed learned American Sign Language for the lead role of Ruben. "He had his own tutor that he was seeing for about seven months before shooting began. He took a lot of time to learn to drum and also to sign and I'm telling you, it's not an easy feat to try to learn later on in life."
He and Ahmed shot their scenes over three weeks in 2018 on a farm in Ipswich, just outside Boston. In the story, Joe's goal is to get Ruben to make peace with his condition and realize deafness cannot be fixed.
"You can almost hear the grass blowing in the wind and the trees and the stillness, trying to hint at what really he should be going for," says Raci. "To have Joe believe the things that I believe in when he tells Ruben, in our last scene, that the kingdom of God resides in his [heart], well, that's what my journey has been. That's what I believe. When I read the script, I almost fell out of my chair. I just loved inhabiting this role of Joe because I loved the display of wisdom he had."
Building a bond
Marder, who had researched the film for more than a decade and employed deaf actors for the addiction programme sequences, shot Sound Of Metal — which was bought by Amazon Studios following its 2019 Toronto International Film Festival premiere — chronologically. That, Raci says, cued up his relationship with Ahmed on and off screen.
"When we meet in the movie and Joe gives Ruben this mini-evaluation, I don't know Riz as an actor and he doesn't know me. So there was a perfect amount of tension."
He loved working with Ahmed — "Check out his American accent!" — and came to know the British star as the production went on. By the end of their scenes together it was hard to say goodbye. "All the deaf actors had wrapped and it was just me and Riz on our last scene and I'd just fallen in love with him as a son-like figure," he says. "I had watched him bond with the deaf kids and we were so connected."
After seeing how Hollywood would often miss the nuances of representing deafness on screen, Raci was heartened by what Marder achieved. "It lets you know there is a deaf community and they have their own culture, and it shows you the diverse community of hearing loss. For example, the number-one affliction of all our war veterans since the Civil War is hearing loss for the obvious reasons.
"Deafness is not a monolith, not just one thing," continues the actor, whose performance as Joe has brought supporting actor gongs from the likes of the National Board of Review and National Society of Film Critics. "I know many musicians that are going through this ringing-in-your-ears problem, tinnitus."
That brings another personal connection into the conversation. Raci fronts a Black Sabbath tribute band called Hands of Doom. He can be found of an evening in a heavy-metal bar north of Hollywood, belting out their classics while wearing a headset "like Britney Spears" and signing the lyrics to the deaf audience members.
"I love the message Joe has about trying to find that stillness. I know it's hard. It's hard for me still as I meditate. But if this movie could give you that appreciation of the stillness and the things you can benefit from, that would be a better world for me."
Amid the stillness and the metal, Raci is now looking at more scripts than ever before in a career that has seen him take dozens of small on-screen roles. He is taking it in his stride. "I'm keeping myself busy, keeping my jobs going. And I'm enjoying the ride."