As part of Screen's Perspectives on 2020 series, UK filmmaker Amma Asante talks about how she is ready for a busy 2021 with a spy drama starring Armie Hammer and Mads Mikkelsen, and a new adaptation of Smilla's Sense Of Snow in the works.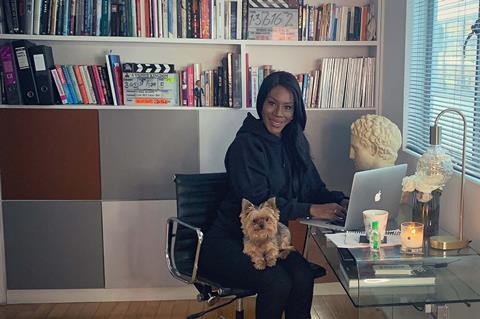 London-born director Amma Asante spent 2020 between the UK and Denmark (her husband Soren Pedersen is Danish) and prepping for a busy 2021. She will direct The Billion Dollar Spy for Walden Media and Weed Road, adapted from David E Hoffman's book telling the true story of Adolf Tolkachev, who became the Pentagon's most valuable spy during the last years of the Cold War. Armie Hammer and Mads Mikkelsen are set to star in the film, which is scheduled to shoot next year.
Asante is also attached to direct Constantin's series adaptation of Peter Hoeg's book Smilla's Sense Of Snow, about a Copenhagen woman investigating a child's mysterious death who returns to her native Greenland in search of answers.
The filmmaker won a Bafta for her first feature, A Way Of Life, in 2004 and has since directed Belle, A United Kingdom and Where Hands Touch, as well as episodes of The Handmaid's Tale and Mrs. America.
How have you spent this challenging year?
In late 2019, I lost my mum. I had already planned to have some time off — of course, I didn't realise I'd be doing that with the rest of the world as well. And when I did get back to work, it's mostly been to focus on my writing and my development, and doing Zoom calls like everyone else, to pre-prep as much as we can. And to start creating new projects in a way that I haven't had a good opportunity to do in the last few years as I've been filming.
What has changed in 2020 that you would like to see continue?
Because I've been travelling so much and working so much in the last few years, I've not had a great deal of access for partaking in the general conversations that go on through industry organisations. Now, because everything has moved online, I feel less isolated. I've been conversing, listening, just participating in more discourse. That access has been a great thing for me. Also, I think we should do away with handshaking forever!
What has been the most memorable moment of the past 12 months?
The collective power we saw in the Black Lives Matter marches across the world, when we saw them opening up in countries and cities, from Los Angeles to London and many more. I was in Denmark and I couldn't believe how many people I saw marching. Seeing that collective recognition was almost like an epiphany.
The industry has also been forced to face its own prejudices. How do we achieve more inclusion in front of and behind the camera?
The answers are big and they are nuanced, but if I had to try and sum it up, the important aspects should be challenging your assumptions. All of us. Anybody who's ever been in a position to make a difference and open doors, and to gate-keep, needs to challenge assumptions and understand your own bias. The most successful creative people in the last couple of decades have been successful because they have been free to create — a filmmaker like Steven Spielberg, who is allowed to create something like The Color Purple all the way to Bridge Of Spies.
Why does The Billion Dollar Spy fascinate you as a story?
My body of work has always told stories against a political backdrop, sometimes in times of change, and navigating that political backdrop through a very individual, personal story. That's what this is — a very personal story about a man who loves his country but is not happy about the way people are running it. That's what many of my films have been about — identity and nationality, the idea of the nation versus the individual, micro versus macro.
Have any eyebrows been raised that you are making a film about two white men?
I've only had really positive responses and comments. My bigger question would be, "Why would there be arguments against me as a filmmaker with a body of all kinds of work?" That says I should be able to tell a historical story that involves two white men.
What about the outcry when two white directors were hired to direct the Tiger Woods documentary this year? Do you think anybody can take any job?
I would just say, ultimately, if you have always been able to make any kind of film you've ever wanted to make, and perhaps that has been at the cost of the freedom of other people to tell those stories, or their own stories, that might put you in a position where people might have some comments to make.
You're attached to direct a series of Smilla's Sense Of Snow. Why were you drawn to that world?
I am interested in the aftermath of colonialism and post-colonial identities, and how one operates one's own identity. There can be a world where you're living side by side with people whose ancestors once had a great deal of power over your ancestors. It's an interesting navigation, also to see the world through her eyes. It's got a vast landscape for me to navigate as a director and a storyteller with a really powerful female protagonist.
You have directed for great series including The Handmaid's Tale and Mrs. America. Do you plan to continue to do both episodic and feature work?
I hope so. I find TV such a great way to keep on your toes. Features traditionally take a long time to get off the ground, so TV is a great way to keep your skills honed and challenge yourself to work fast but also maintain quality and content. I love the skills that film gives me that I can take to TV, but I also love the skills that I can bring back from TV into film. With both of those shows [The Handmaid's Tale and Mrs. America], they were both really great quality shows to work on, but they also had something profound to say.
What do you hope for 2021?
I'm hoping and praying that in terms of Brexit, somehow we can come out with some kind of proper agreement, a proper deal. For the industry that I work in, that's really important in terms of co-production. I've gotten so much out of being able to work with production companies in other parts of Europe, and I've had films that would never have been made without the support we got from those companies. I really hope we end up in a place that's for all of us within the film and television industry in the UK when it comes to Europe.
And on a wider basis, I've got a stepdaughter who is 22 years old and I think about the freedom and travel for younger generations around Europe, and it feels so limiting and restrictive for them in terms of work and study and travel.
Screen visited the set of Belle in 2012 and you had some young women shadowing you. Is that something you are still able to do, even on bigger projects?
I try to do that on all my films. I want to give [mentees] a sense of what it looks like and what it feels like to be a woman leading a crew and allow it to be less of a mystery. I get a great deal of joy doing that. I'm not a commissioner or a studio or a broadcaster, but I can open the small door that I've got and say, "Have a look at what I do and see if there's anything you can take away to help your journey."
What excites you about the future of the film industry and the TV world?
In terms of inclusion, I think we can be — if we want to be — at the precipice of change. There is excitement that comes from knowing the industry can open itself up to a variety of thought and ideas. I love the plethora of opportunities that are out there.
Our Perspectives on 2020 series sees key figures from across the international industry landscape share their experiences during the pandemic year and their thoughts on the future. See below for more interviews in the series: