As part of Screen's Perspectives on 2020 series, the founder and CEO of Blumhouse Productions tells us why he believes the pandemic may directly inspire the kind of stories he chooses to tell, and why he is looking forward to embracing the challenges of changing audience habits.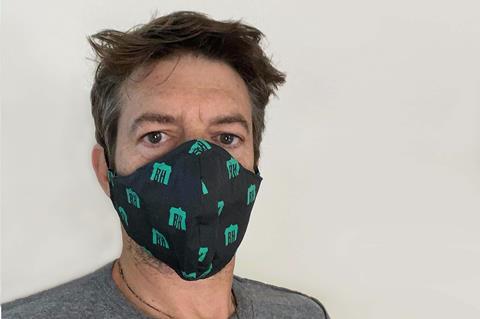 Jason Blum's name is synonymous with some of the most iconic horror and genre films of the past decade, including the Paranormal Activity, Insidious, Sinister and Purge franchises. He has made more than 150 feature films and TV shows through his Blumhouse Productions company, earning a reputation for highly profitable, micro-budget content with global appeal.
The Los Angeles-based producer enjoyed success earlier this year with The Invisible Man and, while the pandemic slashed his 2020 production slate and forced The Forever Purge and Halloween Kills starring Jamie Lee Curtis into next year, he has barely broken stride.
Blum completed and opened Freaky, which topped the US box office in November, and is lining up a busy production roster for 2021. He has a first-look deal at Universal Pictures, and produces the Welcome To The Blumhouse streaming slate for Amazon, and anthology series Into The Dark at Hulu.
His career includes a stint as co-head of acquisitions and co-productions at Miramax Films, and three Oscar nominations for BlacKk­Klansman, Get Out and Whiplash. His relaunched TV company has credits including Sharp Objects for HBO and The Loudest Voice for Showtime.
What is your most memorable moment of 2020?
Getting Covid-19. I tested positive [in late November]. Both of my kids got it — one is five years old and one is two — and I just made a choice. I tried for two hours to take care of them by myself. You can't take care of a two-year-old and a five-year-old without touching them. You just can't do it. So I said, "I'm going to get it." And I did. And we're all fine.
How have you adapted your working style this year to stay productive?
I have been standing more during my Zoom meetings, and I'm walking as I talk to you right now. I've been on my feet more!
Are there any habits you've adopted this year that you might continue post-pandemic?
To try and work from home one day a week. It's really nice to be in the same house with your kids during the day, even if you're not playing with them. Hopefully we can get more done with Zooms and travel less.
Audience habits have changed. Do you think this is going to have a long-term impact?
I hope and believe people are going to embrace movie theatres again, but I think moviegoing is forever changed. I don't necessarily think that means it's diminished, but the moment Warner Bros puts every one of its movies on HBO Max, moviegoing is forever changed. I think there will be many more movies in the movie theatre, and they'll play for a much shorter time. It will be good for the consumer.
How will this affect Blumhouse?
It's great for us because the model is going to veer towards lower-bud­geted movies and there's going be a need for volume — and we're good at both of those things.
You make film and TV for studios and streamers. How do you decide which platform to engage with?
They've kind of done that job for us. If you have something that's lower budgeted and very commercial — mostly horror movies — it's better to go to studios, because with the theatrical model the way it has been and the way it is with PVoD, we participate every time someone watches our movies. With the streamers, you get paid up front, so if you have something more expensive and a little less commercial, you're better off there.
How many productions have you done during the pandemic?
We've done a handful. I would say we did about 50% of what we would normally have done had there not been a pandemic. We have kept a lot of the tele­vision stuff up and running, and completed a bunch of the movies that we were shooting during the pandemic. We had a film called Vengeance with BJ Novak that we completed. We completed The Forever Purge. We had photography to do on The Craft: Legacy and released that. We had a little bit of photography on Freaky and released that. The first bigger movie we're starting is not until February 2021 and it's The Black Phone, a Scott Derrickson movie.
Will you be slotting in the movies you didn't make into 2021?
Yeah, they are all scheduled. We're going to have a busy six months post-[Covid-19] vaccine. Hopefully we'll get the vaccine for our crews in February or March.
Has the pandemic changed the type of stories you might want to tell?
I think it's a little too soon to know. I know it when I consume them. I saw a movie recently that will remain nameless, and I think we're going to have this experience with a lot of things that you see right now that appear to be tone deaf or pointless. They're about things that seem so trivial, given what we've all been through.
How can the industry support more inclusion both behind and in front of the camera going forwards?
I was guilty of tokenism as much as anybody else. Inclusion doesn't mean doing one black movie, hiring one black person — it has to be part of your thinking all the time. That's definitely how I responded to it and the industry has responded to it. The industry has taken great strides with women and under-represented voices, and we have too.
What excites you about the future of the film industry?
Change is good. It may not initially seem so, but when you stir things up, more interesting stories are put out there in the world.
Our Perspectives on 2020 series sees key figures from across the international industry landscape share their experiences during the pandemic year and their thoughts on the future. See below for more interviews in the series: