The Edinburgh-based filmmaker and critic tells Screen about the joys of editing over Zoom during lockdown, and feeling energised by the urgency of the Black Lives Matter movement.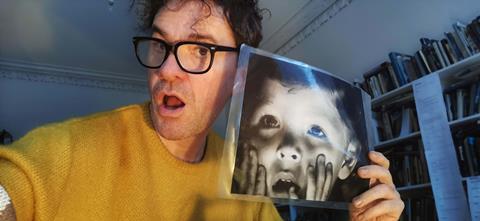 UK filmmaker Mark Cousins has been observing films and filmmaking for more than 30 years, writing for publications including Sight & Sound and authoring books such as The Story Of Film (which has been updated this year) and The Story Of Looking, both of which he has adapted into multi-part documentaries. Further films include I Am Belfast, The Eyes Of Orson Welles and this year's Women Make Film: A New Road Movie Through Cinema, the latter of which will be the focus of a new BFI season of female-directed films in January. Scotland-based Cousins says he has found inspiration during this pandemic year, driven by an increased sense of community, and has welcomed the chance to pause and take stock.
It has been quite a year. Do you have a particular memorable moment?
I will never forget that first clap for the NHS [when members of the public applauded health workers from their doorsteps]. You could hear a chorus of applause from around the streets in Edinburgh. It was so cinematic, almost like a Terrence Malick film. It struck me that it was a community thing, happening to everybody.
That's why, at the beginning of the [UK's] first lockdown, I did a thing called '40 Days To Learn Film', where I just sat and talked about cinema for two-and-a-half hours. I put it online [on Vimeo], and last I looked 68,000 people had watched it, from India to Mexico. That was my equivalent of the clapping!
How have you adapted your working style to stay productive and sane?
When lockdown happened, I was in production on two films and completing a third. Like most people, I'd never heard of Zoom. But we started editing remotely. My editor lives about 40 miles away from me, and I couldn't believe how liberating it was. As many people know, a full day of editing is exhausting. But now we can do two hours in the morning and one in the afternoon; it liberated us, allowed us to be more nimble in the edit.
One of the films was the update of The Story Of Film, and another was an adaptation of The Story Of Looking. We had planned shoots across the UK and internationally. But we had to adapt and find locations in my immediate environment. It forced us to be creative, to ask questions about what there is right within my neighbourhood.
Do you hope any of these changes will continue into 2021?
We've had a lot of thinking time, and time to expand on our thought processes. Before lockdown, a lot of us were stuck in ridges where you repeat the same ways of working. Because we've been forced to rethink how we work, good things could come out of that. This is the first fully global thing that has happened in my lifetime, and it's certainly expanded my horizons.
Black Lives Matter is also a profound shift. That was a real cattle prod to those of us who are white, who thought we understood those issues both inside and out of the film industry. To see BBC One playing Steve McQueen films [the 'Small Axe' series], that would never have happened before. It would have been [more niche channels] BBC Two or maybe even BBC Four. We have to lock this change in, because it's good for everyone, not only for those who have been treated badly by the film industry. It humanises us all.
How can the industry continue to support diversity into 2021?
When I first joined the film industry in the 1980s, you were given tools in the form of industry norms in everything from crewing to contracts, production funding to schedules. You were told the way the industry works. It doesn't have to be like that. I realised in my own career that I could find a way of working that is different.
More broadly, the industry has to abandon some of its norms and its assumptions. That way it will become more inclusive, and will stop the myopia that it's had in the past. Both Hollywood and Bollywood have favoured slim, light-coloured young people as movie stars, over any other kind of human being, for example. But the entire industry needs to grow up and enrich itself.
There's now a chance for renewal within the broader culture; the funders, the distributors, the critics need to keep their minds open to new visual thinkers and storytellers. As a film industry we have to find and support the talent. And talent is everywhere; it's got no gender, no sexuality. If we have too rigid a structure, we won't be flexible enough to notice and nurture that talent. And I'm not just talking about avant grade artists or marginal filmmakers. I'm talking about the sort of people who made Spider-Man: Into The Spider-Verse, which was such a remarkable mainstream film.
Are you excited about the future of the film industry?
It's the fact we don't know what's coming up that's exciting, that discovery is always possible. When people talk about discovering, they make it sound as if it's really hard work. But actually, the talent is there, you know, simmering on the boil, ready to explode. You just have to make sure you keep your eyes and ears open. That's all.
Our Perspectives on 2020 series sees key figures from across the international industry landscape share their experiences during the pandemic year and their thoughts on the future. See below for more interviews in the series: